Novel "Mobile Suit Gundam UC(Unicorn)" to be adapted to anime this winter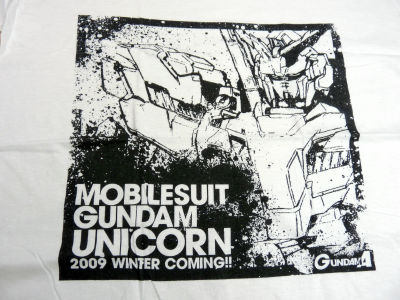 Harutoshi Fukui's Gundam Novel "Mobile Suit Gundam Unicorn" was revealed to be adapted to anime this coming winter. The official site is now making the staffs and main characters public. Also the magazine Gundam Ace, which is serializing the novel, are being sold with commemorating T-shirt attached.

Read on for detail.

(JP)Winter 2009、Anime adaption at last! MOBILE SUIT GUNDAM UNICORN
http://www.gundam-unicorn.net/

Gundam Ace June issue. The art from Yoshikazu Yoshihiko's comic "Mobile Suits Gundam The Origin" is placed on the cover.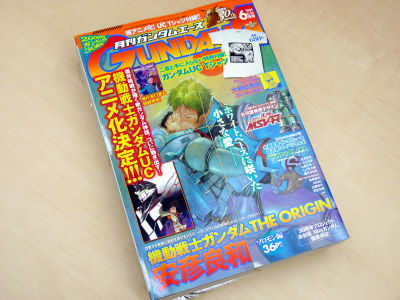 The news referring Gundam 00's movie adaption.


Interview on the movie's director Seiji Mizushima, which tells that something totally new happens on feature film.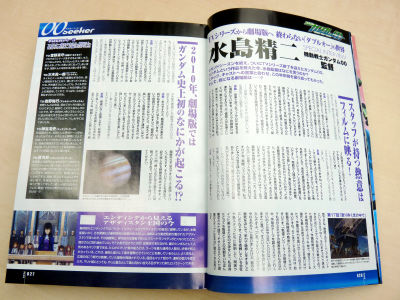 And here's the announcement on Gundam UC anime adaption. The image used in the article is the same as the one on the official site. Whether it is going to be a TV program or an OVA is not revealed in the news.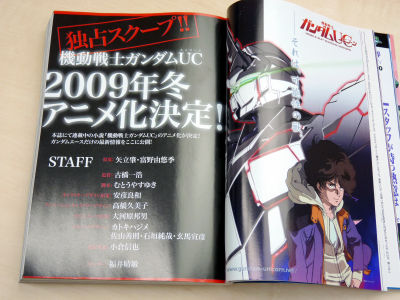 The attached T-Shirt. Originally designed for commemoration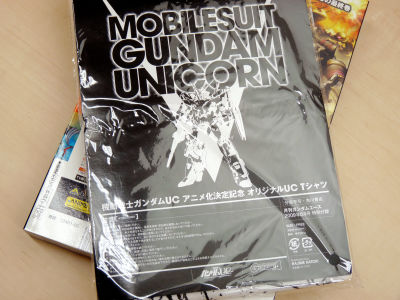 The logo.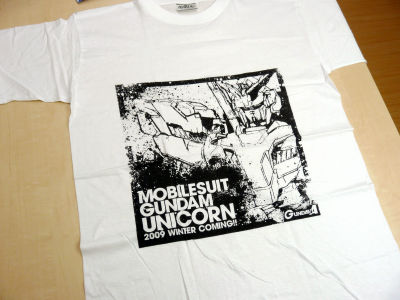 Staffs:
Original Concept: Hajime Yadate, Yuki Tomino
Director: Kazuhiro Furuhashi("Real Drive", "Le Chevalier D'Eon")
Screenplay: Yasuyuki Muto("Sengoku BASARA", "PERSONA - trinity soul -")
Character Designs: Kumiko Takahashi("Ouran High School Host Club", "Card Captor Sakura")
Mechanical Design: Hajime Katoki, Yoshinori Sayama, Jyunya Ishigaki, Nobuhiko Genba.

The novel's author Harutoshi Fukui is also the author of "Turn A Gundam" novel adaption known for its hard-core depiction of the war in space. His military action novel "Lorelei" was adapted into live-action movie directed by Shinji Higuchi, who is famous for his special effects in various animes and tokusatsu films including "Evangelion" series.

Related Post:
List of New Anime Series launching Spring 2009 - GIGAZINE

A die-hard Gundam fan made 7 meter "Z GUNDAM" by 7 years of solo work - GIGAZINE

"New GUNDAM expected": Poll on 30th anniversary of Mobile Suit Gundam revealed fans' wish. - GIGAZINE

Demo of "Mobile Suit Gundam: Gundam vs. Gundam Next" at AOU 2009 - GIGAZINE

Life-sized 60ft. Statue of Gundam Coming to Shinagawa - GIGAZINE
in Anime, Posted by logc_nt