Weekly Shonen Sunday · Weekly Shonen Magazine 50th Anniversary Grand Open Alumni Association, comment movie by a famous cartoonist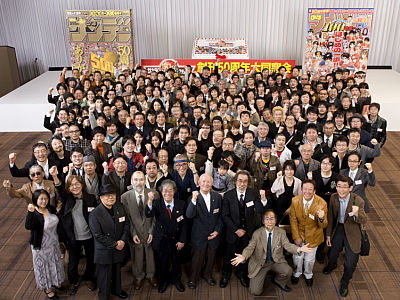 Both were published on March 17, 1959 "Weekly Shonen Sunday"When"Weekly Shonen Magazine"Is said to be the 50th birthday, about 158 ​​manga artists and authors and presidents gathered to successive editor-in chiefs, and a large alumni association with more than 1000 participants attending was the empire of Tokyo It was held in the hotel.

Fujiko Fujio will deliver greetings by famous cartoonists such as Professor Aki · Taka who is Professor A Fujiko Fujio, Professor Chibutsuya sensei, Professor Yaguchi Takao, Professor Adachi, Mr. Rumiko Takahashi, Mr. Makoto Kobayashi gather.

Details are as below.
The Imperial Hotel in the hall is like this.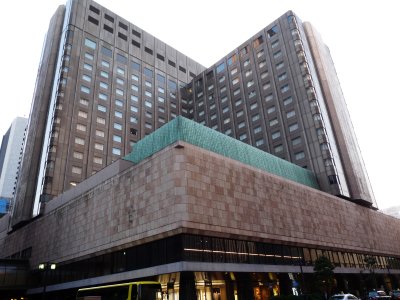 The venue is between peacocks on the second floor.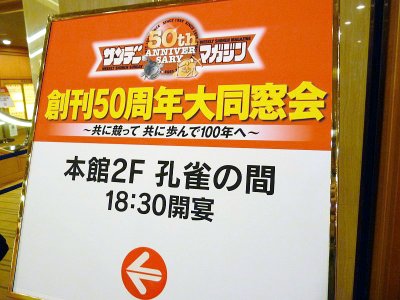 There was a cover panel of huge Sunday and magazine on the stage.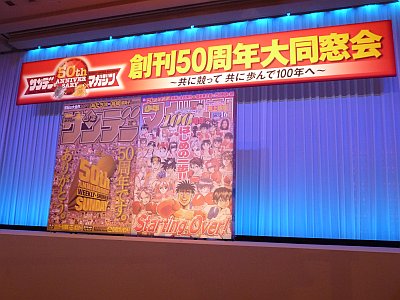 Seven cartoonists entered, known as "Ninja Hutririku" "Monster Kun" etc.Fujiko Fujio AMy teacher will comment.

"Golgo 13"Sato and TakaMy teacher's comment.

"Tomorrow's Joe" and "Tomorrow's Weather Tomorrow"ChibantoMy teacher's comment.

"Fishing tackle Sanpei"Yaguchi TakaoMy teacher's comment.

Famous for baseball manga such as "touch" and "H2"InfantryMy teacher's comment.

Such as "Urusei Yatsura" "Ranma 1/2" "Inuyasha"Rumiko TakahashiMy teacher's comment.

"Sanshiro of 1 and 2" and "What's Michael?"Makoto KobayashiMy teacher's comment.