"Dotonbori Ekusaku shopping area" in Dotonbori, Osaka Minami closed, followed by "Kudairia"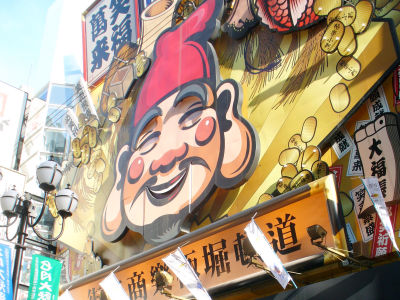 Osaka Minami, a famous "Osaka specialty Kuayuare", which was a signboard in Dotonbori in July this year, closed, but this time the theme park nearby "Dotonbori Shokuraku (Shakugan) shopping street" It has become clear that the store closes.

In addition to being faithfully reproducing the cityscape of Osaka from the end of Taisho to the early Showa era, there is a taste of distinctive tenants such as "Tea Colombia" that sells the largest Japanese parfait "Fuji" etc. "Dotonbori Gokuraku Shopping District Although it is, it is said that the number of users has decreased sharply.

Details are as follows.
Dotonbori Shokuraku shopping area, opened to close in March next year only 4 years (1/2 pages) - MSN Sankei News

According to the Sankei Shimbun news report, the food theme park "Dotonbori Ekusaku Shopping Street" located on the 5th - 7th floor of Dotonbori 's entertainment complex "Sammy Eli Plaza" was operated by the operating company "SEGA SAMMY HOLDINGS" in 2009 It seems that it was decided to close down at the end of March.

It is said that it will be closed for only 4 years after it opened, already SEGA SAMMY HOLDINGS has closed games centers, karaoke shops and sports clubs which were on the 1st - 4th floor this year.

In addition, "Dotonbori Ekusaku shopping area" showed a strong start, for example, the visitors exceeded 2 million visitors in half a year, but in 2007 it will be less than half of the first year to 2.1 million a year It seems that the customer foot has been depressed until. In response to this closure, local officials say that there are concerns about Dotonbori hollowing out.
in Note, Posted by darkhorse_log