Light novel original animation "Wolf and Spice", second phase production decided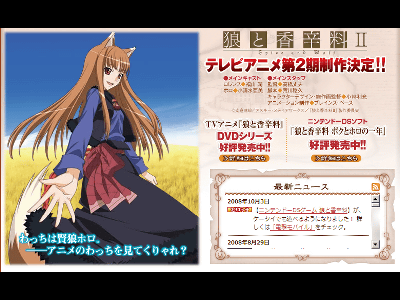 It became clear that a sequel to TV anime "Wolf and Spice" that was broadcasted and popularized from January to March 2008 will be made.

The production team has changed, the director etc is intact, but character design · total director directed from Kuroda Kazuya to Kobayashi Toshinari, production company has changed from IMAGIN to brains · base. I hope this works in a good direction ....

Details are as below.
Wolf and spice Official web site
http://www.spicy-wolf.com/

"Wolf and spice" is a story aiming at the hometown of Horo with a wife Wolf Lola, a peddler and is a popular work that won the 1st ranking in the work category and "1st place in the character female category" at "This light novel is amazing! 2007". The original work is Furukura Frozen Sand, the original illustration is Bun Shugureura, and from the Dengeki Bunko to 9 volumes are currently published.

In animation the role of Lawrence is "Code Geass: Lelouch of the Rebellion"Rulu" role and "Iron line barrel"Kunihisa Kato's role Fukuyama Jun," Horo role "is"Naraja tomorrow"Nage Ja ·" Code Geass: Lelouch of the Rebellion "Kosumi Ami, the role of Kurenokaren, was in charge, showing a light interaction.

Although the staff has no change around director Takeshi Takahashi and the screenwriter like Arakawa Toshihisa, Character Design · General Director directed from Kuroda Kazuya "Futakoi Alternative"Ball-roaring playKobayashi Toshikita, production company from IMAGIN "Kurenai"Brains base has changed.

Although it is still unknown about the broadcasting time etc, what kind of things can we see this time?
in Anime, Posted by logc_nt