A new limited-edition product "Mushroom Burger" from Mos Burger appears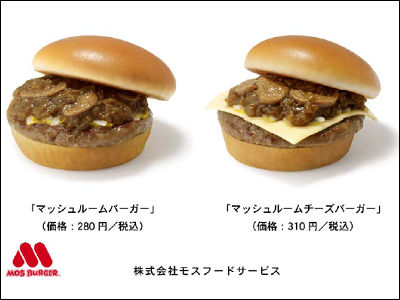 The sales period will be limited from September 12 (Friday) to mid-October, and will include new products "Mushroom Burger" using taste and mushroom in autumn, "Mushroom Cheese Burger" with cheese, Patty (meat) 2 Four types of "W (double) mushroom burger" and "W (double) mushroom cheeseburger" which were made into pieces.

Details of the price etc. from the following.
【PDF file】"Mushroom Burger" Region limited release in west Japan area

"Mushroom burgerThe price is 280 yen (tax included). For the mushroom sauce, use beef extract based brown sauce, stir fry with butter slowly, add mushrooms to onion which gave its original sweetness, pull out the umami, boil it with red wine, bouillon etc, and taste with soy sauce and coarse ground black pepper He gave a depth to him.

"Mushroom cheeseburger"Is 310 yen (tax included), and cheese is sandwiched between" Mushroom Burger "earlier.

"W (Double) Mushroom Burger"Is 390 yen (tax included), I only changed the patty of" Mushroom Burger "from 1 to 2 pieces.

And "W (double) mushroom Cheeseburger"Is 420 yen (including tax), it will be one sliced ​​cheese plus" W (double) mushroom burger "the previous time.

These four types are limited to West Japan, Toyama, Ishikawa, Fukui, Gifu, Aichi, Mie, Kyoto, Shiga, Osaka, Hyogo, Nara, Wakayama, Tottori, Shimane, Okayama, Hiroshima, Yamaguchi, Tokushima, Kagawa, Ehime Kochi, Fukuoka, Saga, Nagasaki, Kumamoto, Oita, Miyazaki. It will be only 638 shops in Kagoshima and Okinawa. Other regional releases are undecided.