Looking back at the movie "Comic Market 74" on the first day Summary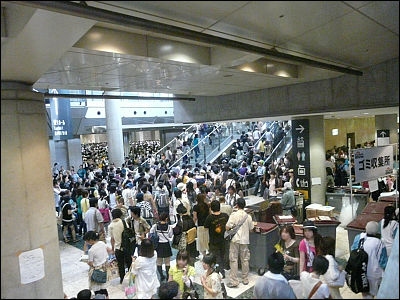 So, although there were various things, "Comic Market 74"The first day has ended.A person who took a camp with a holding pillowAnd "Hand grenade in Comiket"And writeArrestThere were various things such as those who were done, others who had fallen down due to heat stroke near the cosplay plaza, people who were crying without buying what you wanted, etc. What happened again Let's look back at the movie whether it was an atmosphere.

Playback is from the following.
I tried to join the row heading for the West Library, fierce, and the dawn of the harsh day


At the location where the company booth concentrates


In this way, a kind of "flow" has occurred within the Comiket venue and it is very dangerous to backflow, so let's obey the guidance properly.


If you think about it, there are places where the flow occurs in this way. This is close to the company booth. Do not get lost so as not to get stuck.


Keep walking towards the end of the tail ... ....


This area is near the end tail. What is visible is the place I was walking in the movie.


It is indispensable to get lost if you do not properly check the place in the catalog beforehand. Or, even if you are studying, you can not walk on the course you want, so it is dangerous if you do not proceed while always keeping track of where you are now.


If you look at this, you can see how well you have to research properly in advance ... ....


So, it was a great job for all the participants. We still have the 2nd and 3rd days, but please be careful not to do anything.