Anime "Nodame Cantabile" sequel will be decided, scheduled to be broadcast from October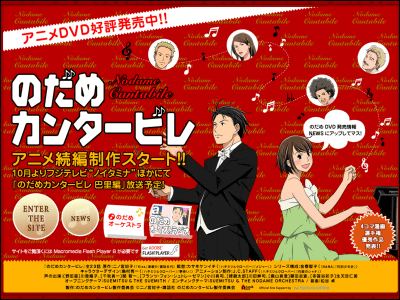 The cumulative number of manga issued copies was 22 million, and dramaization and animation were done on Fuji TV "Nodame CantabileThe sequel production of the animation of the animation started. the title is"Nodame Cantabile PariSo from OctoberNoitaminaIt seems to be scheduled to start broadcasting at.

Details are as below.
TV anime "Nodame Cantabile" official website

According to "Kiss" serializing the anime official website and the original of Nodame Cantabile, the sequel is the title of "Nodame Cantabile Pari", which is scheduled to start broadcasting from October in the Noitamina frame as in the previous work. Just before the previous work went to Paris, the end of the revival ended as soon came down to slump and came back to Kyushu.

As for Nodame Cantabile, the drama version delivered a high viewing rate of 21.7%, and the animation version also had a wonderful audience rating as midnight when the first audience rating was 5.4% of the highest midnight animation record, and the average audience rating of all 23 episodes was 4.4% And it is expected that the record will be updated in the sequel.