Youth As a ticket, you can get a high-speed bus as many as you want "High speed bus ride all-you-can-eat"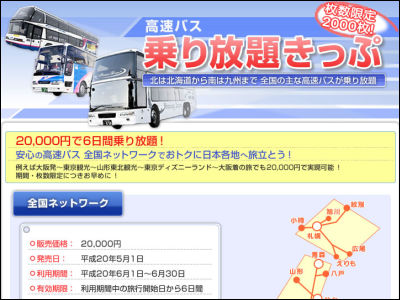 JR bus 8 companies (JR Hokkaido Bus, JR Bath Tohoku, JR Bath Kanto, JR Toukai Bus, West Japan Railway Bus, China JR Bath, JR Shikoku Bus, JR Kyushu Bath) For the main high-speed buses and partial route buses "High speed bus ride all-you-cante ticketAlthough it is limited to 2000 sheets, it is said that it will be released at 20,000 yen.

From Hokkaido to Kyushu, if it is 6 days within the set period, it seems that it is quite a good ticket that you can freely use the high-speed bus of the target route.

Details are as below.
★ About the sale of the express bus "Hop-on-the-wheel ticket"

High-speed bus ride all-you-can-eat ticket 2000 sheets! From Hokkaido in the north to Kyushu in the south, all major high-speed buses all over the country can ride

This unlimited ride ticket is released on the main window of the JR bus nationwide or on the Internet for a limited time period from May 1st to June 25th and the available period is from June 1st to June 30th 6 days (When using a night bus on day 6, it is available until the morning of the seventh day).

Traveling routes etc. are summarized below.

Operation route list

For example, if you go back and forth between Tokyo and Osaka with a dream issue15,510 yen. With this all-you-can-eat ticket, if you are going to make two round-trips within 6 days, that's enough.
in Note, Posted by darkhorse