Sony released 16 GB "Memory Stick PRO Duo" suitable for Hi-Vision recording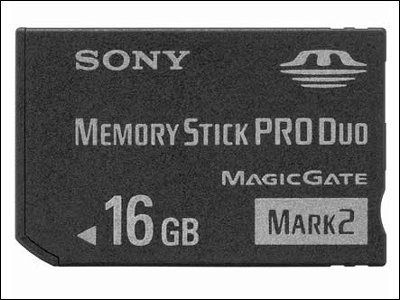 It is said that Sony will release the 16 GB model Memory Stick PRO Duo that is suitable for recording applications such as high definition video.

As a proof that you are officially supporting Hi - Vision recording, the logo "MARK 2" is printed for the first time on the main unit.

Details are as follows.
SONY'S NEW 16GB MEMORY STICK PRO DUO MEDIA IDEAL FOR HIGH-DEFINITION CAMCORDERS

According to this release, Sony is scheduled to release the 16 GB Memory Stick PRO Duo in March, and the price will be around 300 dollars (about 32,000 yen).

This model is one of the standards for recording HDTV with a video camera "AVCHD"It is said that the logo" MARK 2 "is printed as a proof that it shows officially.

Previously at GIGAZINERecording of one-segment broadcasting became possible with PSPI told you that, if there is enough capacity, you will be able to use such things as recording a huge number of programs with PSP, stuffing in as much as you can pack video and music.