Finally 3G mobile phone "3 Skypephone" which can make free call with Skype is released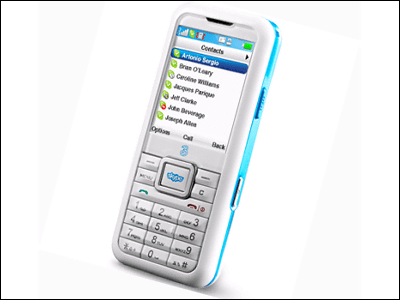 Third generation (3G) mobile phone equipped with P2P's free calling software "Skype"3 SkypephoneIt is said that it will be finally released.

This allows you to enjoy free calls using the cellular phone network with just one button, send instant messages etc. free of charge, and that the basic performance as a mobile phone is also substantial. It is a mobile phone like a dream.

Details are as follows.
3 Skypephone. Skype is now mobile. You can make free calls all over the world.

According to this page, Skype-compatible mobile phone "3 Skypephone" to be released this time will be free calls using Skype to all over the world by pushing the button labeled "Skype" It seems to be a mobile phone that can send instant messages. Moreover, it corresponds to high-speed communication of third generation mobile phone.

The screen image looks something like this.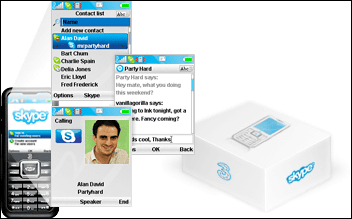 According to the following link "3 Skypephone" has a full browser that can enjoy 220 × 176 2 inch LCD, 2 Million Pixel camera, mp 3 player, Bluetooth, microSD slot, eBay, YouTube etc. Java You can enjoy games using applications.

More mobile than ever: the 3 Skypephone

From November 2, we plan to start services in Australia, Italy, Hong Kong, Sweden, Denmark, Austria, Ireland etc, starting with availability of 49.99 pounds (about 11,700 yen) per month in the UK It is said that it will be on sale soon in other countries.