A system that can check the health of your pet by just sending a few hairs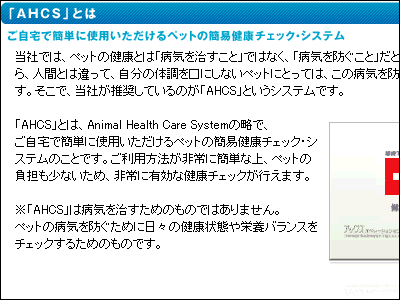 It seems that there is a system called "AHCS (Ax)" that collects only a few hairs and can check the pet's health condition just by sending it.

Even if you do not have an animal hospital nearby, you can easily check your pet's health even if you are busy with work and you can not take him to the hospital, and you do not have to worry about stressing your pet . It seems to be useful for prevention of pet diseases.

Details are as follows.
Introduction of AHCS | Petit Community | Information distribution site for enhancing pet's health

According to this page, purchase a simple health check kit of "AHCS", collect about 10 hairs near the base of the pet's tail, put it in the bag enclosed in the kit, and fill out the necessary information It is said that simple health check of pet can be done just by filling in and posting in the post. By the way, the price of the simple health check kit is 3300 yen including tax.

And after receiving the inspection completion mail from the center, you can check the result by logging in to the site.

The inspection result is displayed like this. It also includes advice on how to do it.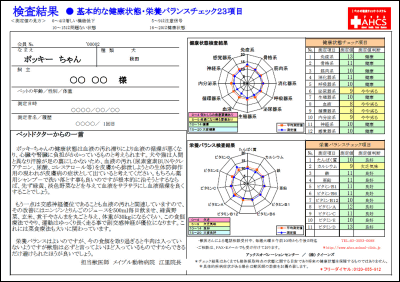 Considering that it prevents you from paying expensive medical expenses by preventing pet's illness, it may be a good idea to check regularly.