The air conditioner is broken, next time I will consider which air conditioner to buy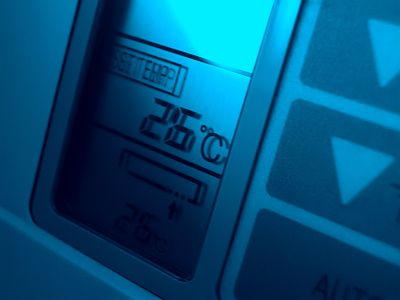 Since the air conditioner finally broke down, I decided to examine in detail what air conditioner to buy next. The point is the running cost rather than the price of the main body, so-called electricity bill. I tried actually how to calculate it. I also summarized some of the points of other replacement, so for those who think "Next year will be a new air conditioner ...".

Therefore, the method of examination and examples of examination results are as follows.
The first thing I was talking about was that the air conditioner in the Japanese-style room on the third floor stopped after 20 o'clock the other day.

this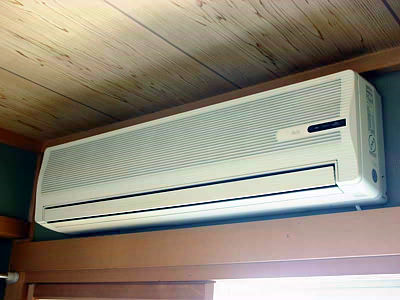 The green driving lamp keeps blinking and even if you turn on the air conditioning from the remote control, it will not move.


Where on earth was the air conditioner? Because it says "DAIKIN" as it sees the seal of the bottom part etc, apparently it seems to be the air conditioner of Daikin. Looking at the page of Daikin, there are such items.

Information on repair (Frequently asked questions and method of response) [Daikin Contact Center]

Question: Green driving lamp indication is flashing but is it abnormal?
Answer: There may be a temporary malfunction that the operation protection device of the product is operating. Try turning OFF / ON the breaker (or power plug) once. If there is no change in the situation after that, it is necessary to request service.
That's why I pulled out the power plug and tried turning the breaker on and off .... It did not change in the situation. Wow. Since it can not be helped, it accepts 24 hours 365 daysDaikin Contact CenterI decided to call her.

So check the model number before calling.

Manufacturer: DAIKIN
Model name: F321 PX-W (made in 1992)

If you see this air conditioner, made in 1992 ... ....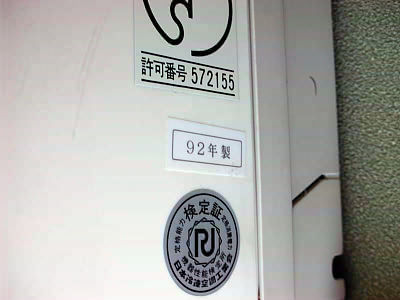 I bought it in May of 1992. To the calculation which has already been running for about 15 years ...... It often happens without ever going down so far ... ....

As a result of calling the toll-free number, someone in charge came out without being kept waiting, so I informed that the green lamp is flashing and tried the operation on the page, but it restored When I informed that it was not there, it became the following thing.

· From 9 o'clock on the 16th to after 10 o'clock, I will call you at what time after 12 o'clock in the day I will tell you whether I will be on business trip repair
· Business trip cost is 5000 yen ~ 8000 yen, which is the minimum cost. When repair parts etc. are necessary, it is added to this further.

That's why I am waiting for a business trip tomorrow.

So, we have been working for 15 years, so we decided to consider what kind of air conditioner to buy next to prepare for the case of further breakdown after repairing this time. I often hear that "Recent air conditioners are energy-saving is excellent so electricity is cheap". Let's first calculate the electricity bill.

ECCJ Energy Conservation Center / Energy Saving Performance Catalog / Summer 2007 / Air Conditioner / How to Read the List

【All day】 Air conditioning electricity part 3 【I want to turn】

The formula to calculate the estimate of the electricity rate seems to be as follows.

Power consumption [kW] × usage time (× days) × unit price (yen) = electricity charge [yen]

The power consumption indication on the side of the air conditioner when rated is rated as "1.49 kW".



I decided to move for about 30 days per month for about 18 hours a day and calculated it by the average unit price of metered electricity A of the page of Kansai Electric Power Company.

1.49 kW × 18 hours × 30 days × 22 yen
= 17,701 yen

Actually it is not always full-time driving, so it is hard to imagine that electricity bills will go so far, but that is the maximum value.

By the way, the "annual electricity fee" written in the air conditioner catalog etc is calculated by a calculation formula like the one on the following page, moved 18 hours a day, the air conditioning is 3.6 months, the heating is 5.5 months ... Be careful as it feels like ... ...

J R A I A [Japan Refrigeration and Air Conditioning Industry Association] Home air conditioners

If you think of actual use, it is not misleading in such circumstances, regardless of whether you compare catalogs like "year ~ ~ yen profit!" Under the same condition, as in the catalog, It is better to calculate to some extent.

Then, the rest is narrowed down to a certain extent by the condition of whether it is actually 6 tatami mats or 8 tatami mats or 12 tatami mats, and if we change the power consumption during cooling from that point, we can see which one will benefit as electricity charge That's why.

For example, since the Japanese style room with broken air conditioner is 6 tatami mats, we will examine it for the same 6 tatami mat. Hitachi's air conditionerRAS-S22WLooking at the specification of ", the cooling power consumption is" 0.36 kW ", it will look like this.

0.36 kW x 18 hours x 30 days x 22 yen
= 4276 yen

It will be cheaper by about 13,425 yen in one month. It seems that it will be cheaper about 40,000 yen if it moves for roughly 3 months.

Next check the price you care about at the price .com.

Price .com - Stainless Steel Clean White Crown RAS-S22W Price Comparison

At the time of article writing the lowest price was 77,861 yen. Since the air conditioner also costs construction costs, let's make a fully automatic estimate on the following page.

If safe air conditioning construction Pro Center

On the above page "3, automatic price quotation for air conditioning construction fee automatic and reliable price" on each page, online quotation page for each region is posted. This time I tried on the following page.

Air conditioning construction in Osaka city, Sakai city is KOEI TEC | Main menu category

The condition seems to be as follows.

· Please select the content to request.
→ Remove the old air conditioner and install a new air conditioner. Air conditioner replacement)
· Please tell me about the installation condition of the outdoor unit of the air conditioner to be removed.
→ The outdoor unit is placed directly in the garden or the veranda.
· How do you dispose of old air conditioners?
→ I want you to dispose of it (household air conditioner)
· Please tell me the capacity of the installed air conditioner
→ A model with traditional Freon model (R-22) 2.8 kW or less or New CFC (R 410 A) 3.6 kW or less
· Does the installed air conditioner have ventilation / humidifying function (excluding oxygen charge)?
→ Ventilation · Humidification function is attached.
· Are the piping pipes for air conditioners open?
→ The hole is open.
· Installation location of outdoor unit
→ Place directly in the garden or veranda.
· Do you have a dedicated outlet for air conditioner?
→ There is a dedicated outlet for air conditioner beside.
· How long is the pipe connecting the indoor unit and the outdoor unit?
→ 10 m required
· Do you want a pipe cover on the outdoor side?
→ I'd like to attach a pipe cover.
· Do you want a pipe cover on the inside of the room?
→ Do not want (If you can see the pipe, tape winding finish is fine.)

As a result, the estimated amount including tax will be 51,650 yen. So let's summarize.

◆ Air conditioning fee for the current summer 3 months:
17701 yen × 3 months = 50, 3103 yen
↓
◆ Air conditioning of the new air conditioner in the summer months 3 months:
4276 yen × 3 months = 12,828 yen
↓
How much will it cost cheaply per year? :
50, 3103 yen, 10,2828 yen = 427 yen yen
↓
◆ What is the new air conditioning fee? :
Main body ¥ 7,781 + installation fee ¥ 51,650 = ¥ 13,011
↓
◆ How many years can you get the original? :
134011 11 yen / 42,255 yen = just after 3 years, that is, the 4th year

In other words, if you continue to move without failing for 4 years, if you use only the cooling function, you can say that it is OK to replace. If extension such as free repair is possible with guarantee at the time of purchase, it would be safe if the above period is used as a guideline. It will be necessary to add the amount for that ... ....

Also, when you look at this way you can see that "not to fail" is as important as the main body price and running cost. The important thing is not to let the construction work be done in the actual construction. Especially in the busy season there seems to be circumstances that "it is not profitable unless a lot of work is completed and a lot of work is done", and there seems to be things such as being sometimes blown without doing work which must be done if it is originally done. Especially"EvacuateIt seems that there are many cases that skip important work called "

Air conditioner construction shop teaches, "Tips not to fail with air conditioning construction" Please wait for the installation of the air conditioner! It is! Until I read this.

Experience on your own! Basic knowledge of air conditioner installation - [Home Appliances] All About

Home appliance nobleman evening | This is a vacuum drawing machine. Please leave air conditioning work !!

Especially the following pages are rich in pictures and are described in quite detailed from installation to evacuation, so it is quite helpful.

Real experience report Air conditioner has arrived!

Depending on the store, it seems that there is a case that the vacuuming is called a separate charge, so let's ask in advance.

So, as a personal conclusion, it seems that it would be better to replace it, regardless of the content of repair tomorrow, if it is a model 15 years ago.