Site that has more than 3,600 free commercially available pictures "PD Photo"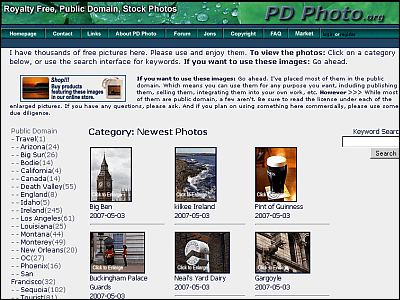 This "PD Photo" has a lot of photographs of public domains that are royalty-free and can be used for commercial purposes. There are a lot of landscape photographs, and about 3691 sheets are prepared at present. It is also possible to search and find out, and it is extremely easy to use.

Access is from the following.
PD Photo - Free Photos And Pictures (public domain, stock pictures, wallpaper, royalty free, clip art, etc.)
http://www.pdphoto.org/

This site,FAQAccording to the page of the first page, it seems that photos were released for friends and family at the beginning, but among them visitors frequently asked "Can I use this picture?", So I will publish it in the public domain I heard that he decided. However, depending on the image, it seems that some things that are not in the public domain or that can not be used for commercial use seem to be mixed in part, so read the display displayed at the bottom of each image carefully.