85 thousand mobile phones a year are broken in the toilet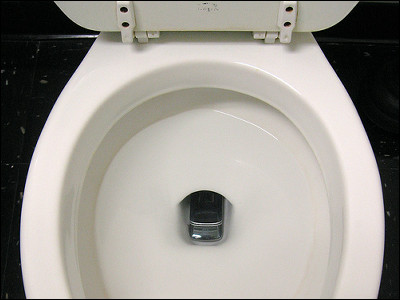 This is a story of Britain, but it seems that 85 thousand mobile phones annually fall to the toilet and have passed away. In addition to that, a total of 4.5 million cell phones are lost annually due to submersion, loss, etc.

Previously in the UK in GIGAZINELondon often forgets mobile phones than any city in the worldAlthough I took up the fact that it seems that the number to submerge into the toilet seems to be considerable.

Details are as follows.
850,000 phones meet death by toilet yearly in the UK - Blog - WirelessInfo.com - Cell Phone Reviews and Wireless Plan Ratings

According to the article by SimplySwitch, which is comparing prices, the results of the survey show that there are 850,000 a year of submersion accidents causing mobile phones to fall into the toilet in the UK, 810,000 a day at taverns, etc. It is said that 315,000 units were lost, and 225,000 units were lost in public transportation, and 116,000 units were involved in the washing machine. The author of this article also said that he recently lost two mobile phones and a PDA.

In the unexpected UK CASIO's "W52CAIt seems that waterproof mobile phones like this can be sold.