Scientifically predicting Disneyland's congestion situation "D croc. Jp"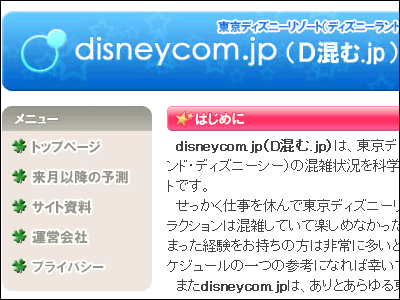 We analyzed the congestion situation of Tokyo Disney Resort such as Disneyland and Disney Sea scientifically from Saturdays, Sundays and public holidays, consecutive holidays, salary days, holding Disney events, student's school trips and graduation trip information, Disney land weather information over the past 10 years It seems that there is a thing called "D jam.

Based on the above information, since it gets so crowded, it is better to enjoy only the atmosphere without attraction in the attraction, crowding into the stages from 'S' to 'E' where attractions can ride too often It predicts the situation.

Perhaps it may be good for an excursion season.

Details are as below.
Disneycom.jp (D crowded. Jp)

According to this page, it predicts congestion based on the following data, and seems to post the congestion prediction table of the next month divided into 6 stages from S to E around 25th of every month.

· Holiday compensation for China, Hong Kong, Taiwan, Korea
· Saturdays, Sundays, and public holidays, consecutive holiday congestion prediction information
· Public holiday information of national citizen's day
· Transfer holiday information by sports festival near Kanto
· Student Spring / Summer Winter Vacation Information
· Payday congestion prediction
· Disney event congestion prediction
· Konaka high school student school trip information
· College Student Graduation Travel Information
· Weather information of Disneyland over the past 10 years
· Data correction by past congestion information

The congestion prediction table is displayed like this.



The way of viewing the congestion prediction table is as follows. I feel that it is better not to go beyond B.

S:It gets so crowded. Let 's enjoy the atmosphere alone and not attractions.
A:I am crowded. Let's enjoy the event by force not to attraction.
B:It gets quite crowded. The attraction has only a few waiting times so I can only ride three on the other.
C:It gets crowded. This is the usual congestion situation of Disney Resort.
D:It gets crowded. But attractions can be ridden somewhat side by side.
E:It is not too crowded. You can ride without much attraction.