AppleTV officially responds to YouTube, 160GB model also appeared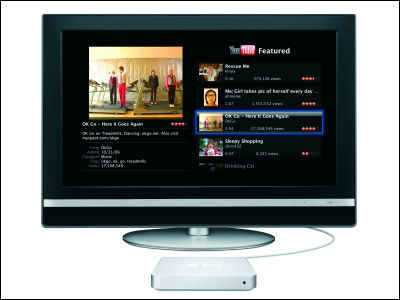 According to the announcement made on May 30th in the US, Apple's "AppleTVIt seems that YouTube is officially supported. This means that you will be able to comfortably enjoy YouTube anytime on your home TV. Also, it will be equipped with a 160 GB HDD, models corresponding to IEEE 802.11 n wireless LAN will also appear.

Is there anyone to buy to watch YouTube?

Details are as follows.
YouTube Coming to Apple TV

According to this article, AppleTV will start supporting YouTube from the middle of June and will be fully available in the fall. If you have a YouTube account, you can also login using AppleTV.

And AppleTV that supports 160GB HDD and supports IEEE 802.11n wireless LAN will be released, but the price of the conventional model is $ 299 (about 36,000 yen), whereas this is about 399 dollars It is 48,000 yen).