Various free net services that shorten long addresses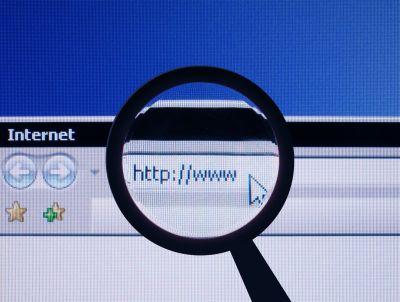 Recent Internet-based services, although certainly convenient, the tendency for addresses to get lengthened and steadily grows stronger, and when teaching addresses by e-mail to someone etc., the string becomes so long that it is not extraordinary , It became feeling like somehow because it is folded back freely and it was very troubled but I thought that "There seems to be various services to shorten the long address, do not you think?" And looked around variously It was.

Also, since you do not know when it will disappear even if you use a service that shortens such an address, we will also introduce a script for those who want to operate by themselves.

The list is as follows.
UrlTea - smooth sips of decanted web addresses
http://urltea.com/
You can use it without registration.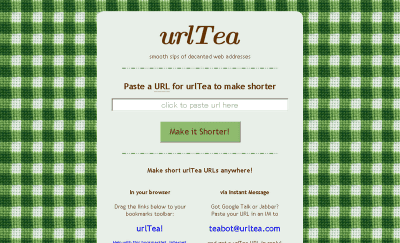 Closed

Roo.to ~ free URL transfer service
http://roo.to/
Three transfer methods can be chosen: meta method, frame method, redirect method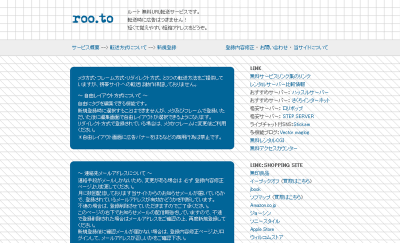 Closed

TinyURL.com - shorten that long URL into a Tiny URL
http://tinyurl.com/
It is the most major service overseas and boasts 890 million PV per month, so you can use it immediately without registration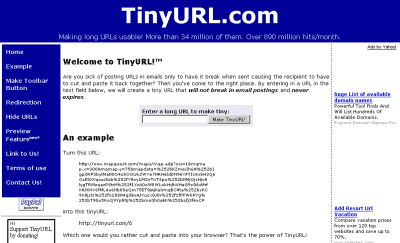 Free transfer URL service Compressed URL transfer
http://kat.cc/
QR code is also automatically generated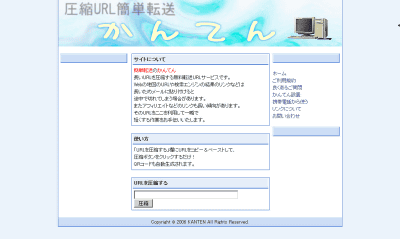 * It is closed, it has become a separate site

Web milled rice
http://symy.jp/
Because bookmarklets are provided, it may be useful for people who frequently use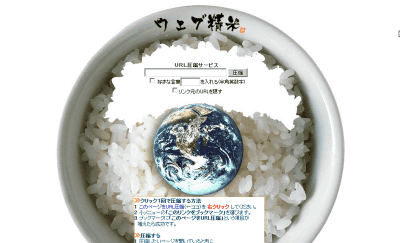 Closed

URL compression and analysis mooo.jp
http://mooo.jp/
It can be used without registering members, but if you register for free, you can use various functions as described here and become considerably convenient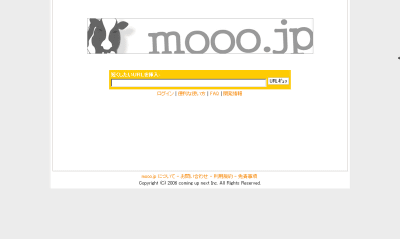 * It is closed, it has become a separate site

Ttu.cc - URL compression service
http://ttu.cc/
Fucked up simple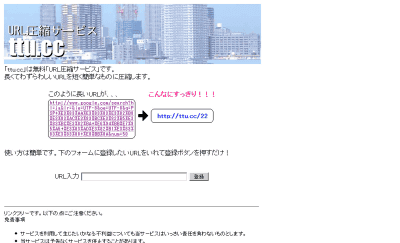 Closed

Compressed URL transfer service. Compress long URLs in a flash.
http://mo-v.jp/
Discount and common type transfer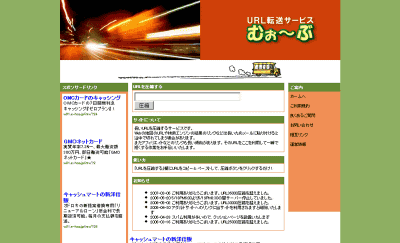 Sites that shorten URLs
http://jpan.jp/
You can decide short address name yourself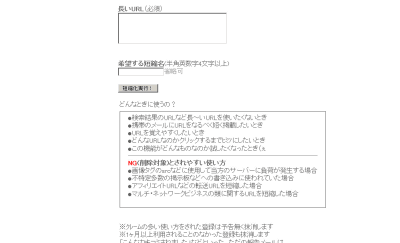 Free URL shortening / transfer service 5 jp.net
http://5jp.net/
Because it does not disappear for one week, it is safe and relieved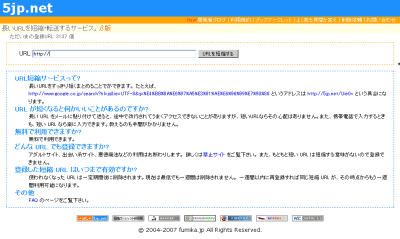 Z. la: URL compression / transfer service - long URLs can be abbreviated!
http://z.la/
There is consideration that addresses such as common brackets and virus sites are not allowed to use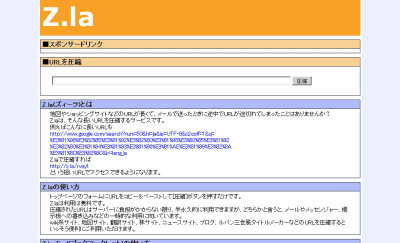 Closed

Shorten long URLs - s-url
http://s-url.net/
Click log can be acquired when user is registered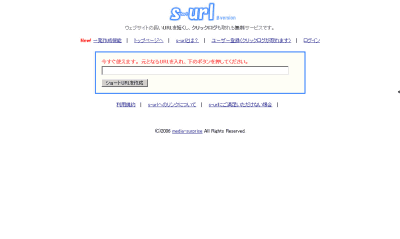 Closed

SnipURL - Snippetty snip snip with your long URLs!
http://snipurl.com/jpindex.php
There is a "private key code" function that can be used like a password so as not to guess the abbreviated address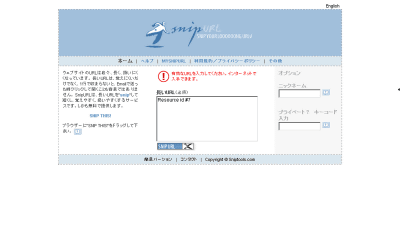 QQA abbreviated URL · QR code creation
http://qqa.jp/
QR code creation, log analysis, arbitrary character string, password setting, referrer hiding etc, anyway multi function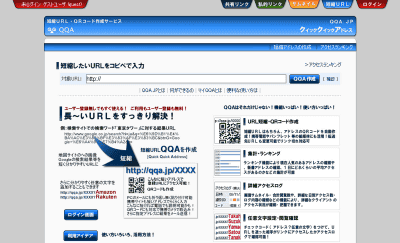 Compress long URL short | QR code generation | QRL.jp
http://qrl.jp/
There is a code that provides this function on a blog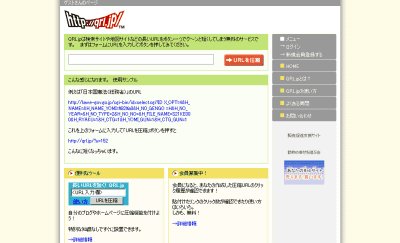 SmarTrans - www3.to Free URL transfer service
http://www3.to/
Pretty well-established service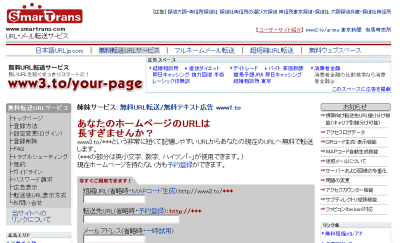 SmarTrans - www1.to free URL transfer service
http://www1.to/
The above service and the same basic



SmarTrans - 3 w.to Multifunction / ultra short URL transfer service
http://3w.to/
There are multiple ways to describe abbreviated addresses, and you can also use a method such as transferring link destination to the fastest reaction speed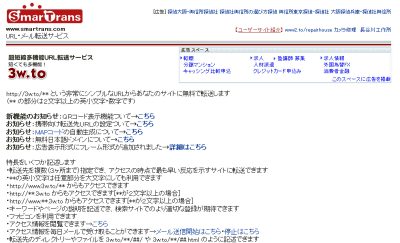 SmarTrans - aim.to Multifunction / ultra short URL transfer service
http://aim.to/
The above service and the same basic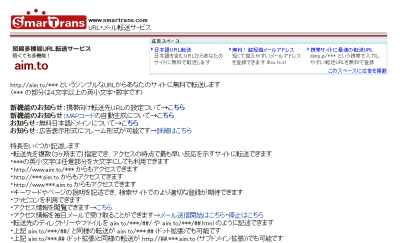 SmarTrans - url.sh Multifunction / ultra short URL transfer service
http://url.sh/
The above service and the same basic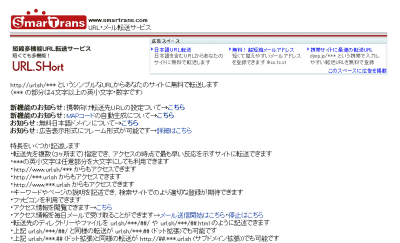 SmarTrans - nihongourl.nu Japanese URL transfer service
http://nihongourl.nu/
Can transfer with Hiragana / Katakana / Kanji address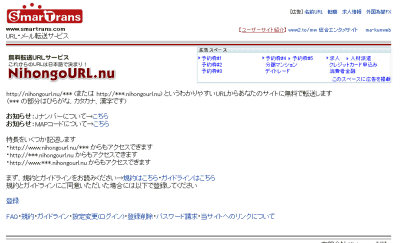 If it is ASP type as we have seen so far, I do not know when it will disappear, so for a permanent use a little ...... In that case, I can call a short URL, transfer URL, compressed URL service on my server "Shorty" Free script is recommended.

Shorty
http://get-shorty.com/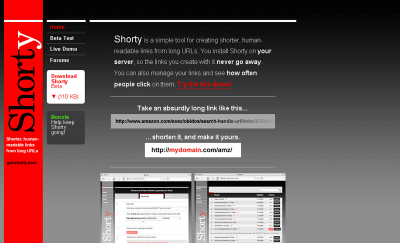 You can experience exactly how you can use it at the following address. It is quite convenient because it has the necessary functions for every short address service as far as it can be thought. Because you can make login essential, do not use it for others, you can also make it your own.

Shorty - Beta
http://get-shorty.com/shorty/

However, there are concerns as explained in the following article, so it may not be kind of security to use the shortened URL service in a place where it is highly likely that strangers will use such as blogs.

FETISH STATION - Reason not to use abbreviated URL

Also, when checking the link destination in advance using the following services it is safe without being trapped.

Source checker online
http://so.7walker.net/

Use convenient service as well as dangerous service depending on usage, so let's use it with moderation.