Hardy gum blown asleep in cooperation with girls' junior high school students "I got upsettingly bad"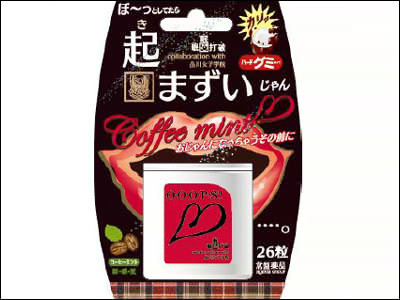 It seems that Tokiwa pharmaceutical industry co-developed with junior high school third grader of Shinagawa Women's College, "Drowsy of Hardy Gummy". The naming and promotion at the shop are also planned by the students, and the CM that was shot is actually used at the shop.

Gumi, coffee mint flavored for students and social workers who want to try harder, such as study and work, released on April 23 at online shops, drug stores, variety shops and more. 315 yen including tax.

Details are as follows.
Tokiwa drugs, falling asleep sleepy hard garbage "raising kiddingajan" limited release

According to this release, Tokiwa pharmaceutical industry participated in the comprehensive learning lesson "28project" that Shinagawa Women's College undertook from June last year to February this year, and co-developed the Shinagawa Women's School version of "Sleeping Hard Gummy" He said he went with a third grader.

And this product name "This is bad" is said to have been attached by saying, "Being as" Ojan as a dirty, it's so awkward, so before that ".

I'm very concerned about the coffee mint taste, but when I saw it more quickly, "I was bad" it looked like "super bad."