AMD's quad-core CPU, shipping will be available in mid-2007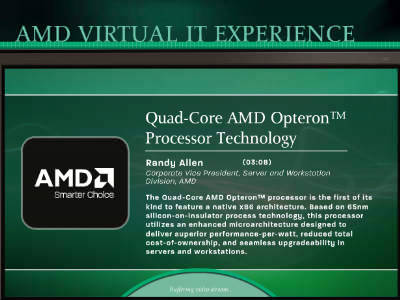 In early NovemberDELL Launches Workstation with Intel's Quad-Core CPU "Core 2 Extreme"However, the shipment of Intel 's competitor AMD' s quad - core CPU seems to be delayed significantly.

By the way, we have already succeeded in demonstration and it seems that performance improvement has been confirmed by up to 70% compared to the conventional one.

Details are as follows.AMD releases the world's first native quad-core x86 processor for servers

According to this release, the CPU for AMD servers and workstations, the quad-core model of the "Opteron" series will be released in mid-2007. It seems that we continue to realize low power consumption and low heat generation from the past by using the 65 nanometer manufacturing process. You can use it seamlessly just by replacing "Opteron" you are currently using and updating the BIOS.

Prior to the announcement of this release, AMD successfully demonstrated a server with four quad-core "Opteron" (code name: "Barcelona") scheduled to be released in the future, that is, a server composed of 16 cores That's right.