Ebisen for adults "Kappeba spicy authentic Kimchi taste · book Wasabi taste" released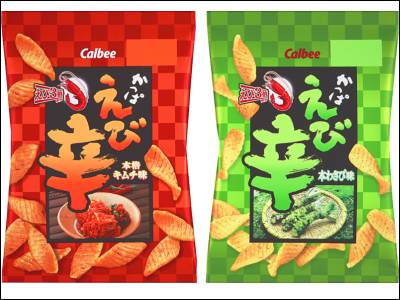 From Monday, November 6, 2006, it seems that we will release two items of dry spinning "authentic kimchi taste" and "book wasabi taste" for a limited time only by region. It seems to be using the shrimp which is three times the usual with a spicy taste that fits well with beer. Price is an open price. Kappa Eboshi also in OctoberWine wasabi taste chosen by popularity voteSo it seems that the wasabi popularity is quite high.

Details are as below.Perfect for beer and alcoholic snacks, adult ebashi.
"Kappae hot spicy real authentic kimchi taste" "Kappa eyashii book wasabi taste" new release!

It seems to have a firm texture to match with the spicy seasoning. The package is not a large copy of the shrimp like a normal ballpark but it is designed to emphasize the spicyness which is the feature of the product.

Kanto · Shizuoka · Niigata · Nagano · Kinki · Kyushu · Okinawa is said to be released from Monday, November 13 from Monday, November 6, Hokkaido, Tohoku, Chubu, Mie, Hokuriku, China and Shikoku.