"Chicken noodles & bowls set" Limited release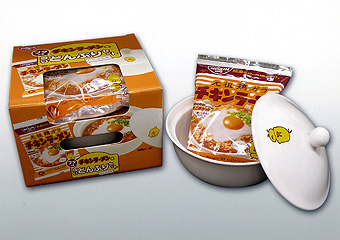 It seems that chicken noodles with special bowl with limited sale several times will come out again. It began selling on October 16 (Monday) 2006 with a tax of 397 yen.

I have not put it in the store or forget the release date and missed buying every time so I want to get it this time.

Details are as below.- Chicken noodles and white lidded bowls became a set -
"Chicken noodle & amp; bowl set"
Information on Limited Release

Contents are as same as usual Chicken noodles 1 bag and bowl with lid with character included. Using this bowl seems to make it easy to make chicken noodles with eggs on it. I do not write the number of sales in particular, but since the sales target is 600 million yen, will it sell 1.5 million pieces?