"Kittenwar" which decides which kittens are more cute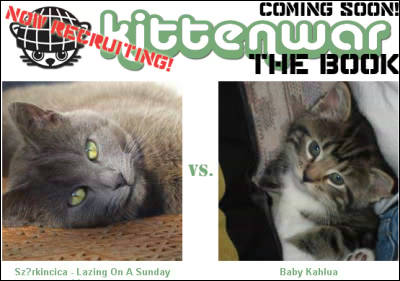 When you visit the top page, two photos of the kittens are displayed, so decide which is cute and just click. It is the site that decides the most cute kittens by repeating this.

Ideal for cute cat lover. Access is from the following.
Kittenwar! May The Cutest Kitten Win!
http://kittenwar.com/

This is the kittens with the highest winning percentage.

Winningest Kittens!

On the other hand, in descending order of defeat rate ...... this is…….

Losingest Kittens!

List of recently entered kittens

I am a photograph of a cute little kittens, you can upload from here and join the war.

Kittenwar! ~ Upload kittens here!

Bonus: Last night, it was quite interesting to say "cat authentication" that there was a stole.

I tried making a cat authentication - fishbee .net

It is fun to be able to choose these kind of login methods for Windows .... cat.