New surfboard sliding 50 cm above the water surface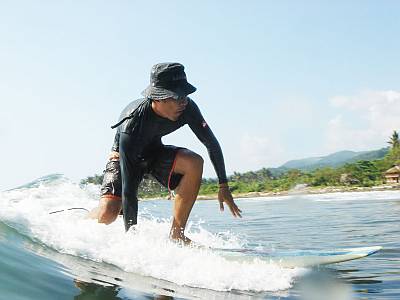 With normal surfing, you slide on the bottom of the surfboard on the waves, but this slides the board further above the waves. It seems that the board on top of a strange rod attached vertically from the sea surface is moving forward.

I do not know what he is saying, so let's see the movie below.
CoMagz-Surfing 20 inches above the water | Linkadelic Magazine

What kind of reasons is called a hydrofoil. The so-called underwater wings. See below for the floating mechanism.

Hydrofoil ship - Wikipedia

Hydrofoil - Wikipedia, the free encyclopedia

This is realized by surfboard.

There is also a thing called "Air Chair" as a thing that slips with the same mechanism.

Air Chair Hydrofoil Waterskis Home Page

It looks quite interesting.