Pictures of the church filled with human bones inside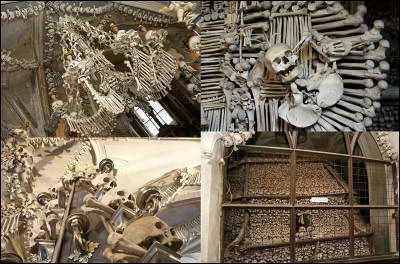 There are beautiful churches in the Czech Republic, Rome, Portugal and Peru where everything inside is decorated with human bones. It seems that it was made to think of the loneliness of human life or to think of any unavoidable death to come. One word of masterpiece. Various inspiration is awakened.

Human bone photos of each church are as follows.
First of all, skeleton chapel in Evora, Portugal, San Francisco church (located at the bottom of the page)
http://oasis.halfmoon.jp/extphoto/portugal3.html

I have just one neck
http://www1.tmtv.ne.jp/~hsh/p6-katorikku.htm

At the entrance of the human crown, it says in Portuguese that "Our bones are waiting for everyone's arrival."
http://deko0625.at.webry.info/200603/article_17.html

Next is the church called Kostnice in the kutna hora of the Czech Republic. It is no longer an object.
http://www.damnfunnypictures.com/html/dfp-Church-Of-Bones.html
http://suomi.blog6.fc2.com/blog-entry-226.html
http://www.mufti.cz/anone/zobraz.php?id=B1dd1foto
http://europe05.nomaki.jp/ryokouki4.htm

Kostnice Church Official Site
http://www.kostnice.cz/

This time it became the origin of the name of the cappuccino It is the skeleton church internally decorated with the bone of 4000 people for the Capuchin monks, Santa Maria della Concierzione in Rome. That underground cypress.
http://www41.tok2.com/home/kanihei5/cimitero.html
http://blogs.yahoo.co.jp/ririko_39503/2672366.html

At the end is Iglesia y Convento de San Francisco in Lima, Peru. 25,000 bones of bones are arranged even on the ground floor 1 that is open to the public. It seems to be up to the basement level 3.
http://www1.linkclub.or.jp/~ttakeshi/perhtml/per17.html

It can not be helped to think about what happens after my death, is it a kind of effective use if the principal wishes to be used like this ...?

Speaking of which, it is okay to leave it in a proper state of white bone, but there was a person who was osteoporosis when my relative died, finally burning the bone and leaving the incinerator I was surprised that little bone remained when I was .... Even if you pinch it with chopsticks to put it in a pot, it will crumble into pieces. Even though the bones are skyca, will bones remain properly if not baked ...?
in Note, Posted by darkhorse_log