Bluetooth equipped wrist watch "i: VIRT" which notifies incoming call to mobile phone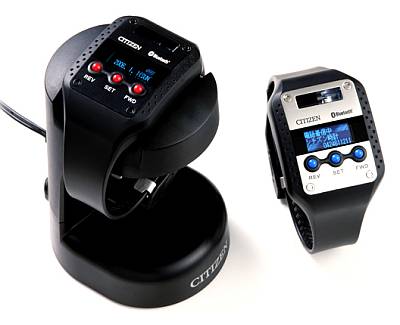 From July 7 the number is released limited, the price is open. It is a wrist watch that uses Bluetooth's hands-free function installed in mobile phones to notify incoming calls to mobile phones with vibration and light. Since it is possible to transfer the address book of the mobile phone, it is also possible to display the registered name beforehand when receiving a call.

Details are as follows. The way of reading is "Ai: Vert".
A wrist watch "i: VIRT TM" to notify the incoming call of a mobile phone
~ As the Bluetooth (R) equipped wristwatch, the world's first release launched ~

You can hold and disconnect with "i: VIRT" during incoming call to the mobile phone · PHS, and furthermore when the connection with "i: VIRT" is distant away from the cell phone · PHS, vibration, light and " Warning in display, it is useful for preventing misplacement of mobile phones / PHS.

Organic EL is used for display, charging by contactless charging method, just put the watch on the charger. Up to 10 incoming call records on that day.

Color variations are 2,500 each in black and silver.

If you give a complaint, I wonder if the appearance did not manage any more ......