File uploader using AJAX "Uber Uploader"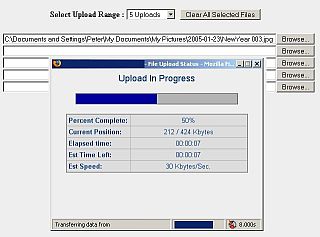 It progressively displays the progress of uploading files with the progress bar. After uploading, the result is displayed with AJAX without making screen transition. It is a "Uber Uploader" that is being developed with open source that helps to do that.

If you experience the actual demo you can understand what you can do.

CakeTimer - Demo Page | An Ajax file uploads progress bar
http://thinkingphp.org/demos/cake-timer/

UBER UPLOADER DEMO - A free upload script with progress bar
http://www.webdice.org/uber_uploader/
Download it here.

SourceForge.net: Uber Uploader
https://sourceforge.net/projects/uber-uploader

Besides this, it exists in the same kind.

PHP AJAX File Upload Progress Meter
http://bluga.net/projects/uploadProgressMeter/

This is charged.

Upload Progress Bar / AJAX File Uploader: FileChucker - by Encodable Industries
http://encodable.com/filechucker/

Script that trying to do the same thoroughly without AJAX.

Asynchronous image file upload without AJAX
http://www.air4web.com/files/upload/

Is there already an uploader script that made use of this kind, even in Japan?