FREE service to make a site Favicon (Favicon) from "FavIcon from Pics"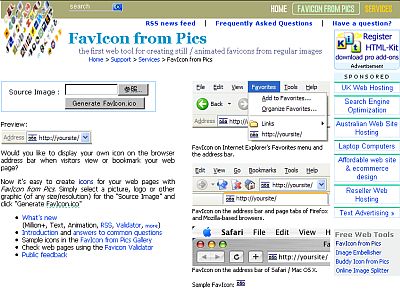 Favicon (favicon) is an icon other than the standard icon when put in IE's favorites. A free service that can be created just by uploading an image that is based on such a Favicon is "FavIcon from Pics". Not only ordinary Favicon, but also an unusual one like animated Favicon can be created.
FavIcon from Pics - how to create a favicon.ico for your website
http://www.chami.com/html-kit/services/favicon/

Easy to use, just click on "Browse" and click "Generate FavIcon.ico". Only download and use the generated Favicon afterwards. A type that automatically animates will also be generated. I do not have a Favicon so if you do not set it up, why do not you try making this machine?