Yahoo! Auctions' number of listings on 1st day exceeded 10 million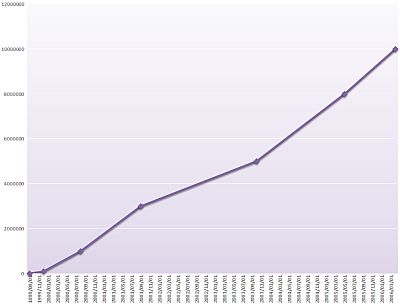 It seems that the number of simultaneous holding auctions exceeded 10 million cases for the first time on April 22. Is there as many as 10 million cases a day ... it may not be an overstatement to say that it is virtually impossible to monitor everything .... If I report an illegal exhibition, I will crack down if I do not do it to a prize money system ....

The graph above shows the number of exhibits up to the present. The figures are as follows.


Service started September 28, 1999
December 8, 1999 Breakthrough 100,000
August 10, 2000 exceeded 1 million
September 19, 2001 Three million cases exceeded
October 3, 2003 Over 5 Million
May 11, 2005 exceeded 8 million
Yahoo! Auction, Number of Listings (Number of Simultaneous Auctions) Breaks to 10 Million Items
http://pr.yahoo.co.jp/release/2006/0425a.html

By the way, the current situation of Yahoo auction is as follows.



Monthly page views 7, 8,667 thousand PV (March, 2006)
Average page views per day 228.6 million PV (March, 2006)
Average number of new items per day A total of 722 thousand items (January - March 2006)
Average daily transaction amount 1,912 million yen (January - March 2006)
Average successful bid amount per day 5,809 yen (January - March 2006)
Number of users (Number of Yahoo! Premium members) 6,150,000 ID (March 2006)

Yahoo! premium alone has become quite profitable ...