Add 4th regular "Lemon" to Hichu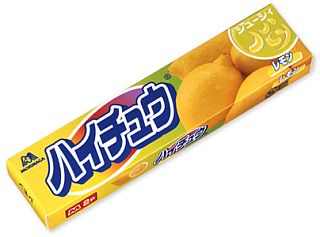 Release from May 9th, 12 grains at 105 yen including tax.

Stronger basic flavor series! It is! A new fellow appeared.
Morinaga Chewing Candy
"Hai chu " New release! It is!

And Hi - chi is offering various flavors for a limited time, but this time, saying that this time it boasted the highest record in sales in the past three years, it is said that "Lemon" was added as a new regular high school regular about.

Before that, I think that there are also many people who do not understand the three regular types of Hiju so let's summarize.
1. Strawberry
2. Grape
3. Green Apple

A new lemon will be added to this.


● Product Features
· At the beginning of eating, refreshing feeling due to the refreshing acidity of lemon spreads in the mouth.
· Every time you chew, you can enjoy the juicy taste unique to Hi-chew.

● Advertisement
Announcing the launch of with endcut of Hi-chu TVCM, who appointed Domoto Tsuyoshi.

Originally I have never eaten lemon flavored high chives, but are they delicious enough to enter the regular?