The name of the first browser in the world is "WorldWideWeb"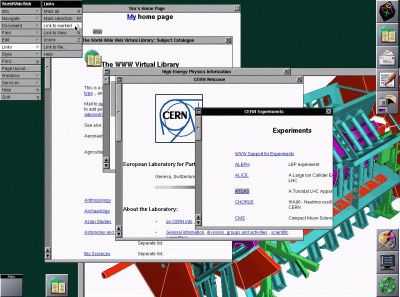 「WorldWideWeb」というのはあの「http://www.~~」の「www」と同じ発音です。でも、あれ?世界初のブラウザはMosaicじゃないの?と思う人もいるかも知れませんが、Mosaicは世界で一番最初に普及したブラウザ、だそうです。そしてなんとタグ打ちしなくて済むページ作成ツールの元祖でもあります…。つまりタグ打ちなど邪道、タグを打たないページ作成こそが本筋なのですよ(それは違う)

WorldWideWeb - Wikipedia, the free encyclopedia

It was released February 26, 1991. It was made by Tim Berners-Lee, and initially it ran on the OS called NeXTSTEP.

By the way this is the history of the browser.

Web Browser History - First, Early

When I go in the order they came out, Opera is older than the Mozilla line represented by Firefox. And I also understand that Internet Explorer is a fresh and newcomer. * IE was born August 23, 1995, and it took over the market share of Netscape, which was then No. 1 in 1999.