'Thunderbolt 5', a communication standard that allows data transmission at 120Gbps, is introduced, and supports video output and power supply with USB Type-C connector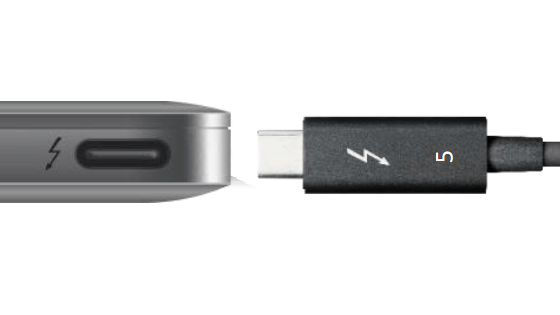 Intel officially announced the connection standard `` Thunderbolt 5 '' on September 12, 2023, which has a connector with the same shape as the USB Type-C connector. Thunderbolt 5 can transmit data up to three times faster than the previous generation Thunderbolt 4, and also supports video output and power supply.

Intel Introduces Thunderbolt 5 Connectivity Standard

https://www.intel.com/content/www/us/en/newsroom/news/intel-introduces-thunderbolt-5-standard.html
Thunderbolt™ Technology: Endless Possibilities
https://www.intel.co.jp/content/www/jp/ja/architecture-and-technology/thunderbolt/overview.html
Thunderbolt 5 is a communication standard that uses a connector with the same shape as USB Type-C, and is compatible
with USB4 Version 2.0
, DisplayPort 2.1, and PCI Express Gen 4, and supports not only data transfer but also video output and power supply. doing.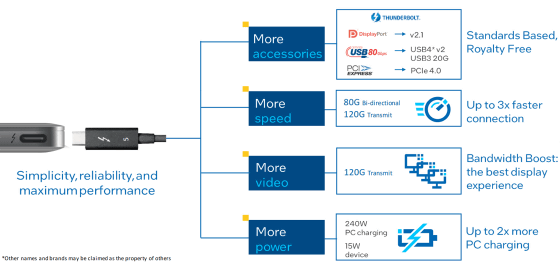 There are differences in the functions supported by USB4 compatible products, but Thunderbolt is characterized by the same functionality. For example, with USB 4, there are variations in support for functions such as ``15W power supply'', ``video output to a monitor'', and ``recovery from sleep'' depending on the product, but all functions can be used with Thunderbolt 4 compatible products. Thunderbolt 5 continues to offer all features available on all products.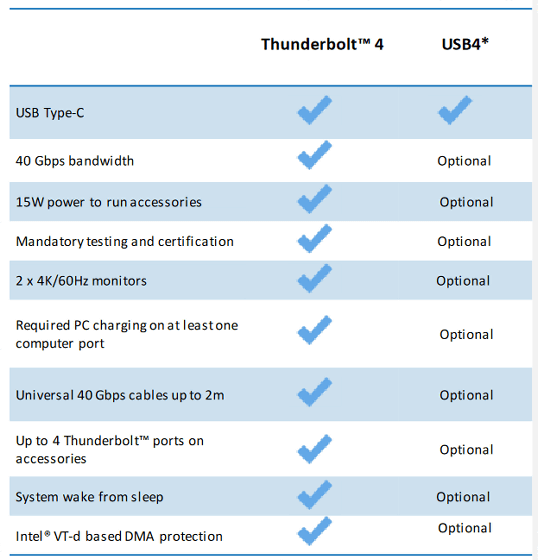 Thunderbolt 5 has four transfer lanes, and two-way high-speed communication of 80 Gbps is possible by assigning two to each for sending and receiving. Furthermore, data transmission at up to 120Gbps is possible by allocating 3 lanes for transmission.




The diagram below compares the bandwidth of Thunderbolt 5 with previous generations of Thunderbolt and USB. Thunderbolt 5 can transmit data up to 3x faster than Thunderbolt 4 and Thunderbolt 3. USB4 conditionally supports data transfer at 120Gbps, but there are variations in the supported bandwidth among USB4 compatible products. On the other hand, all Thunderbolt 5 compatible products support data transfer at 120Gbps.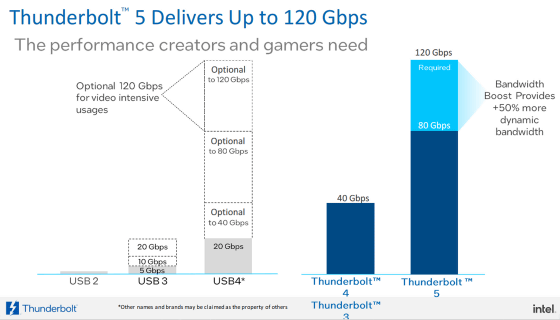 The performance comparison diagram of Thunderbolt 4 (left) and Thunderbolt 5 (right) looks like this. Thunderbolt 5 can output video to multiple 8K monitors, and can output at up to 540Hz regardless of output resolution. In addition, Thunderbolt 5 supports device charging at up to 240W, and can supply power to high power consumption PCs such as gaming notebook PCs with a single cable.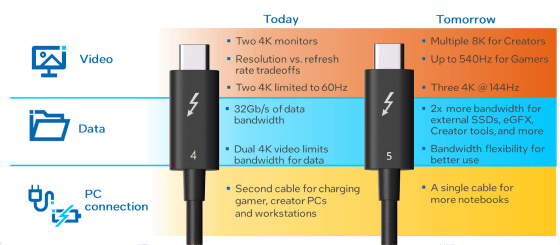 Below is a performance comparison table of Thunderbolt 5, Thunderbolt 4, USB4, and USB 3. Thunderbolt 5 outperforms others in all aspects, including bandwidth and power delivery performance.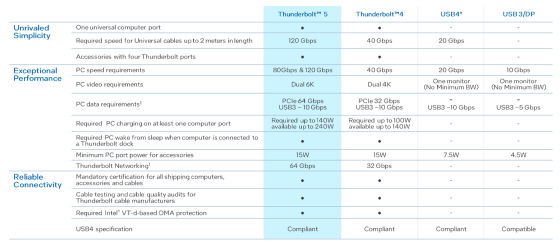 The appearance of the logo and cable looks like this. It seems that '5' is clearly marked on the tip of the cable.




In addition, accessories that use the Thunderbolt 5 controller (codename: Barlow Ridge) are scheduled to be released in 2024.