'Machi Asobi vol.26' event schedule summary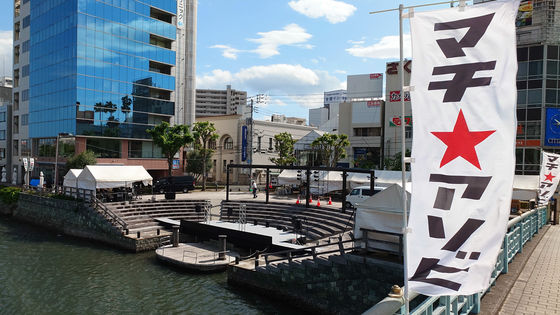 The event Machi Asobi vol.26 will be held on May 6th (Sat) and 7th (Sun), 2023.
AnimeJapan
, which is a similar event, will be completed in the hall of Tokyo Big Sight, but Machi★Asobi takes a little time to move between different venues because the stage is spread out in the town of Tokushima. For this reason, I made a schedule table for each day and place as a reference for making a viewing plan for the event.
gore play
https://www.machiasobi.com/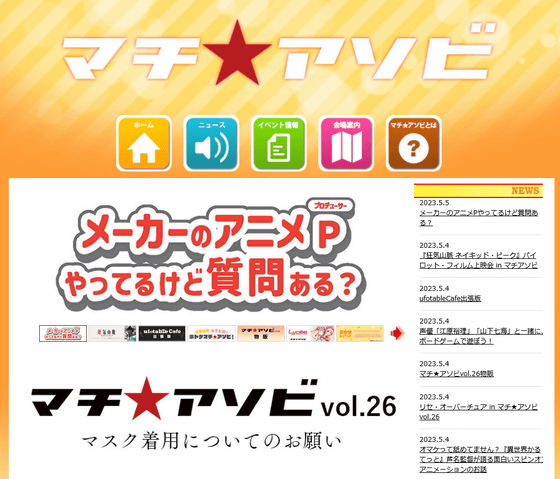 It is like this when only the schedule part of the flyer is cut out.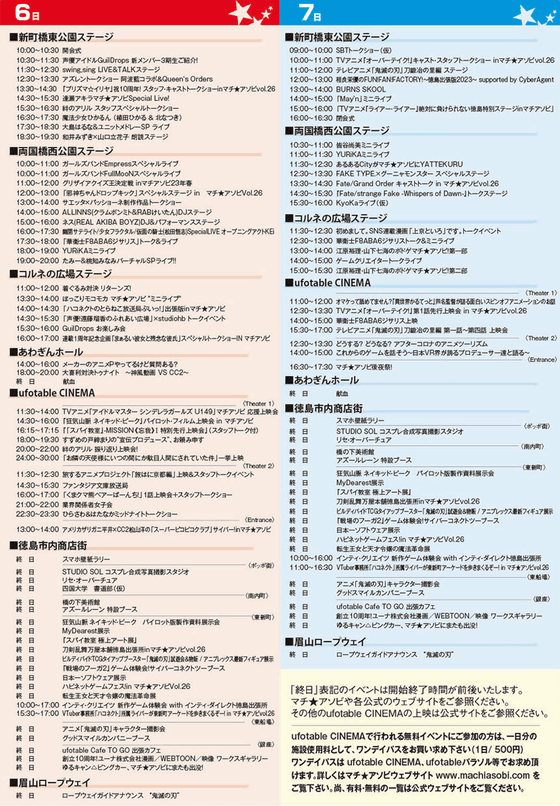 Below is the event list. The all-day event will be held approximately from 10:00 to 17:00, and the start and end may be around.

◆ Saturday, May 6, 2023

◆ Sunday, May 7, 2022
◆Other ・All-day events, etc.
・ Overall shopping street
smartphone wallpaper rally
・Poppo Street
STUDIO SOL
Cosplay Composite Photography Studio
Lycee Overture
Shikoku University
Calligraphy Club (provisional)
・Minamiuchi Town
Hashinoshita Art Museum (Reference:
Past events
)
Azur Lane
special booth
・Higashishinmachi
Madness Mountains Naked Peak
Pilot Version Production Material Exhibition
MyDearest
Exhibition
'
Spy Class
Superb Art Exhibition'
Touken Ranbu Yorozuya Honpo Tokushima Branch
in Machi Asobi vol.26
Building Divide
TCG Tie-up Booster 'Demon Slayer:
Demon Slayer: Kimetsu no Yaiba
' Demo & Merchandise Sales / Aniplex Latest Figure Exhibition
'
Battlefield Fugue 2
' game experience meeting! cyber connect two booth
Nippon Ichi Software
Exhibition
Happinet
Game Festival in Machi Asobi Vol.26
Magic Revolution Exhibition of Reincarnated Princess and Genius Daughter
Inti Creates
New Game Experience with Inti Direct Tokushima Branch (6th: 10:00-17:00 / 7th: 10:00-16:00)
American Crayfish Hirai x CC2 Hiroshi Matsuyama's 'Super Piko Piko Club' Cyber! in Machi Asobi (@ufotable CINEMA/6th: 13:00-14:00)
VTuber office '
Haconnect
' affiliated river walks around Higashi Shinmachi Arcade!
・East Semba
Anime '
Demon Slayer:

Demon Slayer: Kimetsu no Yaiba
' character photo session
Good Smile Company
Booth
・Ginza
ufotable Cafe TO GO
business trip cafe
10th Anniversary!
Yuna Co., Ltd.
Manga/WEBTOON/Video Works Gallery
Yuru Camp △ Ping Car
, Machi ★ Play again!
・Bizan Ropeway
Ropeway
guide announcement '
Demon Slayer: Kimetsu no Yaiba
'
In addition, the above event is posted on the flyer, and in addition to this, autograph sessions and mini talk events by cast and staff may be held at parasol shops and booths.
◆ Venue location
'Shinchobashi Higashi Park Stage' looks like this. The stage setting had already been completed.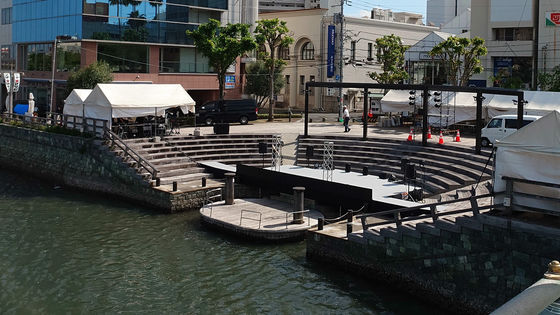 The location is here.


The 'Ryogokubashi Nishi Park Stage' was just under construction with such feeling.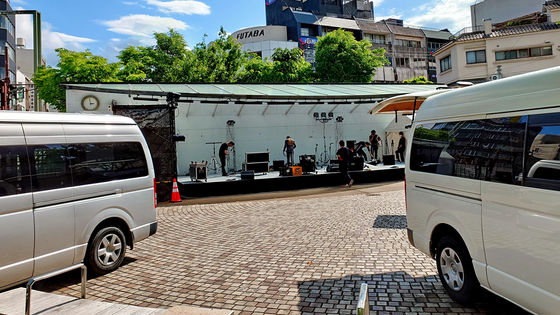 The location is here.


Between the Shinmachibashi East Park stage and the Ryogokubashi West Park stage, it is possible to move through the Shinmachigawa Boardwalk where each company has a parasol booth, and the distance is about 300m. It's okay to move while looking at the booths, but if you want to move quickly, it's convenient to move on the south-facing one-way road one block inward from the river.

Another stage, 'Corne's square stage' is like this. It is located at the intersection of the Higashi Shinmachi shopping street where ufotable CINEMA is located and the neighboring Kagoyamachi shopping street and Ginza shopping street.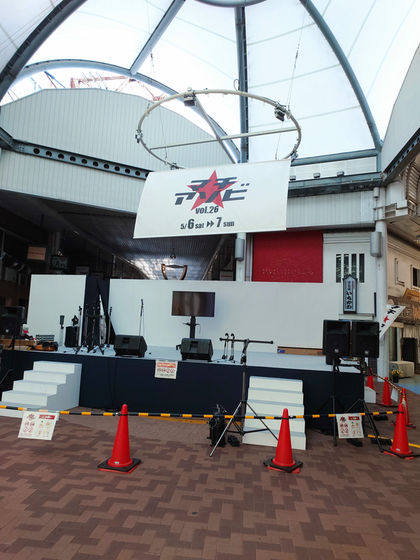 The location is here. It is less than 300 meters from both Shinmachibashi East Park and Ryogokubashi Nishi Park.


'Poppo Street' is a shopping street near JR Tokushima Station, with 7-Eleven and Matsuya at the east entrance, and the hotel 'The Grand Palace Tokushima' and cafe Awa Doll at the west entrance. It is necessary to cross National Route 318 with a traffic light or a pedestrian bridge to the Shinmachi River, where the stages are concentrated, and the distance from the nearest Shinmachibashi Higashi Park stage is about 600m.


'Minamiuchimachi' refers to the north bank of the Shinmachi River, and Machi★Asobi often uses the Toba Building, which is closer to the western end, as an exhibition space.


Since the Hashishita Art Museum is part of the Hyotan Island Cruise , the boarding point is near Ryogoku Bridge. About 300m from Shinmachi Bridge. In addition, since the Shinmachi River / Awa Paper Waterside Park on the northern bank of the Shinmachi River is a cosplay venue, there is a possibility that there will be a lot of people.


'Higashi Shinmachi' is a shopping street with ufotable CINEMA and its surroundings. There is Awa Bank at the entrance on the northwest side, and the southeast side is connected to the Kagoyamachi shopping district and the Ginza shopping district at the 'Corne no Hiroba' (Cornet no Izumi Square).


'Higashi Senba' is between Higashi Shinmachi and Shinmachi River, and there are ufotable Cafe TOKUSHIMA .


'Ginza' is a shopping street on the southwest side of Ryogokubashi Nishi Park, south of Higashi Shinmachi.


Make a good schedule and try to participate in various events.


in Note, Posted by logc_nt