The price of Bitcoin fell 12.7% to the lowest level since November 2020, and the world's largest virtual currency exchange 'Binance' indicated its intention to acquire rival 'FTX'.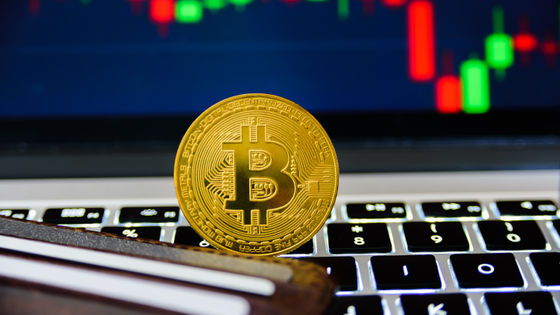 The price of Bitcoin fell 12.7% in a matter of hours after
Binance
, the world's largest cryptocurrency exchange, embarked on the acquisition of rival cryptocurrency exchange
FTX
.
Bitcoin briefly touches a new low for the year, FTX token plunges more than 75% in broad crypto sell-off
https://www.cnbc.com/2022/11/09/cryptocurrencies-slide-as-worries-about-ftx-fester-in-latest-crypto-liquidity-scare.html
Crypto giant Binance to acquire rival FTX following 'liquidity crunch' | TechCrunch
https://techcrunch.com/2022/11/09/binance-signs-letter-of-intent-to-acquire-ftx/
On November 8, 2022, Binance announced its
intention
to acquire FTX. The trigger was FTX's request to Binance to 'cooperate because liquidity has declined significantly', and Binance is said to have tried to save it from the crisis of liquidity decline by acquiring FTX. increase. In preparation for the acquisition, all non-fiat currency withdrawals on FTX have been
suspended
.
This afternoon, FTX asked for our help. There is a significant liquidity crunch. To protect users, we signed a non-binding LOI, intending to fully acquire https://t.co/BGtFlCmLXB and help cover the liquidity crunch. be conducted a full DD in the coming days.

— CZ ???? Binance (@cz_binance) November 8, 2022


At the same time, FTX CEO Sam Bankman Freed explained the acquisition on Twitter. The team is working on resolving any outstanding withdrawals, which will resolve the liquidity crisis and provide 1:1 coverage for all assets, providing information to customers that settlements, etc. may take a little longer. sent to He also noted that there were rumors of conflict between rival exchanges, saying, 'I am aware of the rumors, but Binance is working to improve its relationship with regulators and the industry, while working towards a more decentralized global economy. We have repeatedly demonstrated that we are committed to

1) Hey all: I have a few announcements to make.

Things have come full circle, and https://t.co/DWPOotRHcX 's first, and last, investors are the same: we have come to an agreement on a strategic transaction with Binance for https://t.co/DWPOotRHcX (pending DD etc.).

—SBF (@SBF_FTX) November 8, 2022


The cryptocurrency market, including Bitcoin, faces significant selling pressure after the takeover turmoil. Bitcoin, which was 2,962,347.87 yen per BTC at 17:00 on November 8, Japan time, fell to 2,584,751.93 yen two and a half hours later. It actually fell 12.7%. This is the lowest level since November 2020, when the price of Bitcoin began its sharp rise .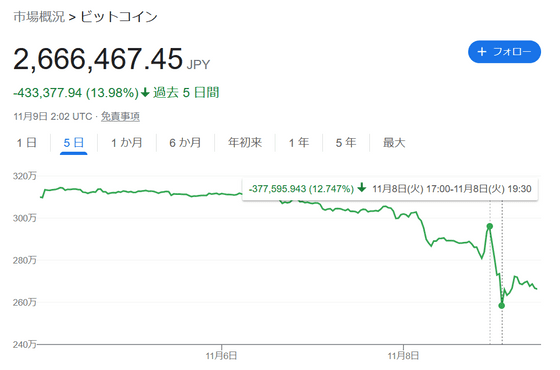 Virtual currencies other than Bitcoin have also fallen, with Ethereum dropping about 18% and Solana dropping about 26% in dollar terms. In the stock market, the stock price of the virtual currency exchange Coinbase fell by about 11% and Robinhood by about 19%, respectively. Financial institutions that handle cryptocurrencies and cryptocurrency mining companies were also hit.

The acquisition agreement between the two companies has not been fully agreed, and the acquisition process will be carried out in the near future. Binance CEO Changpong Zhao said the acquisition was 'to protect our users' and said, 'There is a lot to cover and it will take time. This is a very dynamic situation and we are assessing the situation in real time. I do,' he said.

Two days before the uproar, CEO Zhao said, ``We have decided to liquidate our FTT (FTX token) due to the facts that have recently been revealed.'' This comes after it was pointed out on November 2 that the FTT occupied a large portion of the balance sheet of Alameda Research, Bankman-Fried's trading firm, and that holding such illiquid assets was not an option. It is believed that it was triggered by the fact that it was mentioned that there was a financial risk to

As part of Binance's exit from FTX equity last year, Binance received roughly $2.1 billion USD equivalent in cash (BUSD and FTT). Due to recent revelations that have came to light, we have decided to liquidate any remaining FTT on our books. Four

— CZ ???? Binance (@cz_binance) November 6, 2022