A beautiful picture of the Orion Nebula taken by the James Webb Space Telescope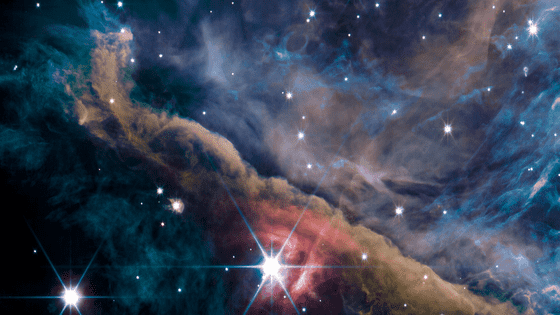 byNASA

A photo of the
Orion Nebula
taken by the ``
James Webb Space Telescope
'', a state-of-the-art giant space telescope
that started operation in
2022, was released on September 12, 2022.
Western News - Western researchers among first to capture James Webb Space Telescope images
https://news.westernu.ca/2022/09/jwst-pdrs4all-orion-nebula/
The inner Orion Nebula seen with JWST – PDRs4All
https://pdrs4all.org/pdrs4all-first-images-release/
The James Webb Space Telescope captured the inner region of the Great Orion
Nebula
located in the constellation Orion, 1,350 light years away from Earth. The images are composites of emissions from hydrocarbons, molecular gases, dust, scattered starlight, etc., using multiple filters.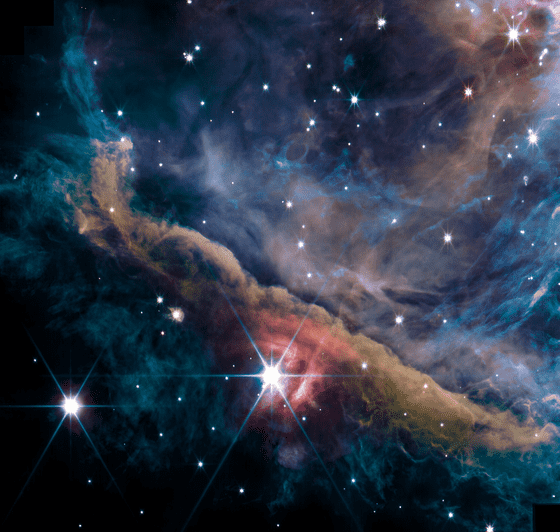 byNASA

The most conspicuous is a band of high-density gas from the upper left to the lower right of the image, and the brightest star in the center is a young star called 'θ2 Orionis A'. The blurred light located in the upper left of θ2 Orionis A is the ``baby'' of the star. Clouds with dense gas and dust collapse when gravity becomes unstable and become like this, gradually increasing mass, causing nuclear fusion, and starting to shine.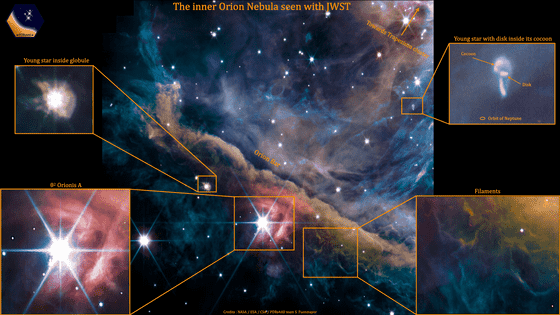 byNASA

The cocoon-like object in the upper right is a planet surrounded by a disk of gas and dust. These disks are annihilated or
photo-evaporated
by the strong radiation field of star clusters, creating clumps of gas that look like cocoons. Nearly 180 such stars have been confirmed in the Orion Nebula alone, and the star called 'HST-10' in the photograph is one of the largest. The circular frame added with the annotation 'The orbit of Neptune' at the bottom of the photo represents the orbit of Neptune, which has a radius of 4.5 billion km.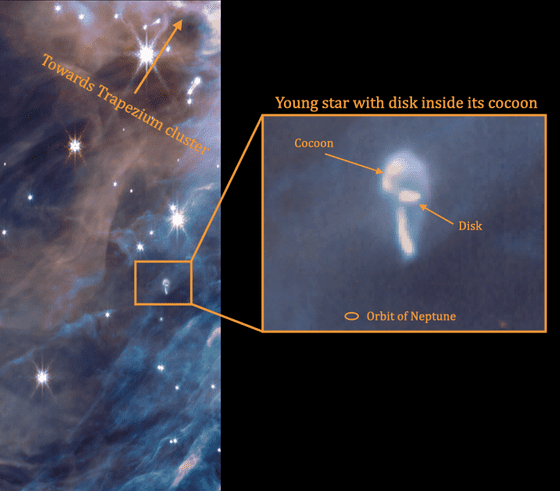 by NASA

By the way, an image comparing the same area with a photo (left) taken by the Hubble Space Telescope has also been released. The James Webb Space Telescope has more precise infrared vision, so it seems that it is possible to find faint stars in thick dust layers.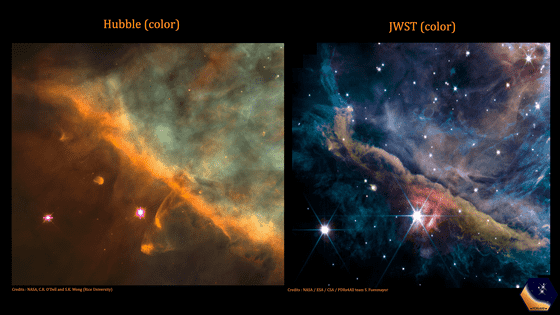 by NASA