YouTube releases ad-free educational player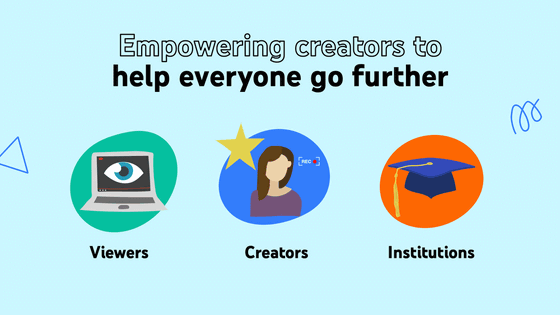 YouTube has a function to recommend the next video based on the video you have watched, but since it is just distracting for users of educational institutions, we have added a new recommendation function, advertisement display, external links, etc. We have announced that we will start providing the deleted ' YouTube Player for Education '. Free and paid "course" creation functions are also provided for educational content creators.

The next chapter for Learning on YouTube

https://blog.youtube/news-and-events/the-next-chapter-for-learning-on-youtube/
YouTube launches an ad-free video player for education - The Verge
https://www.theverge.com/2022/9/8/23341123/youtube-learning-educational-video-ad-free-courses-quizzes
YouTube's new embeddable player, YouTube Player for Education, is a player for educational apps and content that eliminates distractions such as ads, external links, and recommendations. First of all, it will be provided in partnership with
EDpuzzle
, a proven education tech company,
Purdue University
,
Purdue Global
, etc. YouTube Player for Education has also been introduced in
Google Classroom
, and it is expected that the usage experience will be better.
"Every day, teachers and students around the world use YouTube to learn," said EDpuzzle co-founder and CEO Kim Sabria. We are pleased to offer YouTube Player for Education as an early partner and support EDpuzzle's mission to help students learn through video. We will work on it," he said.
In addition, creators who provide educational content will be able to distribute free and paid 'courses' from 2023. Users who purchase a 'Course' can watch the content ad-free. Background playback is also possible. The courses feature will be available in beta first in the US and South Korea, with plans to expand to more countries at a later date.
An example of a
Coder Coder
course that delivers content about coding. The course 'Let's Build a Website' costs $ 14.99 (about 2100 yen) and has 8 videos. 'Buy course' and 'Preview' can be selected, and 'pay to watch' is displayed for the second and subsequent videos. It seems that you can see videos that are open to the public for free with 'Preview'.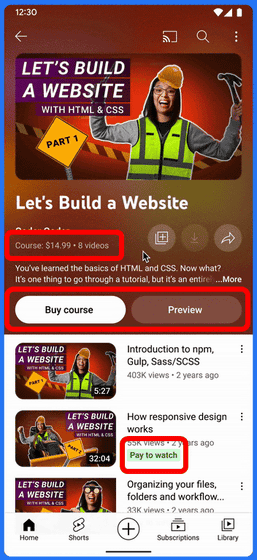 Before purchasing, the explanation about the course is displayed like this.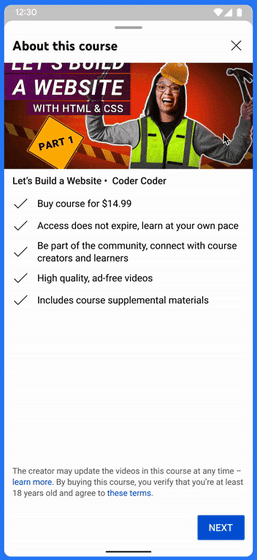 payment screen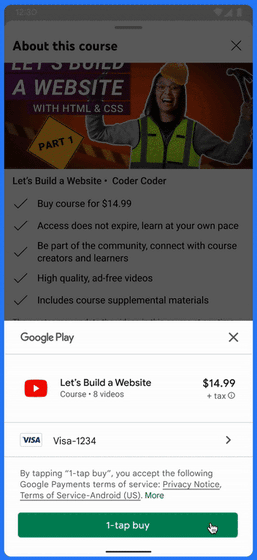 Purchase completed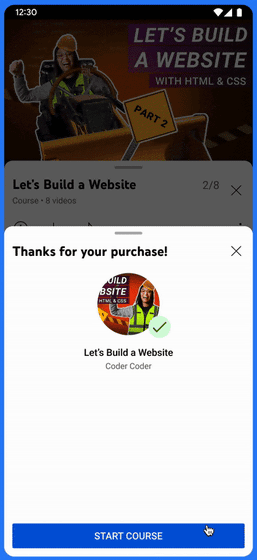 The part that was 'pay to watch' changed to 'Purchased'. Now you can watch any video at any time.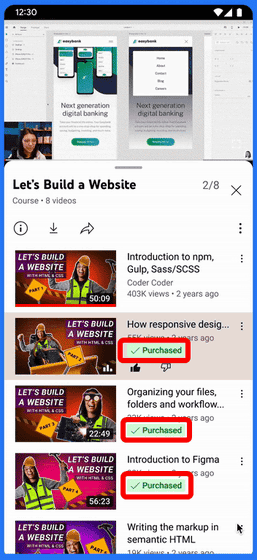 'Learning a new skill, like how to code, is very difficult to know where to start and where to go next,' said Jess Chang of Coder Coder. Doing it on your own is hard and easy to get lost in. My channel Coder Coder has millions of viewers learning how to code and helping them stay motivated on their coding journey With our new Courses, we're excited to bring more structure to learning, offer exclusive content, and ultimately empower our viewers to be more successful in their careers.'

In addition, a 'quiz' function will be introduced as a place for learners to test the results of their learning. This feature will allow creators to ask viewers questions related to what they learned in their latest videos. The quiz feature will be available in beta in the next few months, and will be available to all creators with a community tab in 2023.

Here is an example of a quiz, a three-choice question.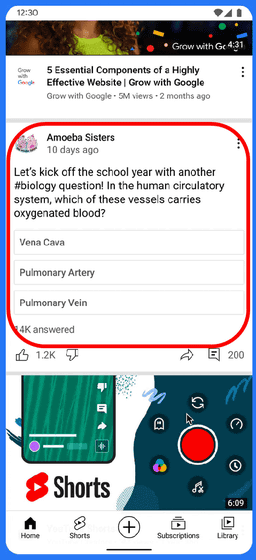 When you select an answer, the result and its supplementary explanation are displayed. Clicking the link to the video ......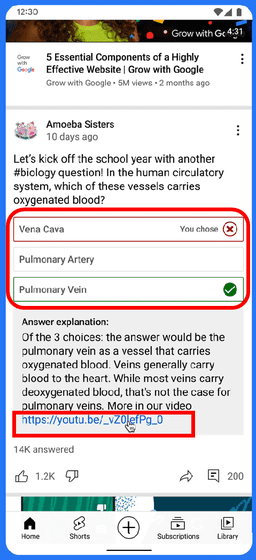 A video that just reviewed the answer was played.