I tried using 'Anker 737 Charger (GaNPrime 120W)' that can output 3 ports maximum 120W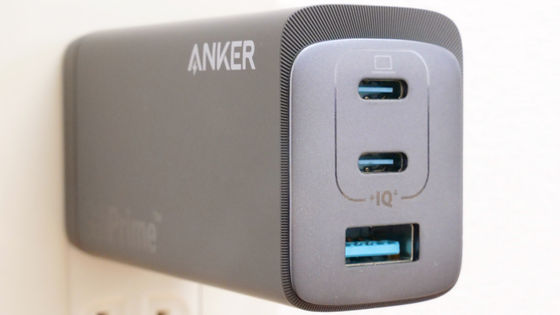 Anker will release a charger ' Anker 737 Charger (GaN Prime 120W) ' that can quickly charge up to 3 devices at once. It is equipped with Anker's proprietary technology 'PowerIQ 4.0' that has evolved and is ideal for charging multiple devices, so I actually tried using it.

Anker 737 Charger (GaNPrime 120W) | Quick charger product information

https://www.ankerjapan.com/products/a2148
The package of 'Anker 737 Charger (GaNPrime 120W)' looks like this.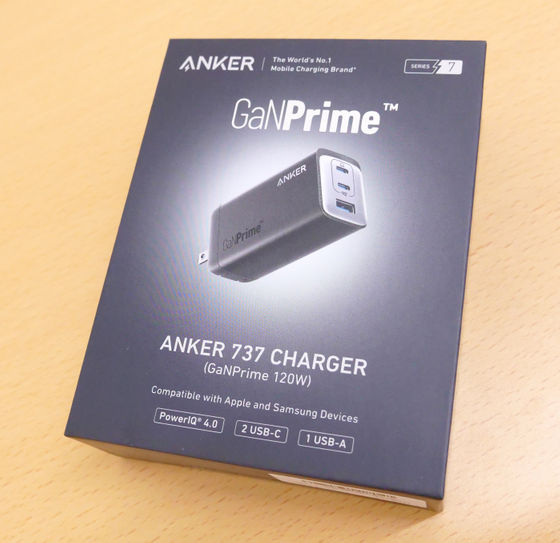 The contents are the main body, the charger fixture, the instruction manual, and the document that describes the contact information for support.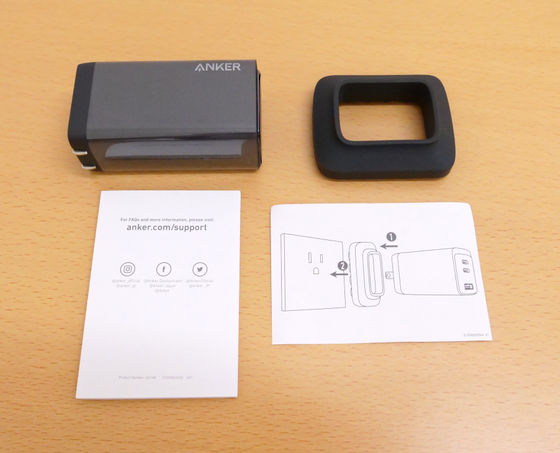 The dimensions of the main body are 80 mm × 43 mm × 32 mm, and if the thickness is ignored, the size is close to that of a transportation IC card.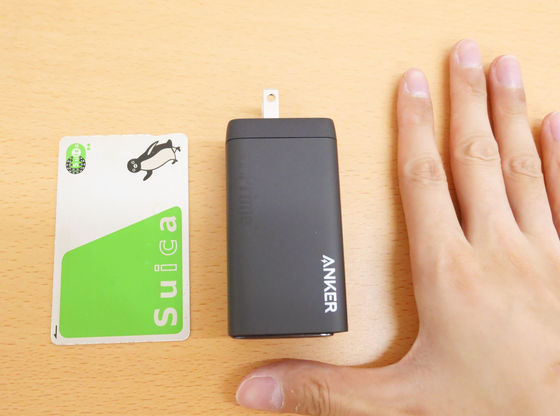 The actual weight is 192g.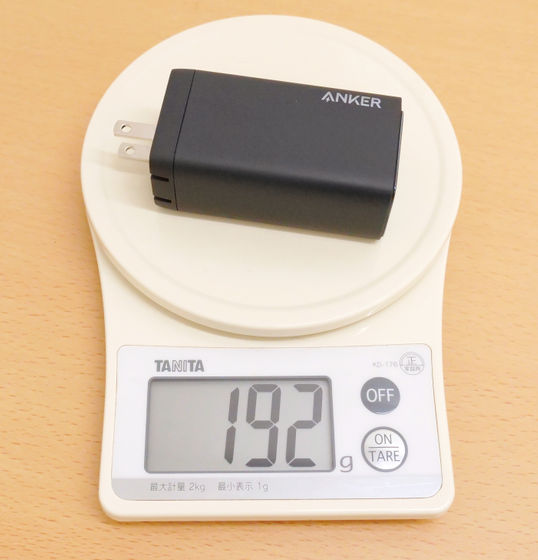 Equipped with 2 ports of USB Type-C and 1 port of USB Type-A.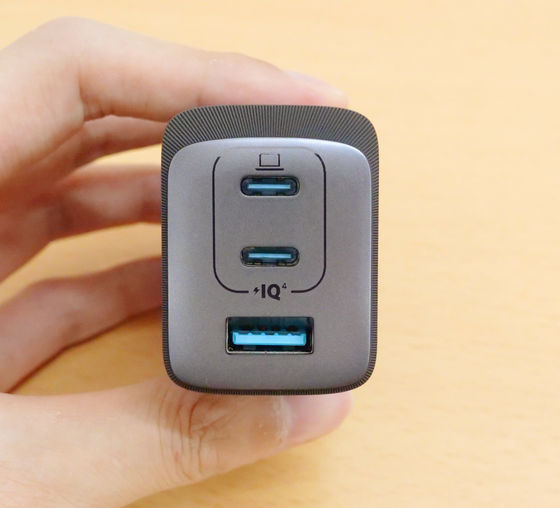 The output when using a single port is 5V = 3A / 9V = 3A / 15V = 3A / 20V = 5A (maximum 100W) for USB Type-C, 4.5V = 5A / 5V = 4.5A / 5V = for USB Type-A 3A/9V=2A/12V=1.5A (Maximum 22.5W) When using 2 ports, both USB Type-C (2 ports at the same time) and USB Type-C (upper) + USB Type-A total maximum 120W, USB Type-C (lower) + USB Type-A total maximum 24W is. When using 3 ports, the total maximum is 120W.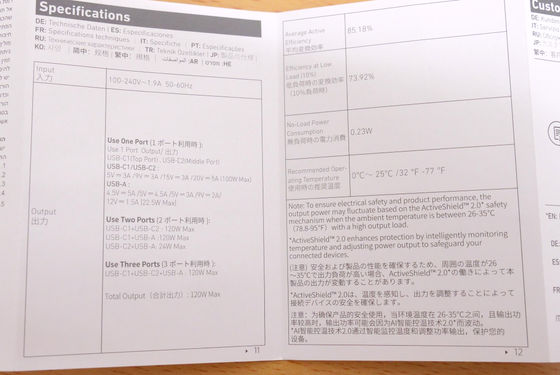 Other appearances can be confirmed in the following videos.


'Anker 737 Charger (GaNPrime 120W)' capable of outputting up to 120W in total for 3 ports looks like this-YouTube
The included fixture is made of silicone and has a fine suction cup on the back.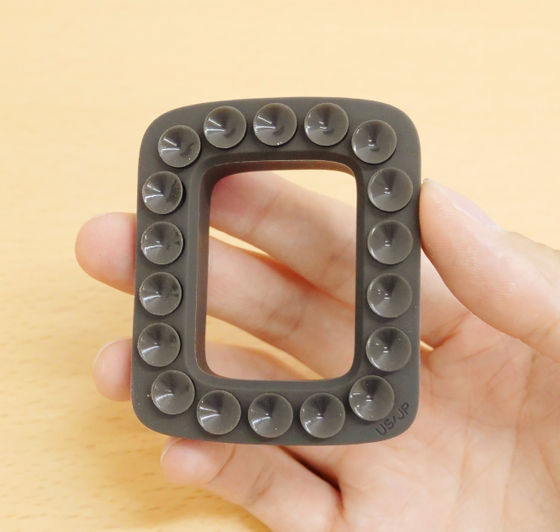 Fit the charger body in this fixture like this ......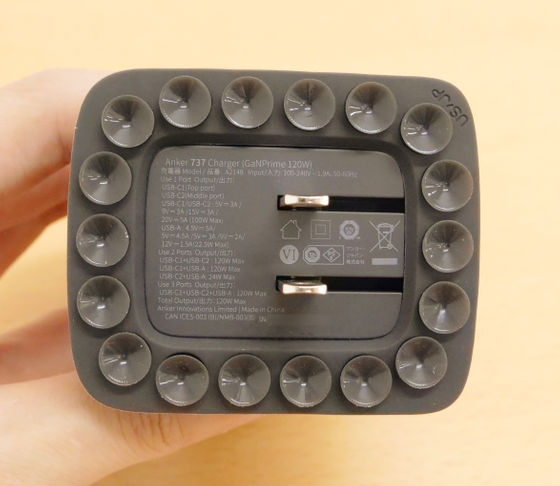 By inserting it into an outlet, the suction cup sticks to the cover around the outlet, making it difficult for the charger to come off. The main body is heavy and long, so it tends to be a little wobbly when in use. It is better if there is a fixture.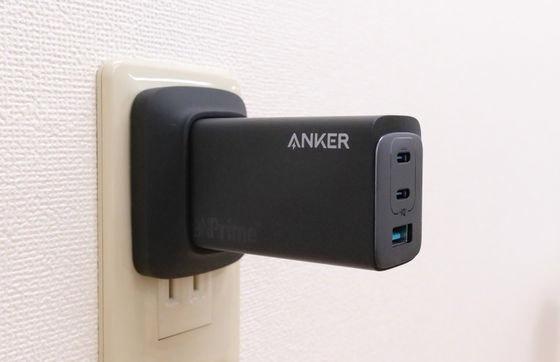 I actually tried charging by connecting the charging cable and the device.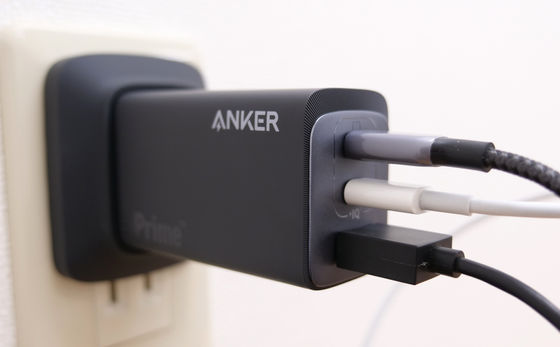 When I connect the voltage/current checker 'Satechi Type-C Power Meter' to the Dell 'XPS 13' and measure the USB Type-C port, the voltage is 19.4 V and the current is 1.66 A when using 3 ports. I was.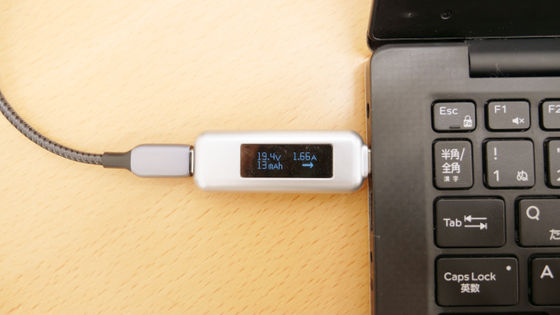 Similarly, when connecting the iPhone 13 Pro using 3 ports, the voltage was displayed as 5.00 V and the current was 0.82 A.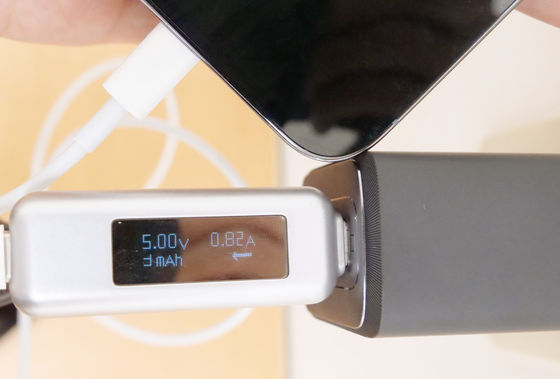 'Anker 737 Charger (GaNPrime 120W)' can be purchased at Amazon.co.jp, and the price is 12,990 yen including tax. Pre-order sales have started, and general sales will start on August 29, 2022 (Monday). At the time of article creation, it is pre-ordered at 11,691 yen including tax with a 10% discount.


Amazon | Anker 737 Charger (GaNPrime 120W) USB PD charger USB-A & USB-C 3 ports [Proprietary Anker GaNPrime technology / PowerIQ 4.0 installed / PSE technical standard compliant / foldable plug] MacBook PD compatible Windows PC iPad iPhone Galaxy Android smartphone notebook PC Various other equipment compatible (black) | Anker | AC type charger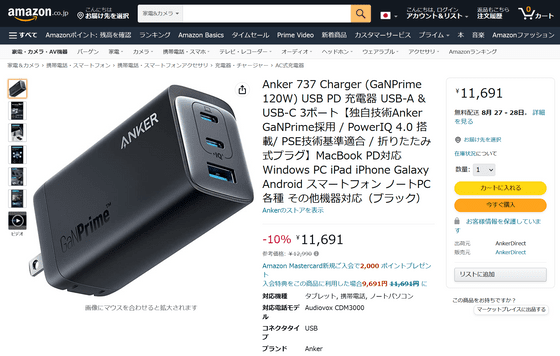 Along with the announcement of 'Anker 737 Charger (GaN Prime 120W)', a cable '
Anker 765
' with a maximum data transfer speed of 480 Mbps and a maximum output of 140 W has also appeared. The price on Amazon.co.jp is
3990
yen for 0.9m and 4190 yen for
1.8m
.
Amazon | Anker 765 Heavy Duty Nylon USB-C & USB-C Cable (140W 0.9m) USB 2.0 USB PD Compatible MacBook Pro / Air iPad Pro iPad Air 4 Galaxy S21 Pixel LG Compatible | Anker |