A man who has been infected with HIV for more than 31 years is in remission after stem cell transplantation, and at the time of transplantation, the 63-year-old HIV remission is the oldest in history


At the 2022 International AIDS Conference held in Montreal, Canada, on July 27, 2022, a case was reported that 'a man who was HIV-infected and developed leukemia had HIV remission after undergoing a
stem cell transplant
.' I did. An anonymous man, 66 years old at the time of publication, has lived with HIV for over 31 years since he was diagnosed with HIV in 1988, and the age of 63 years at the time of stem cell transplantation is the oldest confirmed long-term remission of HIV. ... apparently ...
Patient with HIV achieves remission following stem cell transplant at City of Hope | City of Hope
https://www.cityofhope.org/hiv-patient-achieves-remission-following-stem-cell-transplant-city-of-hope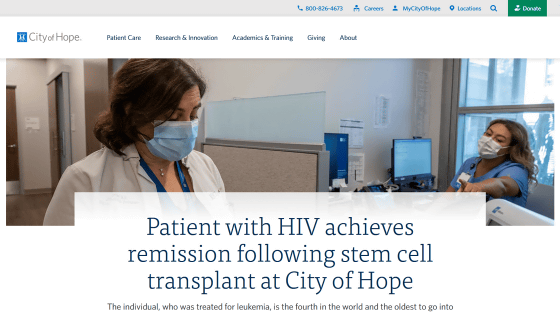 Fourth person'cured' of HIV, but is a less risky cure in sight?
https://www.france24.com/en/live-news/20220727-fourth-person-cured-of-hiv-but-is-a-less-risky-cure-in-sight
A 5th person is likely cured of HIV, and another is in long-term remission
https://www.nbcnews.com/health/health-news/5th-person-likely-cured-hiv-another-long-term-remission-rcna40116
66-year-old likely cured of HIV after stem cell transplant | Live Science
https://www.livescience.com/fifth-patient-cured-of-hiv
Jana Dickter, an associate clinical professor at the City of Hope, an American cancer treatment center, said at the 2022 International AIDS Conference in Montreal on July 27, even after discontinuing
antiretroviral therapy
. We reported a case of a male patient whose virus had not been replicated for more than a month.
A man who wanted to remain anonymous was diagnosed with HIV in 1988, but at the time there was no modern HIV treatment, saying, 'Like many others, it's a death sentence.' I thought. ' In fact, men also had an extremely depressed immune system and were once diagnosed with
acquired immunodeficiency syndrome (AIDS)
, but in the 1990s they switched to anti-retrovirus treatment with multiple HIV treatments. After that, he lived as an HIV-infected person.
However, in 2018, a man was diagnosed with acute myeloid leukemia and had to undergo a stem cell transplant for treatment. The man was able to receive a stem cell transplant in early 2019, when the donor was a person with a gene mutation resistant to HIV infection. People with a mutation called 'delta 32' in the gene for a protein called
CCR5
on the surface of white blood cells are known to be resistant to HIV because they cannot use the pathway for HIV to enter the body. ..
The body of a man who received a stem cell transplant has steadily replaced the HIV-resistant donor-derived immune system. After vaccination against the new coronavirus infection (COVID-19) in March 2021, anti-retrovirus treatment was discontinued under the supervision of the medical team. For the next 17 months, there were no signs of HIV replication in the man's body, and Dickter and colleagues reported that 'the patient is in long-term remission.' The medical team will continue to monitor the condition of men, and it is possible that they will eventually declare a 'complete cure.'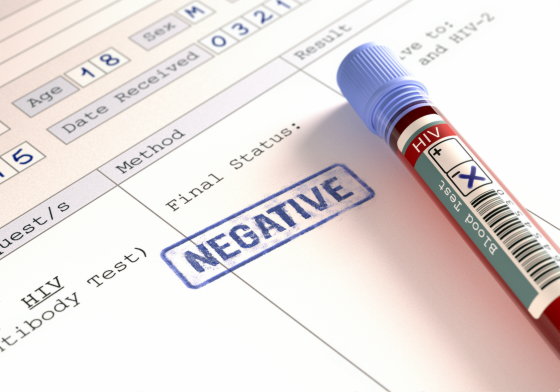 There have been several people who have been declared long-term remission or cure of HIV, but the male is 63 years old at the time of stem cell transplantation and 66 years old at the time of writing the article, which is the highest number of people who have been declared long-term remission. I will be old. It is also the longest remission person in history to have been HIV-infected for 31 years. 'I didn't expect to live until the day I wasn't infected with HIV,' he said in a voice through the City of Hope. 'I can't stand my gratitude.'

Live Science, a scientific media outlet, points out that this case is similar to that of Timothy Ray Brown , the world's first HIV remittant. However, since the man this time was quite old as a patient for stem cell transplantation, the City of Hope adopted special pre-transplant chemotherapy to reduce the burden on the patient.

'If we find a suitable stem cell donor for HIV patients who develop blood cancer, there is evidence that new, less intense chemotherapy can be used to achieve cancer and HIV therapy remission,' said Dickter. This may open up entirely new possibilities for the usual patient with HIV and blood cancer. '

However, stem cell transplantation has serious side effects and is not an appropriate option for all HIV-infected people. 'The first thing a bone marrow transplant does is to temporarily destroy your immune system,' said Steven Deeks, an HIV expert at the University of California. Will never do it. ' NBC News points out that stem cell transplantation has failed and is not always successful. 'The ultimate goal of HIV treatment research is safety, efficacy, and tolerability, and importantly, It's about developing a scalable treatment that can be used by about 38 million people living with HIV worldwide. '

In February 2022, it was reported that 'successful treatment of female HIV patients for the first time by stem cell transplantation' was reported, and the case of HIV treatment by stem cell transplantation was the second in 2022.

First Successful Treatment of HIV in Women with Stem Cell Transplantation-GIGAZINE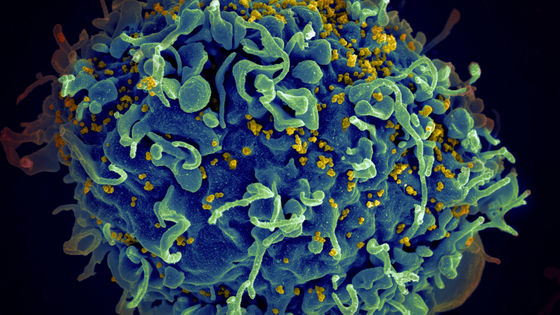 The 2022 International AIDS Conference also reported a case in which an HIV-infected woman who received immunopotentiating treatment in 2006 in Barcelona, Spain, controlled viral replication without antiretroviral treatment for over 15 years. .. The woman is said to still carry the virus in her body, but has been shown to suppress HIV replication in a different way than people with congenital HIV resistance gene mutations, even in other patients. Attention is being paid to whether it can be reproduced.