DuckDuckGo releases desktop browser, first from beta for Mac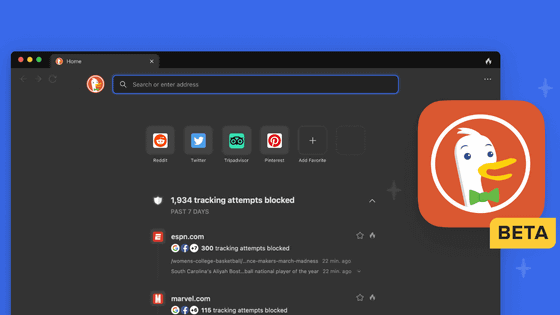 DuckDuckGo
, an internet search engine that emphasizes the protection of user privacy, has announced that it has released a beta version of its web browser 'DuckDuckGo' for macOS. A Windows version will be released in the future.
Introducing DuckDuckGo for Mac: A Private, Fast, and Secure Browsing App
https://spreadprivacy.com/introducing-duckduckgo-for-mac/
DuckDuckGo announces a new privacy-focused Mac web browser | Ars Technica
https://arstechnica.com/gadgets/2022/04/duckduckgo-announces-a-new-privacy-focused-mac-web-browser/
DuckDuckGo provides a web browser for
iOS
and
Android
, and a browser extension for
Chrome
,
Firefox
and
Safari
. And DuckDuckGo has started offering 'DuckDuckGo for Mac', a web browser for desktops, in an invitation-only beta version.
DuckDuckGo for Mac is in beta! A fast, everyday browser (like our mobile app) that protects your privacy by default w / private search, tracker blocking & HTTPS upgrading, our ???? button, plus new features like automatic cookie pop- up management and more. https://t.co/pE1zxSjszX

— DuckDuckGo (@DuckDuckGo) April 12, 2022


While there are many web browsers that use Blink as the rendering engine based on Chromium, Apple's WebKit is adopted as the rendering engine of DuckDuckGo for Mac through the WKWebView API . It uses the Mac's built-in browser engine, so when you update macOS, DuckDuckGo for Mac also features feature and security updates. Graphic performance is already faster than Chrome, and blocking trackers requires 60% less data to process than Chrome, says DuckDuckGo.

DuckDuckGo for Mac automatically manages the 'pop-up asking if you agree to use cookies' that appears when you visit a website, uses HTTPS connections wherever possible, blocks trackers, and sites. It is possible to clear the website data saved for each.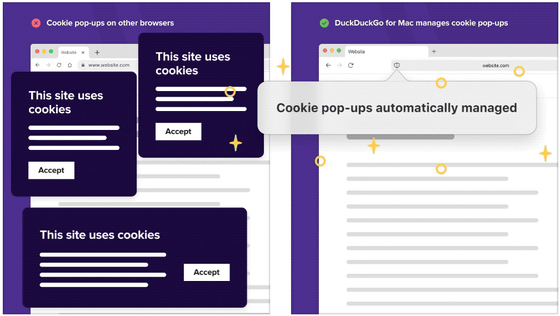 In addition, it is equipped with its own password manager, and password data can be imported from other browsers, 1Password, LastPass, etc. Furthermore, synchronization of bookmarks from other browsers is planned to be implemented. In-app data such as history, bookmarks, and passwords are only stored locally on your device and are designed to be inaccessible to anyone, including DuckDuckGo.

According to DuckDuckGo, a Windows version of the web browser is 'coming soon.' Ars Technica, an IT news site, said, 'Assuming that the Windows version has the same approach as the macOS version, the Windows version will adopt Microsoft Edge WebView 2 , so the macOS version and the Windows version have names and some functions. Even together, the contents may be completely different. '