In fact, one-third of young people felt 'happy' with the lockdown caused by the new Corona.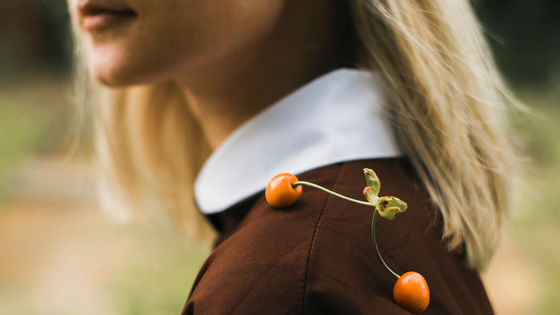 A study from the University of Cambridge and Oxford revealed that one in three young people reported improved
mental health
and well-being during the lockdown period for the new coronavirus infection (COVID-19). ..
One in three young people say they felt happier during lockdown | University of Cambridge
https://www.cam.ac.uk/research/news/one-in-three-young-people-say-they-felt-happier-during-lockdown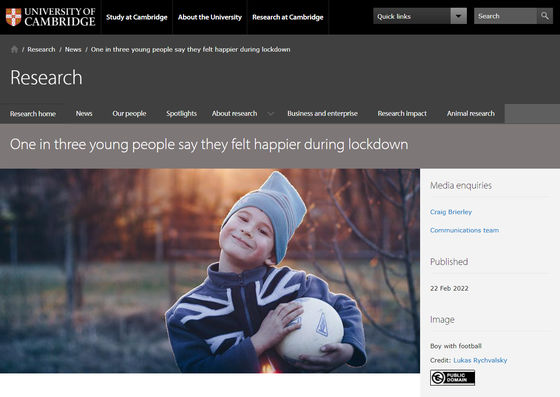 The pandemic of the new coronavirus has forced strict lockdown measures around the world, forcing many to spend their time at home. Not only companies and commercial facilities but also schools where children attend have been
closed, and there are still cases in Japan where schools are closed due to the epidemic of Omicron strains
.
Some researchers report that lockdown measures with the new coronavirus have adversely affected the mental health and well-being of young people, but another study suggests that young people may have benefited from lockdown. Suggests.
'At the time of the first lockdown in 2020, quite a few children and adolescents reported that their health was'improved,'' said Emma Soneson, a doctoral student in the Department of Psychiatry at the University of Cambridge. I heard from patients and informally from some parents and adolescents that the lockdown period was beneficial to their and their children's mental health, so I decided to investigate this in detail. ' He talks about how he got involved in investigating the impact of down on mental health.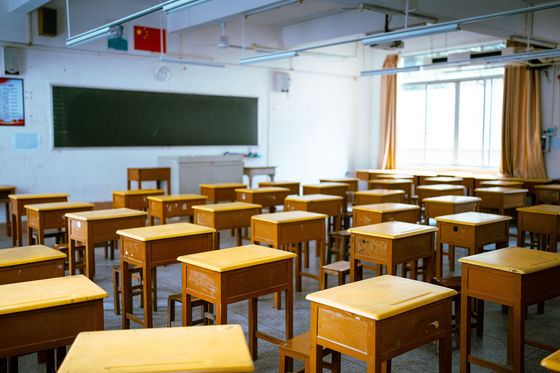 Soneson analyzes the 2020 edition of the
OxWell Student Survey
, a large survey of students aged 8-18 in the United Kingdom. The OxWell Student Survey is a survey of the mental health of the first lockdown students in the UK from June to July 2020, with more than 17,000 students attending.
As a result of the analysis, Soneson and his team found that one in three students reported that their mental health improved during the lockdown period. Almost the same number of students reported that 'mental health had hardly changed' or 'mental health had deteriorated.' In addition, the highest percentage of students who reported improvement in mental health were 'students who attended school every day' (39%) and 'students who attended school almost every day' (35%). The percentage of students who answered that their degree had deteriorated was the highest for 'students who attended school only once or twice' (39%).
It was also clear that students who felt
well-being
during the lockdown period were more likely than other students to report positively about school, home, relationships and lifestyle during the lockdown. It has become. For example, students who report improved well-being compared to their classmates have less bullying, better relationships with friends and family, less loneliness, better academic management, and better sleep than before lockdown. It reports an increase in the number of people and an increase in exercise.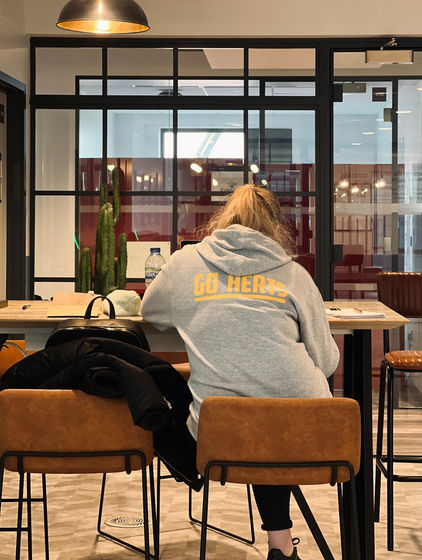 'We found that various factors are intricately intertwined in whether a child's mental health and well-being were affected by lockdown,' said Peter Jones, a professor of psychiatry at the University of Cambridge. It ranges from 'mental health before pandemic' to 'relationships with family and peers' and 'attitude toward school'. '

Studies of the effects of traditional lockdowns have revealed that young people are worried that lockdowns may have a negative impact on friendships. However, in a new study by Soneson et al., About half of those who reported improved mental well-being reported less loneliness and better relationships with friends and family. The research team explained that lockdown did not adversely affect mental health more than expected, partly because 'digital social interaction reduced the adverse effects of reduced face-to-face contact. It is said that the spread of video calling apps such as Zoom has greatly helped. Another possible factor in improving family relationships is that children who have been closed can spend more time with their parents and siblings.

One of the specific friendships that changed during the pandemic is 'bullying.' Researchers have found that most young people who have been bullied in the past year report reduced bullying after a lockdown. In addition, the percentage of those who answered that 'bullying decreased' after the lockdown was worse for those who answered that well-being improved (92%) and those who answered that there was no change (83%). It seems that there were more people who answered that they did (81%).

Approximately half of young people who said their mental health improved also reported increased sleep and exercise time during lockdown. For example, 49% of respondents who said their mental health improved said they slept longer. On the other hand, only 30% of adolescents who said they had no change in mental health during the lockdown period, or only 19% of adolescents who said they had deteriorated, said they had increased sleep and exercise time.

Family relationships have also clearly improved, with 53% of students saying that they're getting closer to their families than they were before the lockdown, with no change (26%) and worsening (21). %) Is overwhelmingly higher than the percentage of respondents who answered. Regarding relationships with friends, 'improved' (41%), 'no change' (26%), and 'worse' (27%), indicating that the largest number of students answered that they had improved. Did.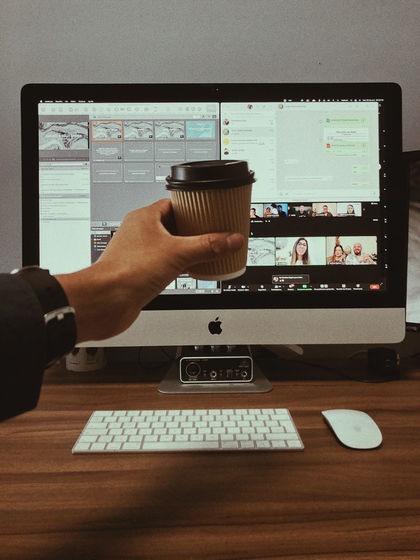 'There is no doubt that the pandemic has had a negative impact on many, but not all children and adolescents,' said Mina Fazel, a professor of psychiatry at Oxford University who was involved in the study. I need to keep it. '