A movie that spends more than 45 million yen to move an entire Victorian historic building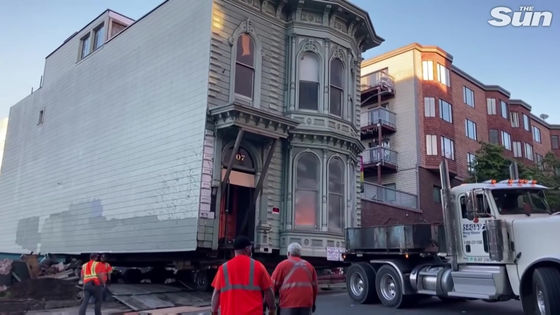 Moving usually means that the resident packs up and moves to a new home. However, a man living in San Francisco, USA, moved his house to a new land with a total area of about 480 square meters in order to preserve the historic Victorian building built in the latter half of the 19th century. If you look at the movie shot at that time, you can see how the big house is being moved at a total cost of 400,000 dollars (about 45 million yen).

SF parade follows 139-year-old Victorian's trek to new home

https://www.sfchronicle.com/bayarea/article/SF-parade-follows-139-year-old-Victorian-s-15967684.php
Guy Pays $ 400k To Have His $ 2.6M Victorian House Moved 7 Blocks In San Francisco | Bored Panda
https://www.boredpanda.com/139-year-old-house-moved-7-blocks-san-francisco/
You can see 'Moving Home' on February 21, 2021 from the following movie.
139-year-old San Francisco Victorian home is moved by truck 7 blocks to a new location --YouTube
Built in 1882 at 807 Franklin Street in San Francisco, the Victorian building is a venerable building known by its neighbors as the 'Ingrander House.' The relocation work began at 6:15 in the morning when the sky was still dark.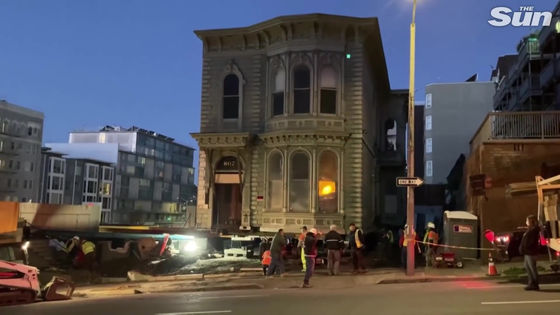 A semi-trailer with a two-story house slowly launches onto the road.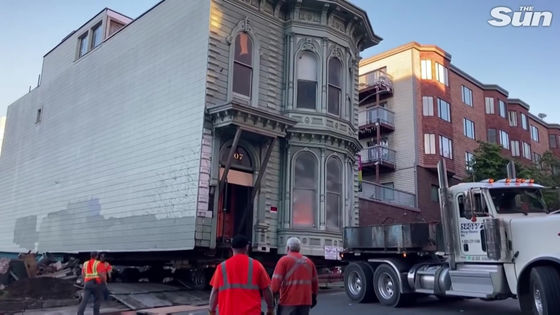 The street was crowded with about 600 spectators who gathered for some reason.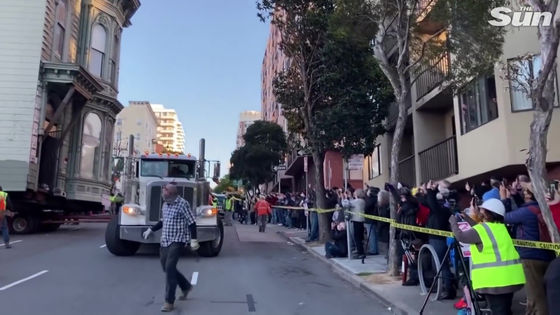 A worker who cuts a branch of a roadside tree that interferes with movement. Others had to remove street lights, parking meters, power lines, etc., so the landlord had to apply for as many as 15 permits to the city authorities.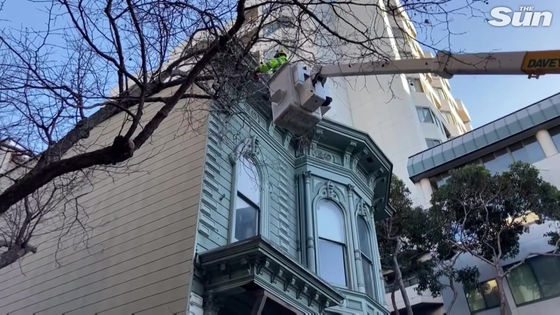 With traffic restrictions in place, semi-trailers move cautiously at walking speeds. It is a strange sight for a house to cross a pedestrian crossing.



The Ingrander House was then moved to 635 Fulton Street, about an hour away from its original location, 0.6 miles.


This time, the house was moved by real estate investor Tim Brown. He bought the Ingrander House for $ 2.6 million in 2013 with the intention of moving it from the beginning, for a total of $ 400,000 including transportation and obstacle removal costs. I put it into practice. The Ingrander House, which has moved to a new location, will be reused as an apartment with 7 rooms. In addition, an eight-story apartment will be built where the Ingrander House was originally located.

According to the San Francisco Historical Society, it was the first time in 50 years that a Victorian building in the area was relocated. Fiona McDougall of the Victorian Alliance of San Francisco, a non-profit organization dedicated to preserving Victorian buildings, told a local newspaper that 'Victorian houses are part of the cityscape of San Francisco. It is important to leave it in a cold box-like building without rebuilding it. '

in Video, Posted by log1l_ks