'A function that allows you to play games while driving' was discovered in a Tesla car and rushed to blame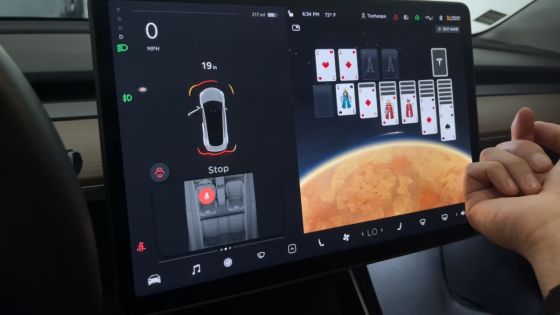 Tesla's cars are equipped with large monitors that can be used to check maps and control the car. It is possible to play games on this monitor, but it has been widely reported that there are ' games that can be played while driving'.

A New Tesla Safety Concern: Drivers Can Play Video Games in Moving Cars --The New York Times

https://www.nytimes.com/2021/12/07/business/tesla-video-game-driving.html
Tesla Arcade games can be played while driving, causing safety concerns --The Verge
https://www.theverge.com/2021/12/8/22823127/tesla-car-arcade-games-safety-nhtsa
The large monitor on the Tesla car's dashboard allows you to play multiple games such as
'Solitaire' and 'Fallout Shelter.'
Most of these games are not playable while driving, but according to the New York Times,
the three games 'Solitaire,' 'Sky Force Reloaded,
' and '
Battle of Polytopia: Moonrise
' can be played while driving. matter. You can actually see how you can play solitaire while driving with Tesla's '
Model Y
' from around
7 minutes 50 seconds in the following movie.
Playing Games While On Tesla Autopilot?-YouTube
You can play solitaire normally when you are not driving.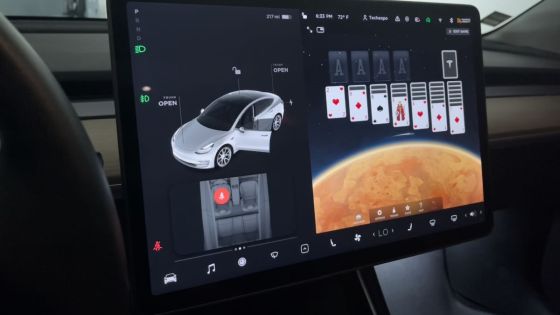 When driving is detected, the solitaire screen disappears and a message stating 'Only passengers can play' is displayed.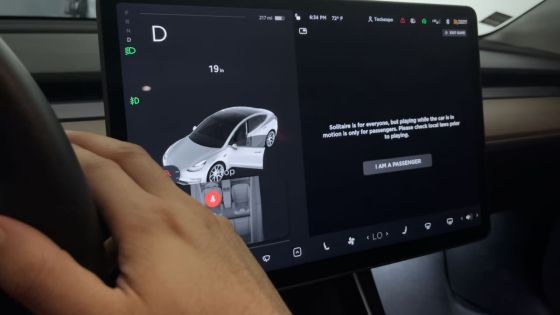 However, when I tap the button that says 'I AM A PASSENGER' at the bottom of the message ...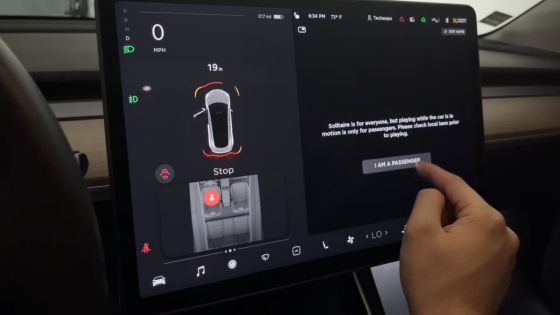 Now I can play solitaire even though I'm driving.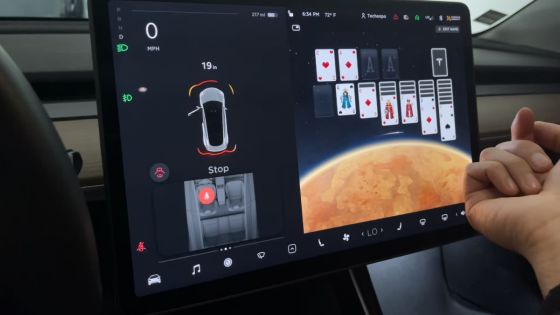 In response to the current situation where you can play games while driving as described above, the US Road Traffic Safety Bureau said, 'The Tesla Model 3 allows you to play games and browse the web while driving. Why is Tesla a driver? opinion stating that the did you are allowed to mount the function dissipate? 'has been cast has.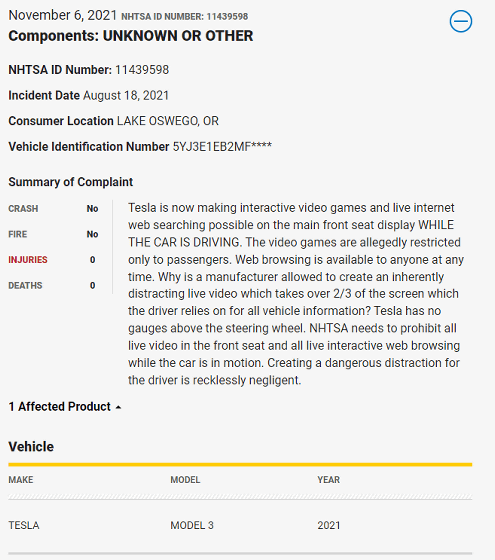 In addition, the technology-related media The Verge also confirmed the same phenomenon in
'Model 3'.
'Before launching the game, you'll see a message confirming that the player isn't the driver, but the message is rarely a deterrent,' said The Verge. In addition, other games such as 'Cat Quest' indicate that play is not possible except when parked. 'Previously released games such as Cat Quest prohibit gameplay while driving. This is a better way for Tesla to discourage dangerous behavior. '