Two-headed & six-legged turtles are born


A wildlife center in Massachusetts, USA, has
protected a 'two-headed, six-legged diamondback terrapin
.' Two-headed creatures are extremely rare and are said to be unable to live long for health reasons, but the diamondback terrapin is currently active and the Wildlife Center said, 'I think you can be optimistic. I will. '
Rare conjoined turtles hatched in Massachusetts | Live Science
https://www.livescience.com/two-headed-turtle-hatchling-massachusetts
Two-headed diamondback terrapin has six legs --The Washington Post
https://www.washingtonpost.com/science/2021/10/11/two-headed-diamondback-terrapin-turtle-new-england/
The new protection for the double-headed, six-legged diamondback terrapin was reported by the Cape Cod branch of the New England Wildlife Center in Massachusetts. According to the center, the diamondback terrapin was born in
a nesting area in Barnstable
, located in southeastern Massachusetts, and was brought to the hospital by the Burnstable Natural Resources Department immediately after its discovery. Like human
conjoined twins,
it shares most of its torso, but has two heads and a total of six legs. The actual photo is below.
According to the center, double-headed organisms are
born as a result of the influence of some genetic or environmental factors during embryogenesis
, and basically they cannot live long and live a high quality of life. However, the diamondback terrapin this time eats, swims, grows, and spends brightly and actively every day, and he says, 'I think it's okay to be optimistic about its lifespan and life.'
The results of a supervised swimming experiment conducted by the center showed that each diamondback terrapin has the ability to control three legs on each head and breathe as needed. X-ray examination results after swallowing barium confirmed that the two spines were integrated and that each had two functional respiratory systems and a gastrointestinal tract.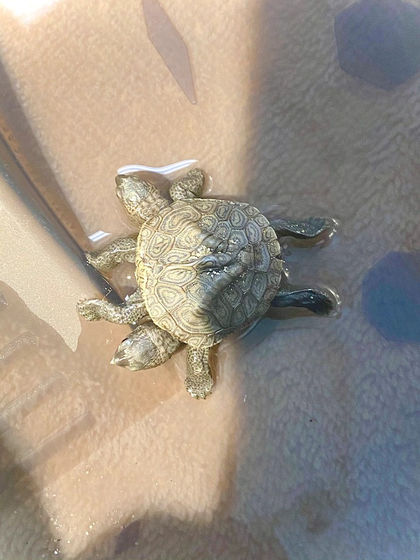 The center treats and releases thousands of wild animals annually, but it is highly unlikely that the diamondback terrapin will return to the wild. Katrina Bergman, CEO of the center, said it would be a 'great learning experience' and that she plans to use CT scans to investigate the internal structure.

After arriving at the center, the diamondback terrapin weighed from 6.5 grams to 7 grams and grew from a little less than 2 inches (about 5 cm) to 3 inches (about 7.6 cm), CEO Bergman said. And above all, it's cute. Everyone was very excited when it was first brought in. '