What's happening in the Pacific Ocean, where whales die one after another?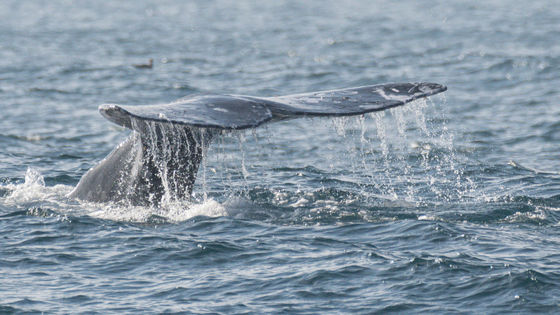 by
Wendy Miller
Since around December 2018, there have been a series of
whale
corpses of gray whales migrating over a very long distance of 20,000 km. The reason for this is explained by Sae Yamamoto, a reporter who specializes in environmental issues.
Gray whale deaths: How humans and climate change hurt oceans --Los Angeles Times
https://www.latimes.com/projects/gray-whale-deaths-how-humans-climate-change-hurt-oceans/
Among the gray whales that live mainly in the Pacific coast, the population living in the eastern Pacific travels from the Arctic Circle to the warm waters of Mexico through the coast of California, USA. However, since 2018, anomalous deaths of gray whales have begun to be reported near the coast of California and the Gulf of Mexico, and Mr. Last said, 'It seems that a fatal change has occurred in the migration route of gray whales.' Is taken up.
In December 2018, a young female gray whale was found dead in the Ojo de Lubre in the Mexican lagoon. In addition, in January 2019, three gray whale carcasses will be found in the same lagoon. A total of 12 carcasses were found in the waters from the west coast of the United States to Mexico this month, 42 carcasses were confirmed in March 2019, and a total of 149 carcasses were confirmed by May 2019.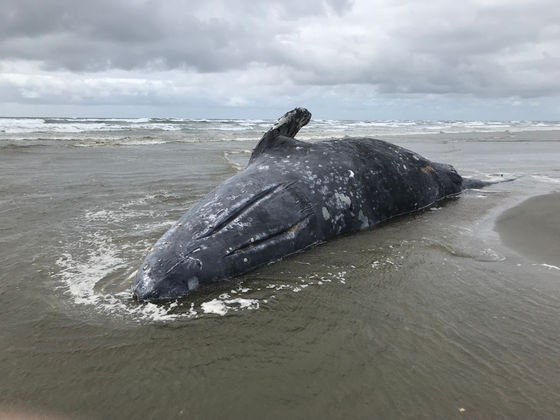 by
NOAA Fisheries West Coast
Gray whales come to the waters around this area every spring for childbirth and child-rearing, but experts say, 'I have never seen a corpse before.' In response to the situation, on May 30, 2019, the US National Oceanic and Atmospheric Administration announced that it was investigating the problem as an 'abnormal death case.'
In the spring of 2019, experts reported that gray whales were 'late arrivals.' Gray whales arrived near California about two weeks later than usual, and one-quarter of the individuals appeared to be thin, with very few pairs of mothers and children. Experts warned of unusual cases, as these signs were also seen during the gray whale mass mortality in 2000.
According to Deborah Fauquier, who works as a veterinarian at the National Oceanic and Atmospheric Administration, the number of gray whale deaths was reported to be 172 in 2020 and 92 in 2021. There are many possible causes of death for gray whales. In particular, gray whales in general, including gray whales, are vulnerable to noise, which is believed to be one of the causes of death, Last said.
Gray whales tend to spawn in the sea closer to the endorheic, either in search of new food sources. However, when approaching an urban area, communication with whales such as the engine noise of a ship is hindered, and in the worst case, deafness and deterioration of the immune system may be caused.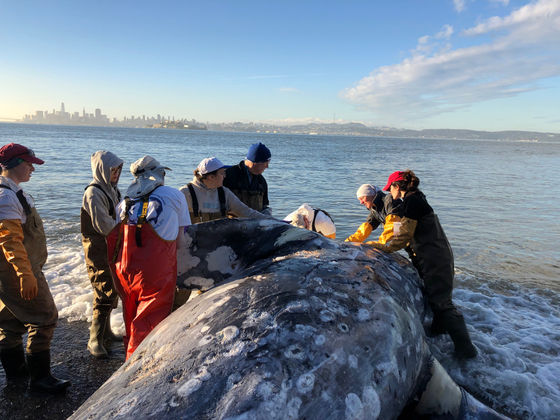 by
NOAA Fisheries West Coast
Changes have also been seen in the Arctic Circle, at the northern end of the gray whale migration route. In the Arctic Ocean, the number of crustaceans, which were the main food for gray whales, is decreasing due to rising seawater temperature, and gray whales are changing their feeding grounds. It is not yet clear whether the nutritional value of the food available at the new feeding ground is high enough for migration.
At the time of the gray whale mass mortality in 2000, scientists said, 'It is possible that the gray whales could not reach the feeding ground due to more sea ice because it was colder than usual. It may have reached the
environmental capacity. '
However, recent abnormal deaths are the exact opposite of climate conditions, and experts are investigating the impact of climate change. On the other hand, Fauquier says, 'There are various factors that affect gray whales, and it is difficult to identify the direct cause of death.' Experts are investigating that 'science is indispensable for identifying the cause.'