Headline News on July 29, 2021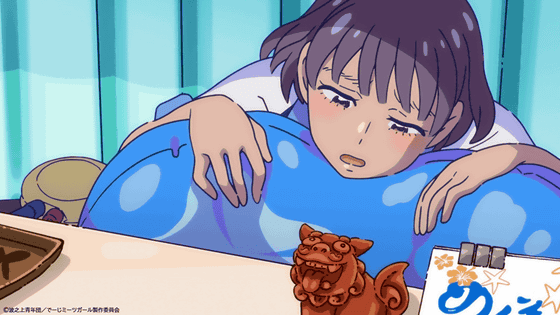 Announced that the original short animation 'Deji Meets Girl
' by director and animator Shio Tazawa, who was involved in director Makoto Shinkai's works such as 'The Place Promised in the Clouds', will be broadcast from October 2021. it was done. The stage of the work is Naha City, Okinawa Prefecture, which depicts the encounter between a girl and a boy and the mysterious event of a summer.
Anime 'Deji Meets Girl' PV 1st --YouTube
The key visual looks like this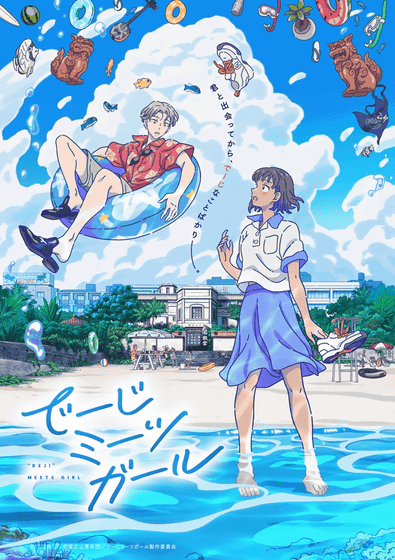 ©波之上青年団/でーじミーツガール製作委員会

By the way, I posted this article on the same day of the same month in the past.

Theoretical physicists warn that human civilization may reach a point of non-return to collapse within 20 to 40 years, what is the cause? --GIGAZINE

Construction of the International Thermonuclear Experimental Reactor (ITER), in which Japan also participates, has finally begun --GIGAZINE

How does the ultra-high-precision language model 'GPT-3' spin words so that you can write a natural blog? --GIGAZINE

What is the 'joke' carved on the pen found in the ruins of ancient Rome? --GIGAZINE

What is a 'certificate system' like the joke of the masked artist 'Banksy' whose graffiti is sold for 100 million yen? --GIGAZINE

What is 'information addiction' that dominates people like alcohol and sweets? --GIGAZINE

Wonder Festival 2018 [Summer] opening, summary of all articles --GIGAZINE

A couple who went missing 75 years ago is found in the Swiss glacier --GIGAZINE

Screening of 'Long Way North', a film directed by Isao Takahata that wondered why it wasn't released in theaters --GIGAZINE

◆ Neta (memo, etc.)

The guy in the class suddenly looked at me and said, 'The person who died in the gacha' and laughed pic.twitter.com/XPSudUByiy

— Sun (@ooo_Olli) July 27, 2021
Do you want to ride ...? pic.twitter.com/bMcBt8yuHZ

— Strong cat (@TsuyotsuyoNeko) July 27, 2021


◆ Science (Science / Academic / Technology)
You can see the inside of your stomach, translucent frogs | National Geographic Japan version site

◆ Society / Politics / Economy (Case / World News / Business)
Governor Koike confirmed the most infections 'the situation is different from the third wave' | New Corona Vaccine (in Japan) | NHK News

Tokyo Metropolitan Government New Corona 3 dead 3865 Infected 3 days in a row Recorded highest | New Corona Domestic Infected | NHK News

IOC 'I don't think it has spread to Tokyo' | Olympic and Paralympic Games management | NHK News


Most of the explosive infections of Indian mutant virus are man-made disasters by Prime Minister Modi https://t.co/dRxZ84QhJl

— KEISUI ART STUDIO (@keisuiart) July 28, 2021


Big earthquake in Aleutian Magnitude 8.1 Tsunami investigation | Meteorology | NHK News

IOC Public Relations Director, Corona and Olympic 'Parallel World' Unrelated Emphasis | Mainichi Shimbun

Thousands of stores in Tokyo, Chief Cabinet Secretary Kato: Current affairs dot com

Okinawa Prefecture Two new coronas died Record high number of 392 infections | New corona number of domestic infections | NHK News

Free Korean school, defeat confirmed Supreme Court, end of 5 proceedings nationwide | Kyodo News

Vaccination rate obtained by herd immunity, about 70% is difficult = Chairman Omi | Reuters

New Corona "Jiwajiwa Kuru" Kanagawa Prefecture's cautionary statement is a hot topic | Olympic and Paralympic Games | NHK News

Taiko Pharmaceutical donates miscellaneous goods Kleberin for weakness and receives a recommendation from Osaka Prefecture and receives the Medal with Dark Blue Ribbon from the Japanese government: Market conditions Kabu full power 2 stories

Chairman Omi 'Responsible for the Government and Organizing Committee that decided to hold the Olympics with all possible measures against corona' | TBS NEWS

Interview with the prime minister, who is the most infected, explained by the secretary 'I was not in a situation to answer' [New coronavirus]: Asahi Shimbun Digital

'Herd immunity' is difficult even with 70% inoculation Chairman Omi-Sankei News


Yeah ... pic.twitter.com/vz7DWdbmFX

— RME (@CassinaAbout) July 28, 2021


Osaka Prefecture New Corona 2 dead 932 Confirmed infection Over 900 since May 11 | New Corona Domestic Infected | NHK News

Transportation troubles of Olympic athletes One after another Bus delays and dispatch mistakes | Olympic and Paralympic Games management | NHK News

US athletes are positive for corona, all 63 Australian track and field athletes are self-isolated Tokyo Olympics | Mainichi Shimbun

Reservation of domestic flights during Obon holidays 1.4 times last year, recovering to more than 40% of adults | New coronavirus | NHK News

'If you don't share a sense of crisis, medical care will be tight' Government Subcommittee Chairman Omi | New Coronavirus | NHK News

◆ Lifestyle (life / life / health)

Nagatanien's 'Ginger Coconut Curry Soup' has an undisputed taste and can be used for anything. https://t.co/LfRjqNDyFy

— KEISUI ART STUDIO (@keisuiart) July 27, 2021
Discover new species of animals! Mammals like snails, also known as 'Kokouchi' https://t.co/k3fBiKto1u

— KEISUI ART STUDIO (@keisuiart) July 26, 2021
It's hot, it's hot underwater. It will boil. In the midst of that heat, the Olympics have begun. https://t.co/gD3cxZX3Zm

— KEISUI ART STUDIO (@keisuiart) July 23, 2021
Lotte's FIT'S 'Energy Drink' https://t.co/a6T3p1L8GM

— KEISUI ART STUDIO (@keisuiart) July 23, 2021
Well, don't notice. It's amazing. pic.twitter.com/l1NtQNR74M

— Usami (@ Usami310633) July 28, 2021
Hello. It is a new egg over rice. The gloss of the yolk is amazing. Is my grandmother a white fisherman? The transparency of the white meat is real. He said that he had a hard time with the texture of the bowl and rice, and it was difficult to express the soy sauce sauce with a dark brown color. Maybe it's because of its simplicity. Due to the hardships, it became a work that invites hunger. Lol pic.twitter.com/iDxb7s0ftf

— 91-year-old Setu's newspaper torn picture (@ setu0107) July 28, 2021
Today is #Mysterious Meat Day , so I tried to make a hamburger with mysterious meat of cup noodles. pic.twitter.com/2Rqub0RNmG

— Cup Noodle (@cupnoodle_jp) July 29, 2021
There was an item that could easily make a magic bookshelf with CAN DO pic.twitter.com/Q7dbJwYfgq

— Sato (@sugar_hpfb) July 28, 2021
Damaged furniture is reproduced and repaired with acrylic. The work of Brazilian artist Tatianne Freitas. pic.twitter.com/9LTddNiSyt

— Yukiya Hagiwara (@onipro) July 28, 2021


Telework on trains and small planes in museums that are closed Kawasaki | New Coronavirus | NHK News

◆ IT / Gadgets (Net / Software / Hard / Mobile)
The story of how software made as a hobby was bought by an overseas company and became the best in the field --knqyf263's blog

We will release materials and videos of mixi's 21 new graduate technical training! --mixi developers

System configuration and technology used for personally developed rental property search service

ASCII.jp: It is super convenient to have one 'regulated power supply'

Eh! Do you want to disable QUIC? Thinking about HTTP over QUIC or TCP connection selection | by Jun-ya Kato | nttlabs | Jul, 2021 | Medium

Introduction of 'local node' for the first time on JP DNS server, its background and effects --INTERNET Watch

Vivaldi now has accordion tabs and command chains | Vivaldi Browser

Procedure when Windows / Visual Studio user builds environment with WSL 2 / Visual Studio Code --Shibayan miscellaneous notes

Released wireless neckband speaker 'SRS-NB10' suitable for a wide range of usage scenes | Press Release | Sony

When I tried resizing an image with WebAssembly, it was slower than JavaScript + Canvas API --Qiita

QUIC connection reception processing using eBPF and SO_REUSEPORT in Nginx | by Jun-ya Kato | nttlabs | Jul, 2021 | Medium

Open letter to Shuichi Kitao-Koritsumuen blog

◆ Anime / Game / Manga (subculture)
[Limited time release] TV anime 'Miss Kobayashi's Dragon Maid S' Episode 3 Non-telop Ending Video --YouTube


I'm glad I did it before I started Vtuber & I wish I had done it | Chiya Ichiya | note


It's amazing that you only notice it if you have the knowledge and experience! The story pic.twitter.com/orIW79b7Dp

— Nao Fukuda (@ fukku7010gmail1) July 28, 2021
Made in Abyss Volume 10, released on 7/29 Thank you for your cooperation.

The image is a cover paper that I drew before drawing the story that fits in the end because of the color deadline.
I hope this happens. I drew it like this.
What happened ...! ?? pic.twitter.com/cmFVd3RDFD

— Akihito Tsukushi (@tukushiA) July 29, 2021
It's too funny that ramen baldness is officially reimported pic.twitter.com/PN2ksQ21iU

— Nomad (@ megane2480) July 28, 2021
The unpleasant period I had imagined before raising my child → 'I have to buy sweets!' 'Play more!'
Actual unpleasant period → 'I want to eat natto rice with natto, but I don't want to have natto on it' pic.twitter.com/IXk4oTJxCf

— Shivering Tori (@torikaworks) July 28, 2021
I want to be a general boy student who is crazy by Mr. Maruka Higuchi who I have never seen in the classroom pic.twitter.com/daCKsM1UYp

— Ae (@ae_iueo) July 28, 2021
I drew an illustration to commemorate Rika's birthday! !! !! Thank you! pic.twitter.com/98xICVZosf

— Navi (@ nab0i) July 28, 2021
And here is the height chart of overseas

Big ... pic.twitter.com/oxqLOc9ZRT

— Taiyo Kuzumi @ Umamusume 'Cinderella Gray' Volume ③ is now on sale! (@ KUZUMI777) July 29, 2021
Sand Planet pic.twitter.com/cyCe4Xw3BE

— Rsef (@_rsef_) July 28, 2021
Don't do it! Such a pictogram! pic.twitter.com/dULtjDNj2t

— Ryubukuro (@ryuubukuro) July 28, 2021
Nyu ~ pic.twitter.com/MuEu3xA9HA

— Ma ~ (@moumuriy) July 28, 2021
Takeshi Nakazato appears out of nowhere when he loses at Kura Sushi's Bikkurapon pic.twitter.com/TNKvmaa0Gl

— Cost Cutter Tatsuaki (@imprezasportslt) July 28, 2021
Ichishaku-sama, a copy of Hachishaku-sama pic.twitter.com/CfsYbOBWNk

— DiZ (@dizsonyasuna) July 28, 2021
I won't let my brother do it pic.twitter.com/cOnWcc4Rtb

— Makaroni (@ lylyly7777) July 28, 2021
The number one movie that Ganota wants to see insanely. pic.twitter.com/Z1tcNw9nd3

— Kumafty (Syntax Researcher) (@ kuma06707112) July 28, 2021
Make it look like a strong character pic.twitter.com/CSo5DZ9CBL

— Kozato (@yu_kozato) July 28, 2021
I feel that the line from the waist to the buttocks is in good condition pic.twitter.com/CgbgnOhtSC

— Aopi ???? (@ ouou4545) July 28, 2021
There are unexpectedly many steps around the waist. pic.twitter.com/pKCqi7qcea

— Yuji Furuike | Illustration Improvement Method (@start_yuji) July 28, 2021
I'm sorry for soccer fans ...
It looks like only One Punch Man wwwww pic.twitter.com/AYtYLF6lpz

— Karinchama @ 24a! (@ Senzu0) July 28, 2021
Good morning, my nose is sloppy ~ Bin pic.twitter.com/vQIXm2JQSN

— Uruha Rushia Holo Live 3rd gen member (@uruharushia) July 28, 2021
Either way is nice pic.twitter.com/2yExbNSiiV

— Nachiya (@ Nachi2738) July 28, 2021
Shishiro #Shirato pic.twitter.com/W3EsAzRxmI

— Dried fish A thick (@ azcp333) July 28, 2021
Mama pic.twitter.com/LzpJrNcTQR

— K Pring (@ K_Pring654) July 28, 2021
Holiday spending a day What are you made is I ... # pictogram pic.twitter.com/MM9xi5XgCY

— Replilo @ Story-loving man (@reprilo_channel) July 28, 2021
Marisa-chan is cute pic.twitter.com/A2UHqli42p

— Nekurodayo (@nekurodayo) July 28, 2021
Congratulations on the 6th anniversary of FGO! #FGO 6th Anniversary pic.twitter.com/RRSygMEseB

— Saitom (@_saitom_) July 28, 2021
I'm crying just with this image ... pic.twitter.com/0gNQe5J8bX

— Maki Yamamoto (@Yamamoto___Shin) July 27, 2021
Boss pic.twitter.com/I1KksIU8kG

— Takuji Kato @ Manga Version Nights & Magic Latest Volume ⑮ Now on Sale! (@isiyumi) July 28, 2021
A story that taught a housemate how to wash his face. I didn't expect each other to see how to wash their faces at the age of 30. pic.twitter.com/HfmmxXBiW2

— Moricoross (separated by Ross) (@molicoross) July 29, 2021


Anime 'Record of Ragnarok' Lu Bu Hoshou vs Thor Thaiman PV --YouTube


[FF Pixel Remaster] 'Final Fantasy' Promotion Trailer-YouTube


[FF Pixel Remaster] 'Final Fantasy II' Promotion Trailer-YouTube


[FF Pixel Remaster] 'Final Fantasy III' Promotion Trailer-YouTube


Released on October 28, 2021 'Zero-Fatal Frame: Maiden of Wetness-' Promotion Video --YouTube


Minecraft Dungeons: Ultimate DLC Bundle Launch Trailer-YouTube


'Minecraft Dungeons Ultimate Edition' Launch Trailer-YouTube


'Minecraft Dungeons: Echoing Void' Launch Trailer-YouTube


Game Rice 9th 'Devil May Cry 5' --YouTube


Episode 206 Celebration! 6th Anniversary | Manga de Wakaru! Fate / Grand Order

◆ Sports / Entertainment / Music / Movies (Entertainment)
Played Tactics Ogre in Reiwa | Zithromax | note

◆ New products (clothing, food, housing)
(PDF file) The second menu of the popular sauce from 'Tendon Tenya' is now available! The 'Tarezuke Natsu no Tokudon', which is passed through the proud sauce, will be on sale for a limited time from August 12th (Thursday)!