I drank 'Boss Cafe Base Luxury Cold Brew' that you can enjoy the 'delicate taste carefully extracted with low temperature water' of watered coffee in just 10 seconds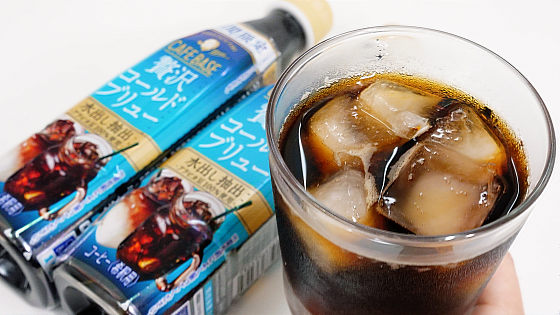 From ' Boss Cafe Base ', which can be mixed with milk to make cafe latte, 'Boss Cafe Base Luxury Cold Brew ', which completes a full-fledged watered black coffee by dividing it with water without mixing it with milk, will be released on July 27, 2021. It will appear only in the summer from (Tuesday). With 100% Arabica beans, I got a pair of watered coffee that said, 'By adding an extract carefully extracted with low temperature water, the delicate sweetness of coffee was maximized and the aftertaste was clear and light.' So I actually drank it.

'Boss Cafe Base Luxury Cold Brew' Summer Limited Release | News Release List | Suntory Beverage & Food International

https://www.suntory.co.jp/softdrink/news/pr/article/SBF1146.html
BOSS Cafe Base / Tea Base | Suntory
https://www.suntory.co.jp/softdrink/boss/cafebase/
This is 'Boss Cafe Base Luxury Cold Brew'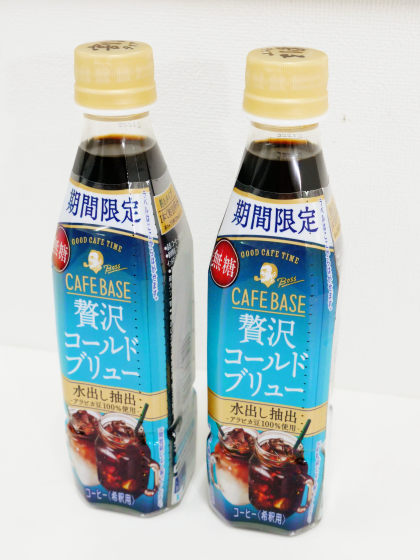 The content is 340 ml, and you can make 10 cups of coffee with one bottle. The raw material name is coffee only, not sugar. The beans were produced in Brazil, Indonesia, and others.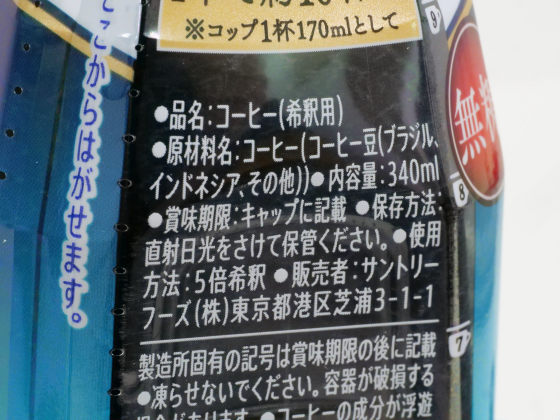 Calories are 13 kcal per 100 ml. Since 340 ml is equivalent to 10 cups, it is 4.42 kcal when calculated with 34 ml per cup.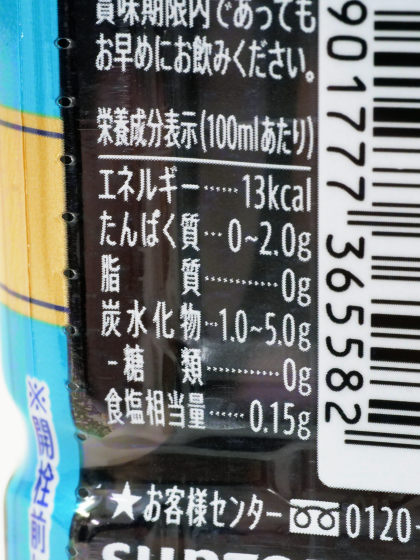 Looking at how to make it on the side of the bottle, he said, 'Please drink at your favorite strength with 1: 4 as a guide.'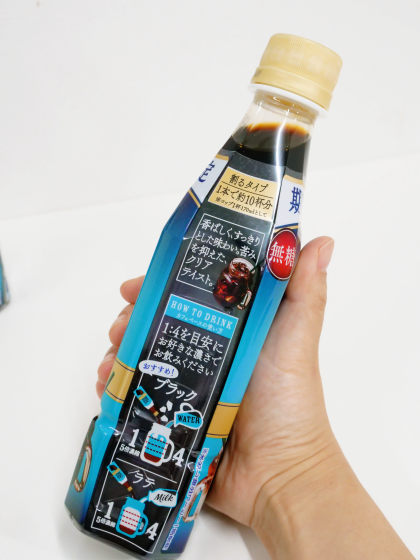 When I opened the cap, I didn't feel any scent.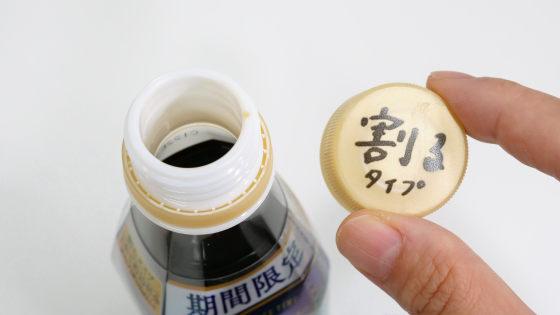 I will pour it into a glass.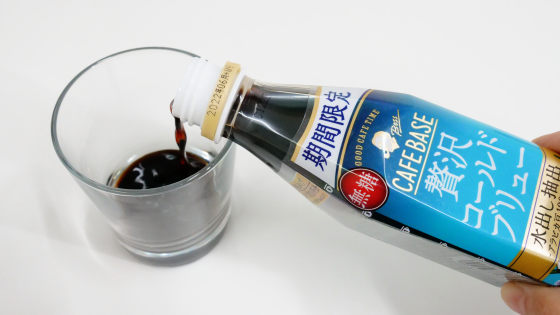 It is convenient that the bottle has a scale so that you can see the amount of one cup without using a measuring instrument.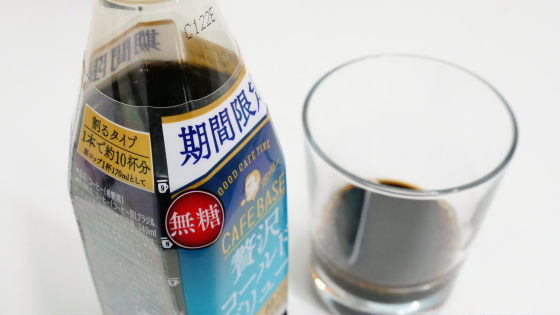 About this on one scale.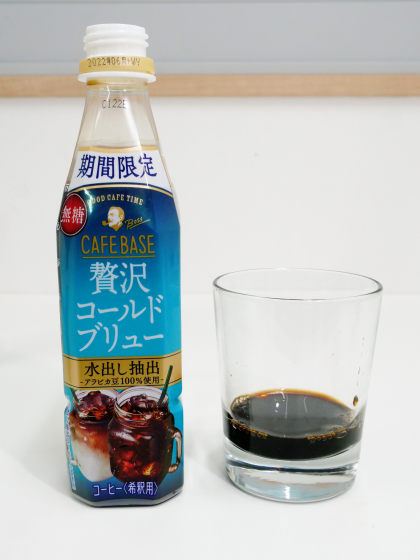 When I poured 150 ml of water, it became about 1: 4.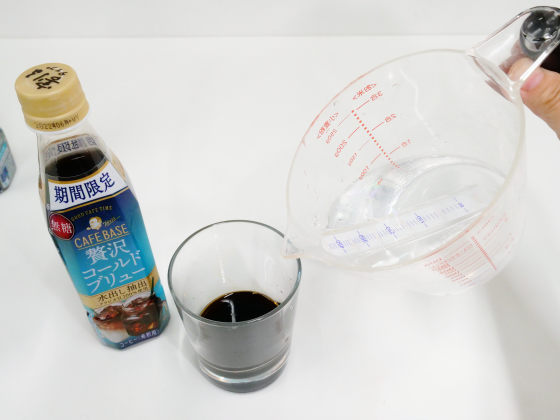 When I put ice in it, cooled it well, and drank it, the most distinctive feature was its crisp acidity. Like watered coffee, it has a slightly light taste with less bitterness and astringency like coffee made in boiling water. The aroma of beans was faintly felt, and the aftertaste was quite refreshing.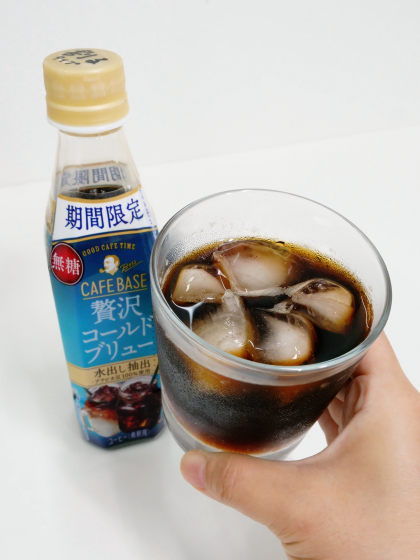 Boss Cafe Base also has sugar-free, so I compared it with 'Luxury Cold Brew'. The sugar-free Boss Cafe Base has a low acidity, a strong charcoal aroma, and an overall mellow taste. The difference between the two is obvious, and the tastes are different, but if you drink it as unsweetened iced coffee, it seems that 'luxury cold brew' is definitely more authentic. The bottleneck of watered coffee is that it takes time to extract, but since watered coffee can be made quickly in less than 10 seconds, it seems that if you drink coffee often, you will not lose it.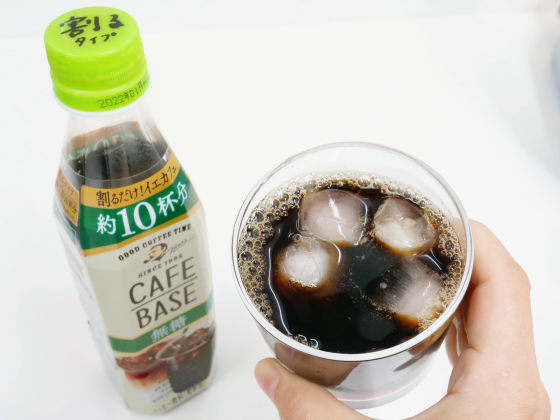 If you divide it with milk instead of water to make a latte, it will be harder to tell the difference than when you divide it with water, but after all, 'Luxury Cold Brew' has a cleaner taste. If you like coffee, the difference is obvious, so it's an ant to compare and see which one you prefer.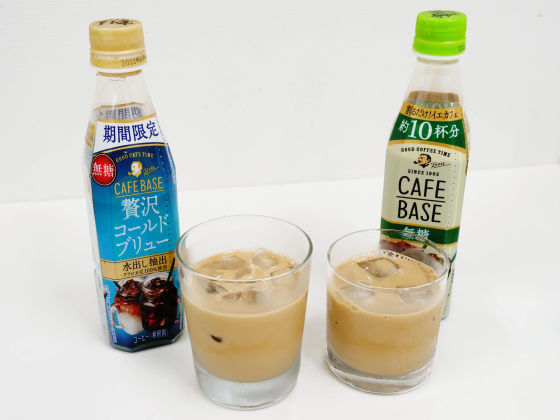 In addition, 'Boss Cafe Base Luxury Cold Brew' is 278 yen excluding tax, and a set of 24 will be available on Amazon for 5375 yen including tax from July 27th.

Amazon | Suntory Boss Cafe Base Luxury Cold Brew 340ml x 24 PET Bottles | BOSS | Coffee Beverage Mail Order