The United States seized the domain of a website operated by a national broadcaster or a terrorist organization and violated sanctions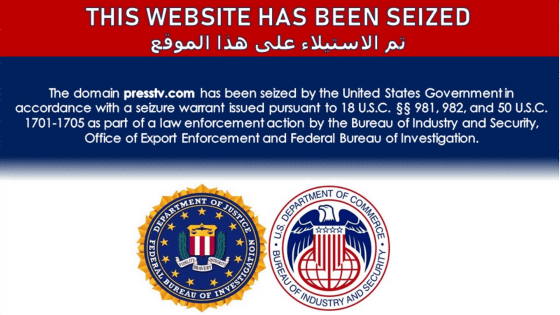 On June 22, 2021, the US Department of Justice issued a statement that it had seized the domains of 36 websites, including the Iranian government's national broadcast. Despite being subject to US sanctions, these websites used domains owned by American companies.

United States Seizes Websites Used by the Iranian Islamic Radio and Television Union and Kata'ib Hizballah | OPA | Department of Justice
https://www.justice.gov/opa/pr/united-states-seizes-websites-used-iranian-islamic-radio-and-television-union-and-kata-ib

US blocks websites linked to Iranian disinformation | Reuters
https://www.reuters.com/article/uk-usa-iran-internet-idUKKCN2DY2AT

Iran Says US Websites Seizure Not Constructive For Nuclear Talks
https://www.ndtv.com/world-news/iran-says-us-websites-seizure-not-constructive-for-nuclear-talks-2470489

US seizes 33 Iranian state-run media sites accused of election disinformation | Ars Technica
https://arstechnica.com/tech-policy/2021/06/us-seizes-33-iranian-state-run-media-sites-accused-of-election-disinformation/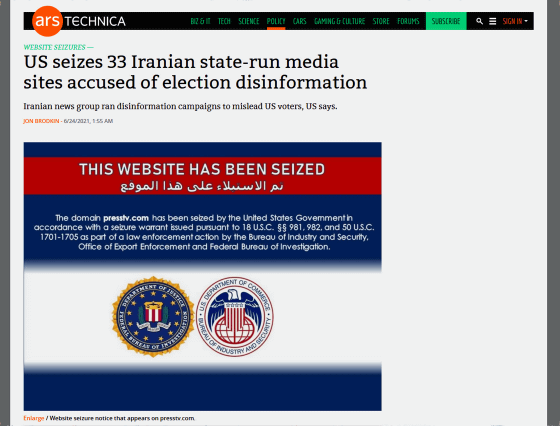 The U.S. Department of Justice is owned by 33 websites operated by the Iran Islamic Radio and Television Union (IRTVU) and the terrorist organization Kata'ib Hizballah on June 22, 2021. Announced that it has seized the domains of two websites.

IRTVU is believed to be owned and managed by the Iranian government's military organization, the Islamic Revolutionary Guard Corps ' intelligence department, the Quds Force , and the Office of Foreign Assets Control (OFAC) of the United States announced in October 2020. , IRTUV has been designated as a Specially Designated National (SDN) that threatens national security. In addition, Katyve Hezbollah is a terrorist organization operating in Iraq, but it seems that it is receiving support from the Iranian Revolutionary Guard Corps, etc., which was also designated as SDN by OFAC in 2009.

The websites whose domains were seized included the Iranian government's major English satellite TV channel ' Press TV ' and the Arabic news channel ' Al Alam ', as well as being broadcast in Yemen. 'Al-Masirah TV ' was also included. The US Department of Justice claims that the Iranian government used IRTBU and similar media outlets to target the United States in misinformation campaigns.

If the organization designated as SDN uses the domain of an American company, it must be licensed for OFAC. However, although IRTBU and Katyve Hezbollah did not have an OFAC license, they used the domain of an American company on their website, so the domain was seized as part of law enforcement measures. is.

Older websites, such as Press TV, where the domain was seized, displayed a statement stating that the domain was seized by the US government. In addition, many websites whose domains have been seized are immediately acquiring another domain and launching the site, and Press TV is also switching to the new website.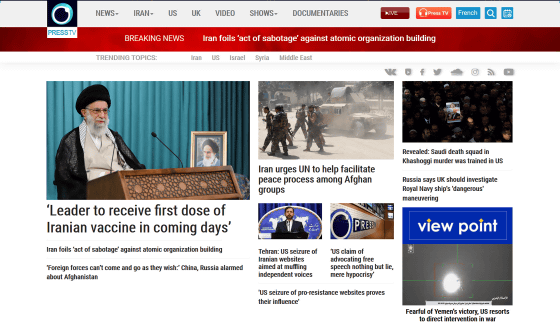 The domain seizure took place a few days after conservative hardliner Ebrahim Raishi was elected in the Iran presidential election, which was voted on June 19. 'While negotiations are underway to reach an agreement on the nuclear issue , this does not seem to be constructive,' said Mahmoud Vaezi, Secretary of the Iranian Presidential Office.

In October 2020, the US government seized 92 domains, alleging that the Islamic Revolutionary Guard Corps website had spread propaganda into the United States.

U.S. government seizes 92 domains for propaganda coverage by military organizations-GIGAZINE