Amazon launches 'Amazon Academy' to support university entrance exams, you can take mock exams in addition to online learning for free


India-based Amazon India has unveiled the Amazon Academy, a learning tool to help students prepare for the Indian Institutes of Technology's common entrance exam,
IIT-JEE
.
Amazon India Launches'Amazon Academy' to help students prepare for Competitive Entrance Examinations | Amazon India
https://press.aboutamazon.in/news-releases/news-release-details/amazon-india-launches-amazon-academy-help-students-prepare-0
Amazon Academy announced for India as part of education push
https://www.cnbc.com/2021/01/13/amazon-launches-education-academy-in-india.html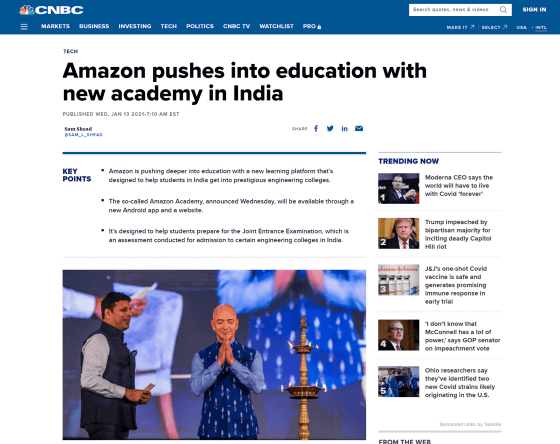 Amazon Takes On India's Edtech Giants With Revamped Test Prep App
https://inc42.com/buzz/amazon-academy-takes-on-indias-edtech-giants-with-revamped-test-prep-app/
'Amazon Academy' launched to aid students with JEE preparations --Times of India
https://timesofindia.indiatimes.com/home/education/news/amazon-academy-launched-to-aid-students-with-jee-preparations/articleshow/80248675.cms
On January 13, 2021, Amazon India announced the launch of the Amazon Academy. The online Amazon Academy provides detailed knowledge and routine practices necessary for IIT-JEE, such as 'collection of learning materials,' 'live lectures,' and 'comprehensive evaluation in mathematics, physics, and chemistry.' It is said that.
The Amazon Academy website is below. At the time of writing, the beta version is available for free on the browser and Google Play.
Amazon Academy
https://academy.amazon.in/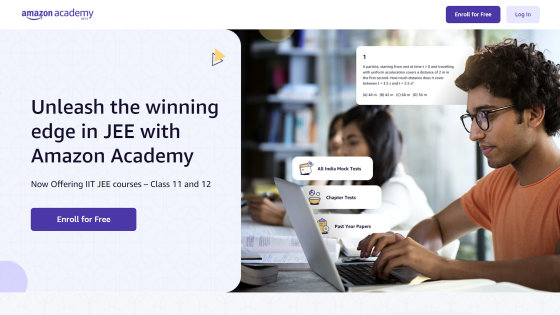 Amazon Academy-Google Play app
https://play.google.com/store/apps/details?id=com.amazon.kindle.guru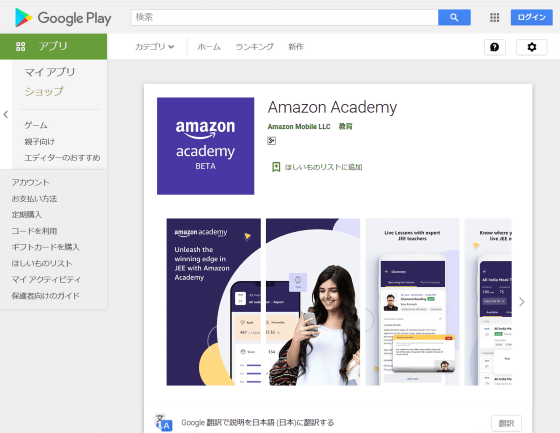 Specifically, Amazon Academy will first host live lectures that will allow students to engage with instructors and answer questions in real time. Lectures are scheduled in a course format, with daily practice and regular tests.
In addition, Amazon Academy has a collection of 15,000 questions that you can take step by step in practice, as well as a simulated test created by experts. The practice test simulates the actual IIT-JEE test, and there are chapter-by-chapter tests, partial tests, and full tests, so students can take the test at their own pace. Amazon India has also revealed that it plans to hold regular national tests live. After taking the mock test, candidates can know how well their grades are located in India as a whole, and can analyze strengthening points through personalized reports.
The Amazon Academy web page has an image of the service, from which you can see how live lectures are operated and how students and instructors communicate through chat.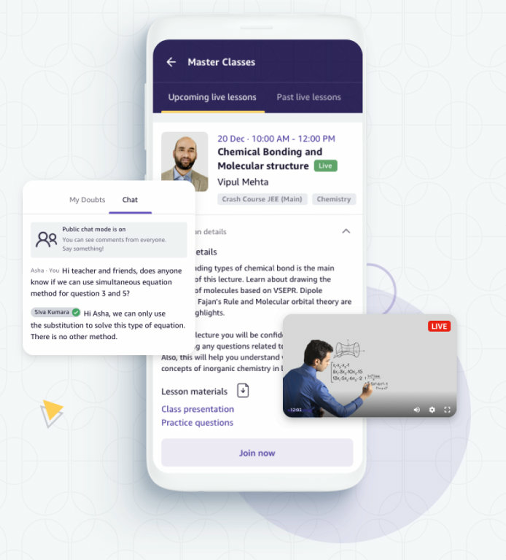 The result of the mock test is displayed as follows. The comparison between your grades and the top 10% grades is also visualized in an easy-to-understand manner.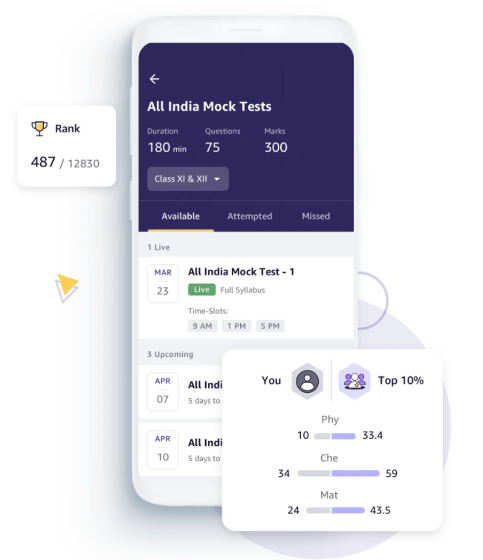 Display screen for details of each test of physics, chemistry, and math.



In practice questions, you can choose the difficulty level of the question.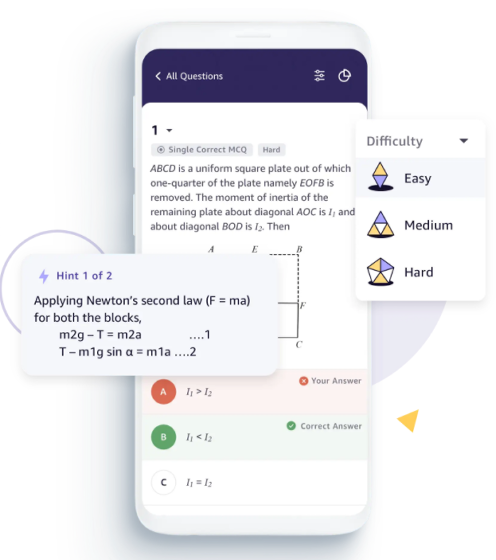 India, with a population of over 1.3 billion, is a big market for Amazon, and over the last few years Amazon has been focusing on expanding its business in India. In addition, due to urban blockade and social distance strategy due to the spread of the new coronavirus infection (COVID-19), there is a shift to online in the education field, and demand for education and learning services other than Amazon is increasing in India. I will. Since the number of IIT-JEE examinees is increasing year by year, it is believed that Amazon has started the Amazon Academy as a new business development to expand in the future, and in the future, for medical entrance examinations other than engineering. It is believed that there is a possibility of participating in online learning.