I went to IKEA Shibuya 1st floor veggie dog specialty store 'Sweden Bistro' where you can enjoy artificial meat derived from vegetables with various toppings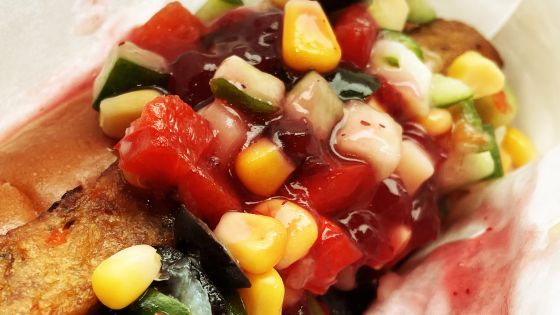 Opened on November 30, 2020, ' Sweden Bistro ' on the first floor of
IKEA Shibuya
is a
veggie dog
specialty store that uses vegetable ingredients instead of sausages. Veggie dog is a hot dog that was developed to have a delicious taste while using vegetable ingredients, so I actually tried it with various toppings.
Healthy hot dog 'Veggie dog' specialty store 'Sweden Bistro' IKEA opened in Shibuya-Fashion Press
https://www.fashion-press.net/news/67313
IKEA veggie dog | IKEA [Official] --IKEA
https://www.ikea.com/jp/ja/this-is-ikea/sustainable-everyday/veggie-hot-dog-plant-based-goodness-pub166a3131
Arrived at Shibuya station to go to IKEA Shibuya where the Swedish bistro is located. IKEA Shibuya is just a short walk from the Hachiko exit of Shibuya station.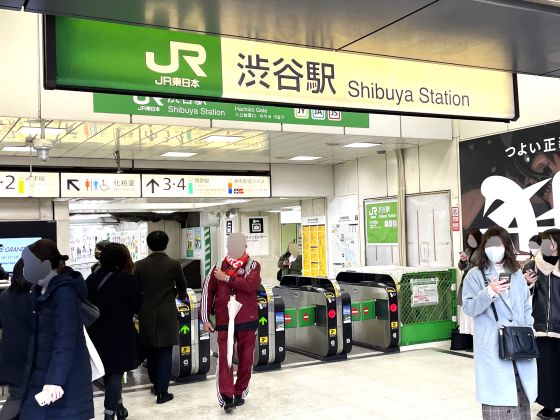 When I left Shibuya Station, I saw a big sign of 'IKEA' behind the
Shibuya Scramble crossing
.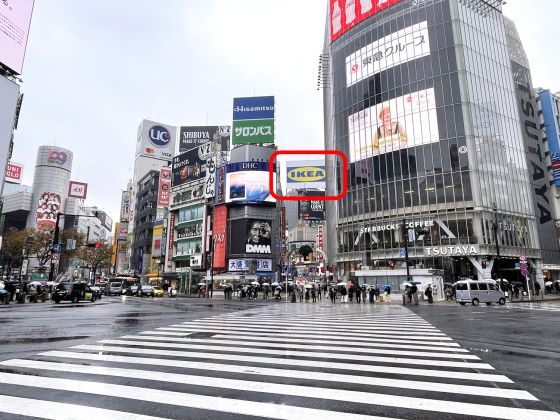 Arrived at IKEA Shibuya with the signboard as a landmark. At the time of writing the article, you need a numbered ticket to enter IKEA Shibuya. We recommend that you issue a numbered ticket from the
reception page
in advance so that you can enter the store smoothly.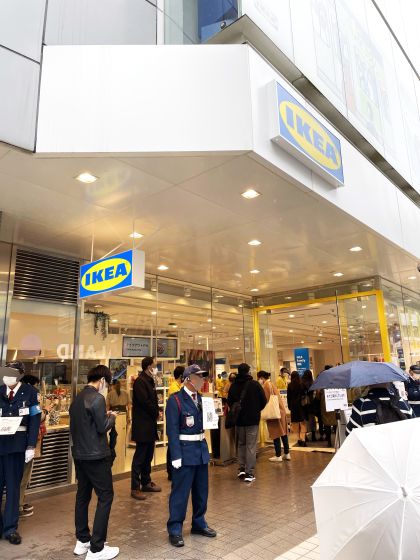 When I entered IKEA Shibuya, there was a Swedish bistro on the right side of the entrance. At the time of writing the article, it is only takeout, and eating and drinking in the store is not possible.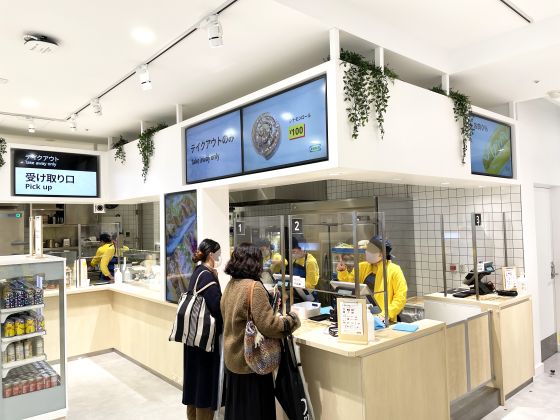 The Swedish bistro is mainly for veggie dogs, but IKEA sweet breads are lined up in the showcase and can be purchased at the same time.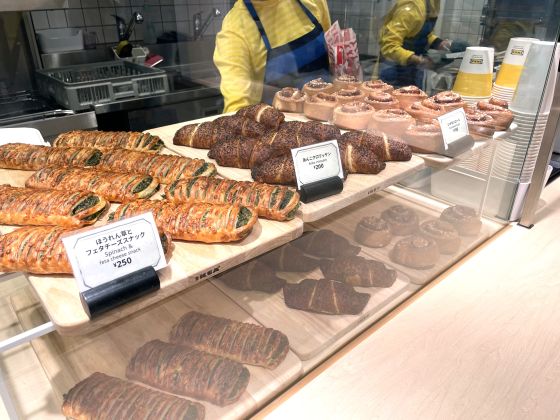 In addition, next to the Swedish bistro's turn queue, there is a refrigerator with beer and soft drinks, which you can buy together at the Swedish bistro cashier.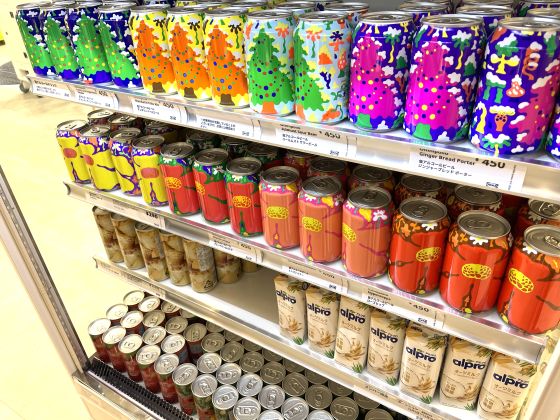 The menu looks like this. Veggie dogs are named after Swedish places such as
Småland
and Stockholm. Veggie dogs are not only vegetables, and there are also menus topped with kebabs and salmon. In addition, the spiciness level is displayed on each menu with a pepper mark, which will be helpful when choosing a menu.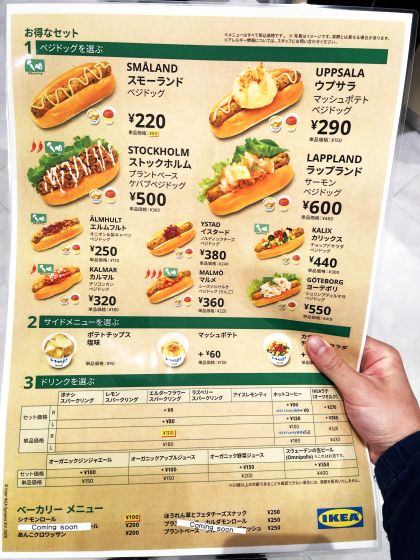 This time, I ordered three types of takeout: ' Stockholm ' topped with kebab, ' Calix ' topped with diced vegetables, and ' Malmo ' topped with spicy salsa sauce.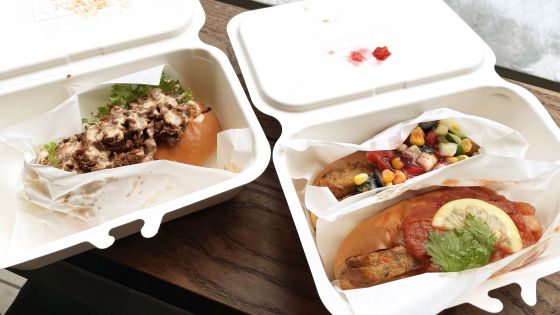 First of all, I will eat from 'Stockholm'. Artificial meat made from vegetable ingredients and lettuce are sandwiched between cut bread, and a generous amount of kebab is topped on top.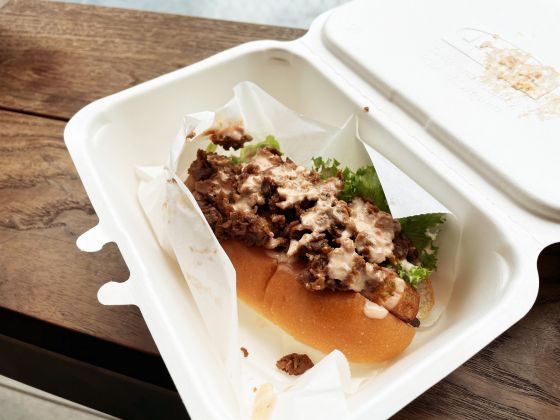 The kebab is covered with soy milk
sriracha sauce
.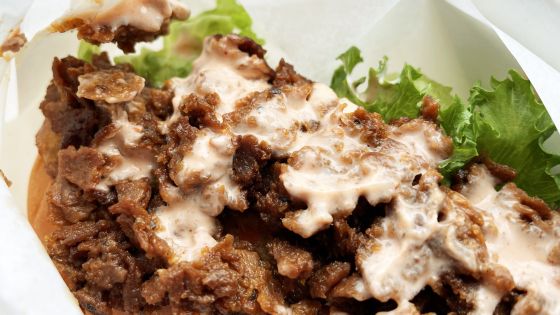 When I tried it, the artificial meat was kneaded with carrots and corn, and it was sweetened. It has a moist texture compared to regular sausages. Kebab has a spicy, spicy taste. There are quite a lot of kebabs toppings, so overall satisfaction is high. Also, it is not a healthy taste that you can imagine from the name 'vegetable dog', but it has a more junky taste than a normal hot dog due to kebab, so it is recommended for those who want a junky taste for hot dogs.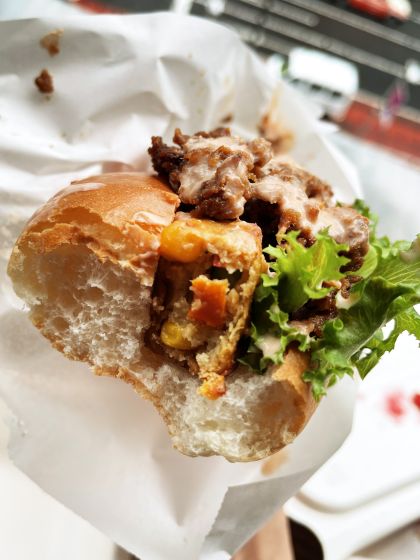 Next, I'll try 'Calix', which is topped with plenty of diced vegetables.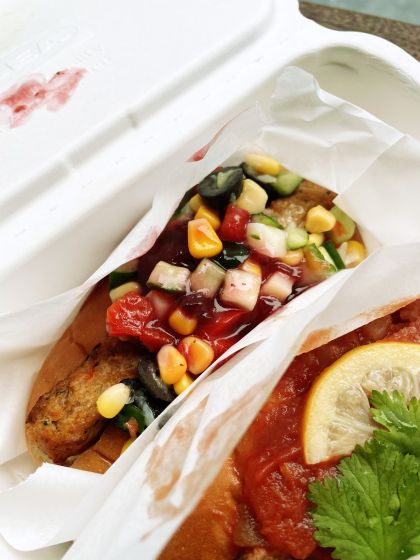 'Calix' is topped with a variety of vegetables such as paprika, cucumber, corn, olives and onions. In addition, it has a red apple berry sauce and looks very colorful.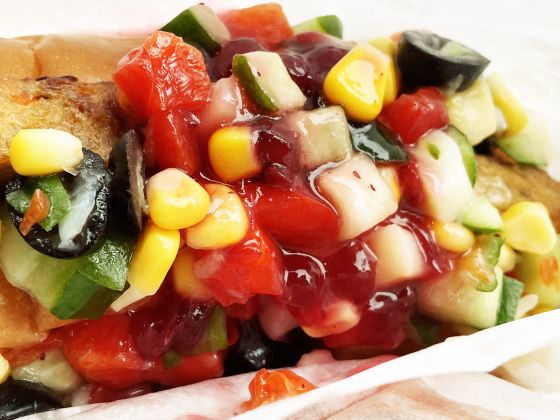 When you try it, you can enjoy the refreshing sweetness of the sweet and sour apple berry sauce combined with the sweet artificial meat. The topping vegetables have a crispy texture, and unlike 'Stockholm', which is topped with kebab, it has a healthy taste, so it is recommended for people who have a healthy image of veggie dogs.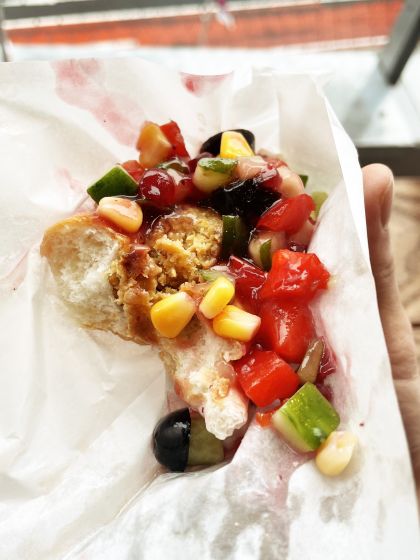 The last thing to eat is 'Malmo'. The artificial meat is covered with red salsa sauce and topped with lemon and coriander. According to the menu table, 'Malmo' is the most spicy of all veggie dogs.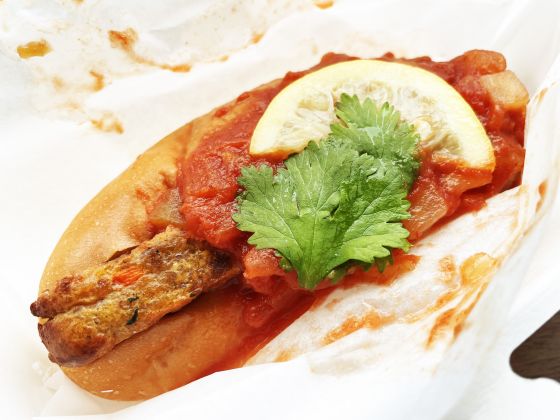 The salsa sauce contains diced apples.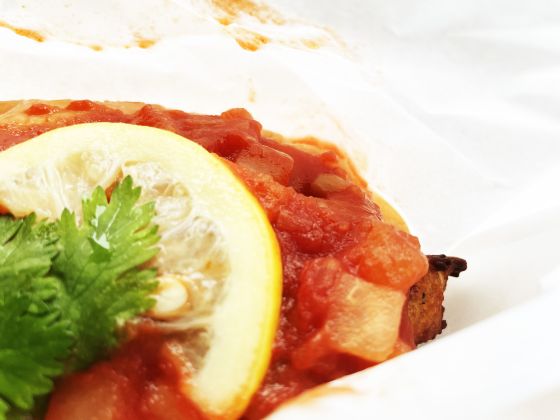 Salsa sauce is quite spicy, but the artificial meat with a mozamosa texture absorbs the moisture of the salsa sauce and changes to a juicy texture. Also, since the lemon and coriander are topped in the center, you can enjoy the taste of raw coriander and the sourness of lemon in the center. Furthermore, by the time I finished eating the central part, I got used to the spiciness, and this time I could feel the sweetness of the apple. It was a veggie dog that I could enjoy changing the taste while eating.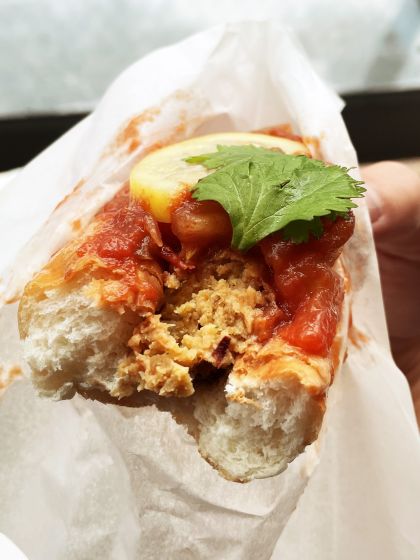 Veggie dogs can be eaten at IKEA nationwide, but at IKEA Shibuya's Swedish Bistro, you can enjoy eight limited menus including 'Stockholm,' 'Calix,' and 'Malmo,' which I ate this time.