4 kinds of popular monster collaboration menu of the world's first Godzilla attraction such as Godzilla peeling strawberry fangs and Kamata covered with ketchup Tasting review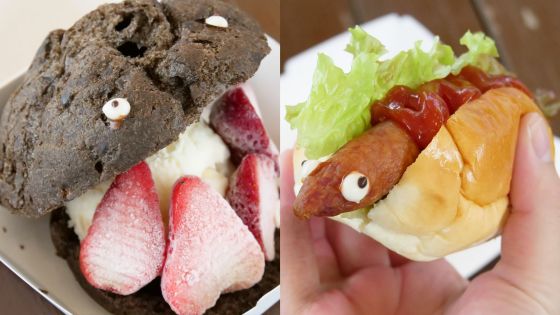 The Godzilla-themed entertainment attraction '
Godzilla Interception Operation-National Awajishima Research Center
', which is popular all over the world, will open on Saturday, October 10, 2020 at '
Nijigen Nomori
' in Awajishima Park, Hyogo Prefecture. In the park, food and desserts with motifs of Toho's popular monsters such as Godzilla and Mothra will be offered, and I have eaten the monsters actually reproduced on the plate.
Godzilla interception strategy | [Official] Crayon Shin-chan
http://nijigennomori.com/godzilla_awaji/
While walking in the venue, I found a kitchen car. It seems that it is dispatched from the National Godzilla Awajishima Research Center.


Discovered ' Godzilla 2nd form hot dog ' (650 yen plus tax) and ' Godzilla ice cream puff ' (550 yen plus tax) as 'light meals for interception operations headquarters'.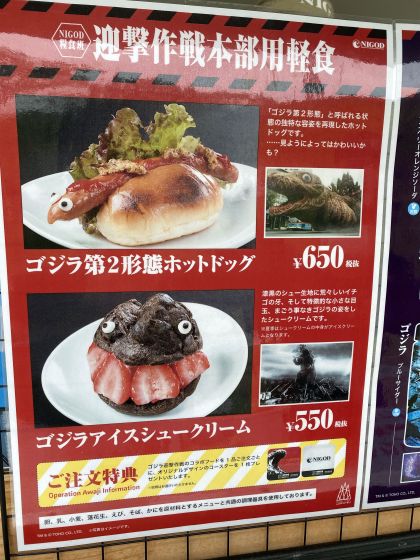 I ordered both. It was provided in a paper case.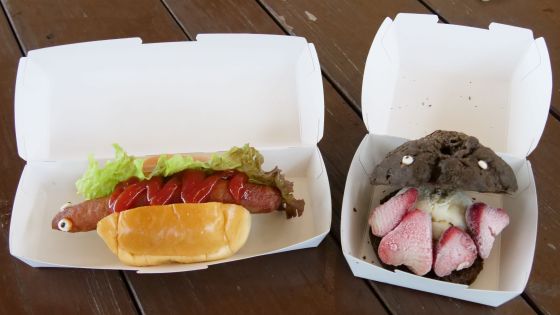 'Godzilla 2nd form hot dog' looks like this. The motif is the second form of Godzilla that landed in Kamata, Ota-ku, Tokyo in '
Shin Godzilla
' released in 2016, and sausage and lettuce that look like a body are sandwiched and ketchup is applied from above.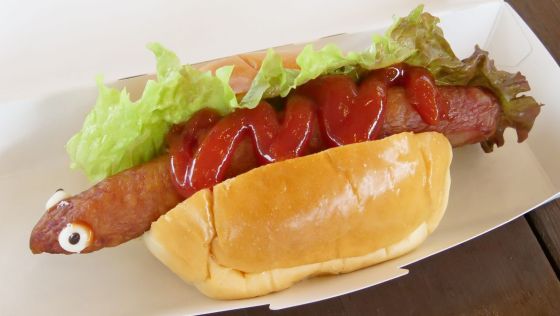 The sausage is about the same length as the iPhone X.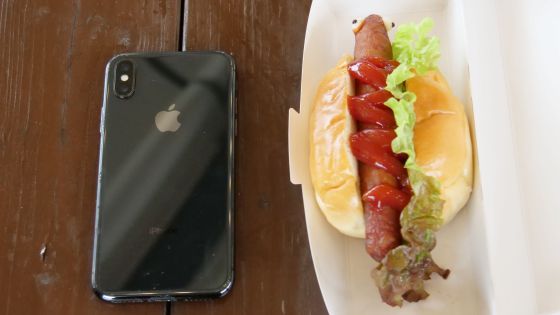 The feeling of Godzilla's second form is well reproduced. The sausage is soft and tastes like a normal hot dog.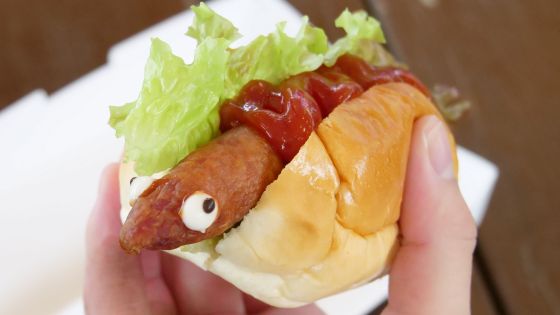 'Godzilla ice cream puff' expresses Godzilla's body surface with black choux pastry, and frozen strawberries express Godzilla's sharp teeth.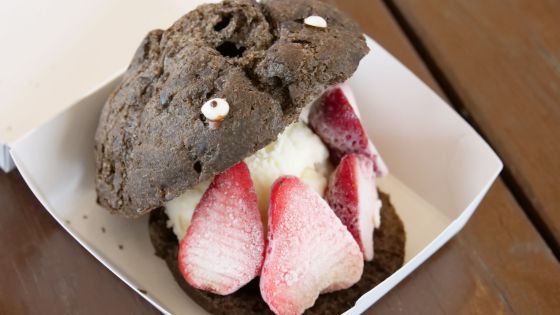 Compared to the iPhone X, it looks like this.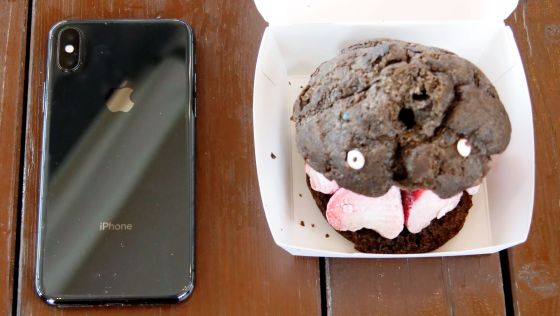 With a crispy texture, you can feel the sourness of frozen strawberries. However, ice cream has a low sweetness, so it may be a little unsatisfactory for those who want to taste the rich sweetness.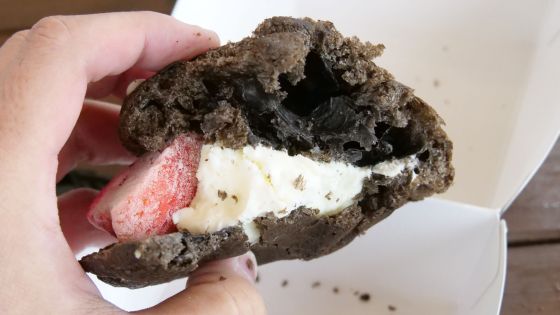 In the kitchen car, you can get one coaster with an original design for each item ordered from the Godzilla interception strategy collaboration menu. What I got this time is the one of 'Shin Godzilla' which was projected in the second form in a close-up, and the one of the scene where Godzilla, King Ghidorah, Anguirus and others are fighting in '
Destroy All Monsters
' released in 1968.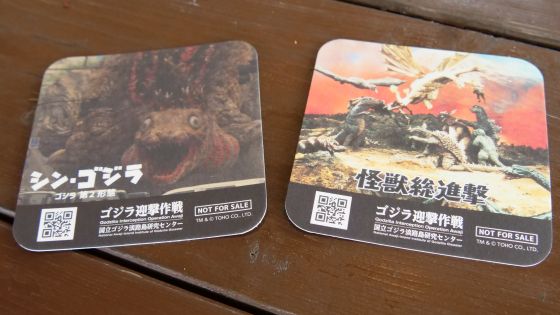 In addition, at Crayon Shin-chan's food court, 'Morino Terrace,' 'Curry Rice for the Interception Operations Headquarters,' which is based on the image of monsters such as Godzilla and King Ghidorah, is offered. This time, I ordered 'Godzilla, the jet-black monster king ' (1680 yen plus tax), which is the image of Godzilla, and ' Mothra White Curry ' (1680 yen plus tax), which is the image of
Mothra
, the monster that represents Toho like Godzilla. It was.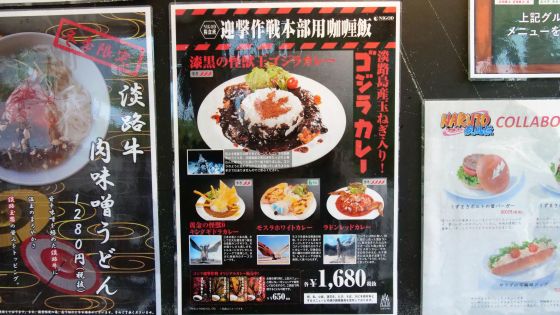 The appearance of 'Godzilla Curry, the Jet-Black Monster King' looks like this. The black curry roux is reminiscent of Godzilla.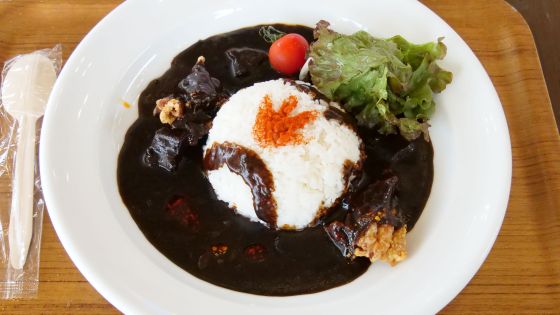 On the rice in the center, the footprints of Godzilla are drawn with paprika powder.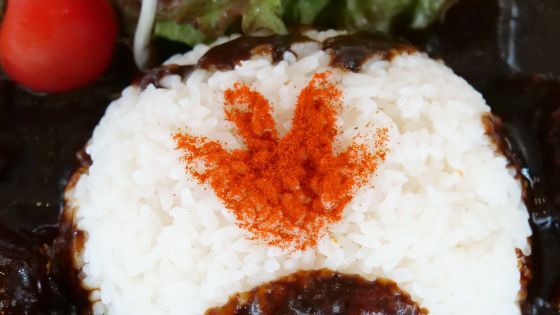 Also, there were two large fried chicken and fried chicken.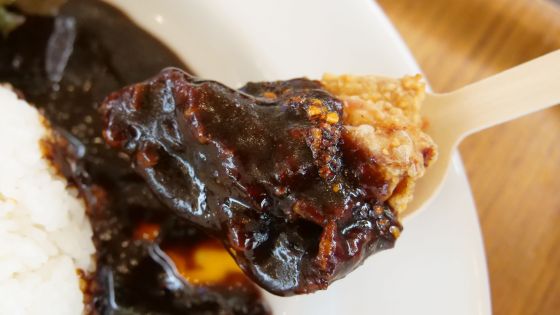 In addition, a few drops of red chili oil are dripping on the black curry roux.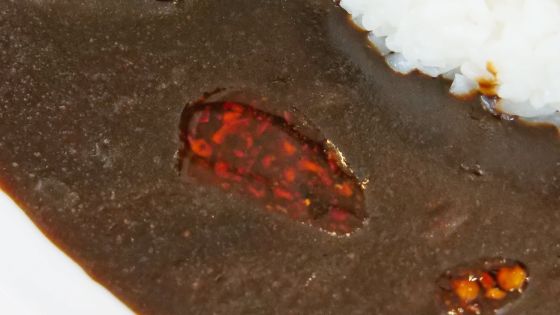 From the name of 'the jet-black monster king', I thought that it was 'quite spicy' before eating, but when I actually eat it, I can feel the sweetness and umami of the onions from Awaji Island. The chili oil that is applied has a tingling stimulus, but it is moderately spicy to eat together, and even people who are not good at spicy food can eat it without problems.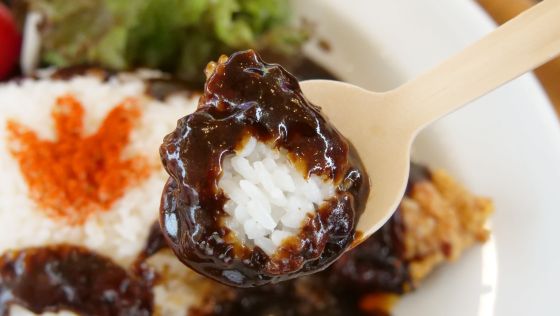 Next, I will try 'Mothra White Curry'. It is a white curry with a mild coconut scent inspired by
Infant Island
, which worships Mothra. The appearance of Mothra on the plate has an impact.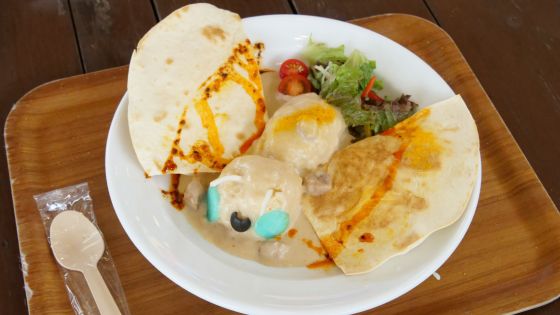 Mothra's nose is reproduced with olives and blue eyes are reproduced with radish pickled in sweet and sour. In addition, the roux ingredients contain a bite-sized piece of chicken.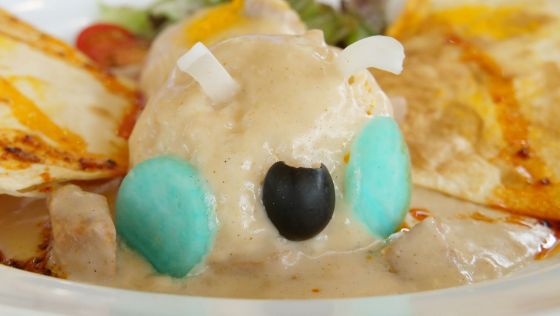 When I tried it, there was almost no spiciness and it was very mild. It tastes more like white stew than curry, but you can feel the aroma of spices.



The tortillas that imitate the wings of Mothra have a crispy texture and can be eaten with roux. The slight spiciness of the toppings of chili oil accentuated the taste, and I enjoyed it until the end.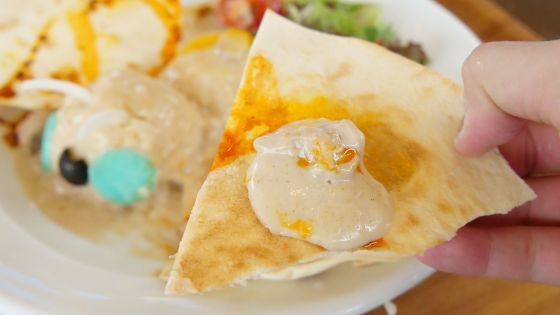 In addition, at the food corner, you can eat curry with the image of monsters such as ' Golden Monster 0 King Ghidorah Curry ' and ' Radon Red Curry '. Godzilla Intercept Operation-National Godzilla Awajishima Research Center will open on Saturday, October 10, 2020. Even if you don't buy an attraction ticket, you can use the kitchen car and food corner, so it's ant to go to eat only rice.