IT workers in Belarus 'Eastern Silicon Valley' to escape due to dictator oppression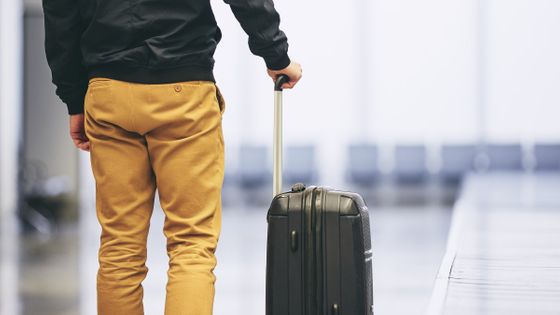 Located in Eastern Europe, Belarus is a former Soviet Union state that became independent from the Soviet Union in 1991, and is also an IT powerhouse called 'Silicon Valley of Eastern Europe'. It is reported that such Belarusian IT workers have been considering powering for 26 years, considering the movement of President Alexander Lukashenko, also known as 'the last dictator of Europe', to move abroad.

Tech Workers Flee Belarus as IT Haven Takes Authoritarian Turn
https://www.bloombergquint.com/businessweek/belarus-protests-tech-workers-flee-as-country-takes-authoritarian-turn

The economy of Belarus has long been supported by state farms and heavy industry inherited from the Soviet Union. However, in 2005, the Belarus High Technologies Park (HTP) system was created for the IT industry, which led to the rapid development of the IT industry in Belarus.

Companies registered with HTP can receive tax incentives regardless of office location, and individual employees working for the companies can also benefit from income tax reduction. In addition, about 50 hectares of 'high-tech city' has been built at the eastern end of Minsk , the capital of Belarus, which allows registered companies and employees to obtain sophisticated infrastructure and comfortable living environment.

As of 2020, nearly 700 IT companies are in the HTP special zone, and the number of employees working there is close to 60,000, and annual transactions with foreign countries are 2 billion dollars (about 210 billion yen). It seems that he is earning. Although many workers are relatively young, the average monthly salary of Belarus is about $500 (about 53,000 yen), while the average monthly salary of workers at HTP companies is about $2000 (about (210,000 yen), which is four times more income. According to Belarusian former Minister of Economic Affairs Dmitry Kurtoy, the information industry accounts for 6.5% of gross domestic product (GDP), accounting for half of economic growth in 2019.

The reason why the Belarusian IT industry has developed is that it has the lowest labor costs in Europe in Europe, which means that it has been able to outsource work from countries around the world. However, it has not developed only as a subcontractor of the IT industry, but it has a global presence in Belarus, such as Wargaming who developed ' World of Tanks ' ' World of Warships ' and EPAM Systems established by Arkadiy Dobkin from Belarus. There are also famous IT related companies in.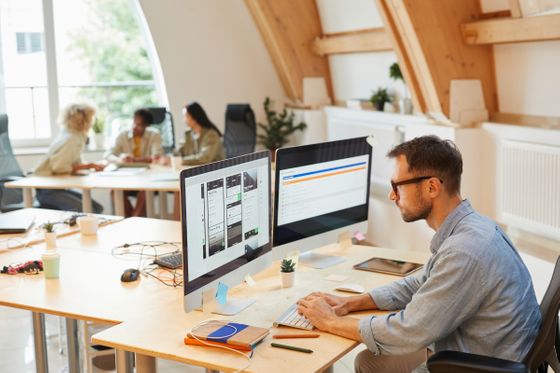 But the Belarusian IT industry is under threat, and IT workers are considering leaving the country, Bloomberg reports. It was the re-election of President Lukashenko, who has reigned over 26 years as the highest-ranking power in Belarus, that caused the Belarusian IT workers to move out of the country.

In the presidential election held in August 2020, President Lukashenko declared his sixth election, but concerns about fraudulent elections emerged because there was no presence of a neutral election observer. Immediately after the voting ended, there was a violent clash between the citizens who demanded the resignation of President Lukashenko in response to the illegality of voting and counting, and the security forces.

Belarus presidential election, incumbent clash in the sixth term with nearly 80% votes-BBC News
https://www.bbc.com/japanese/53711446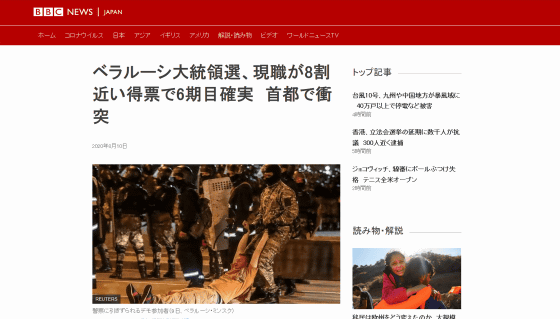 Police shut down the internet for three days after the election and brutally suppressed demonstrators. Offices of IT companies were also attacked by security forces, and offices such as Yandex , a Russian search engine and vehicle dispatch service company, and PandaDoc, which provides automated tools for document creation, were also destroyed. Many have also been arrested by police, including Kirill Golub, co-founder of the investment company Angels Band. 'If the President takes power, the IT department will die and be buried,' commented Golub, who was released three days later.

President Lukashenko has asked Russia for assistance in the wake of the growing turmoil, and Russian President Putin admits that he was prepared to intervene with security forces if necessary. He also said, 'We also agreed not to send troops until the situation is out of control,' he said, not intervening immediately with security forces.

Putin also dispatches security forces to Belarus if chaos 'out of control'-BBC News
https://www.bbc.com/japanese/53942161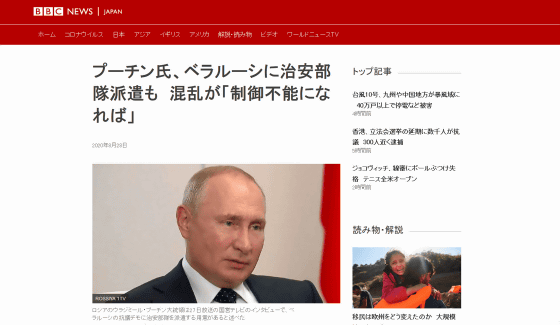 Amidst these movements, protest demonstrations by the citizens have continued, and even one month has passed since the presidential election, security forces have suppressed them.

Four weeks in protest in Belarus, 100 arrested or one month after presidential election-BBC News
https://www.bbc.com/japanese/54052364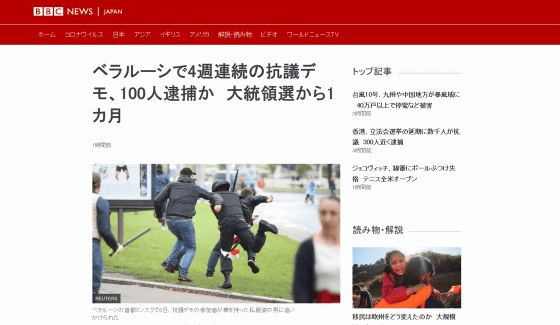 Workers in the IT industry were also protesters, and Pavel Liber, local manager of EPAM Systems, helped design a 'program to expose voting fraud' independent of EPAM Systems. , Fled to Ukraine. By the end of July 2020, a team of about 40 people had to leave Belarus due to safety concerns, Liber said.

High-tech executives with nearly 20,000 employees in total have sent open letters protesting the crackdown that has killed at least five and detained more than 7,000. Signers of this open letter include EPAM Systems founder Arkadiy Dobkin, World of Tanks CEO Victor Kislyi, and app developer and billionaire Yuri Gurski.

Belarus's largest IT company, EPAM Systems, has acknowledged that some employees may be relocated abroad, while Russia-based Yandex has already evacuated some of them. thing. Also, the menstrual day prediction app Flo is considering moving 200 employees to Lithuania, Poland and the United Kingdom.

'Nobody wants to live in North Korea in the middle of Europe,' said Pandadoc CEO Mikita Mikado, and plans to relocate 250 programmers in Belarus if things get worse. That is. "IT engineers have no borders, they can find jobs anywhere in the world," Mikado said.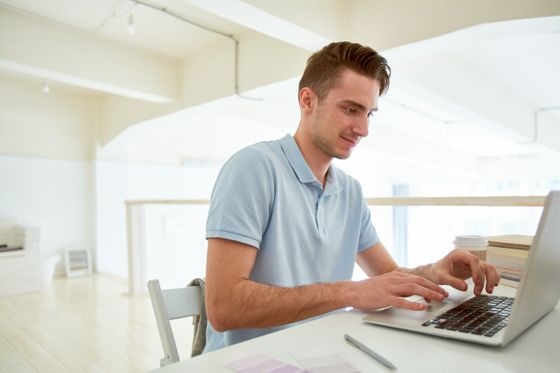 in Note, Posted by log1h_ik